2 Dirt Cheap Dividends You Won't Want To Miss
Co-produced with "Hidden Opportunities"
In 2021, the following companies were named in the list of best employers in tech.
Nvidia

HubSpot

Google

Microsoft

Facebook

DocuSign

Salesforce
Social distancing and massive government stimulus boosted the demand for several young companies like Carvana (CVNA) and Coinbase (COIN), which were also rated significantly higher than their well-established peers in the retail and financial services sectors. Let me now place the cherry on top of the story – Twitter was called the most-loved workplace in 2021.
Fast forward 18 months, we are amidst massive layoffs, and those same names are seen cutting down thousands from their workforce. (Source: Visualizing Tech Company Layoffs in 2022)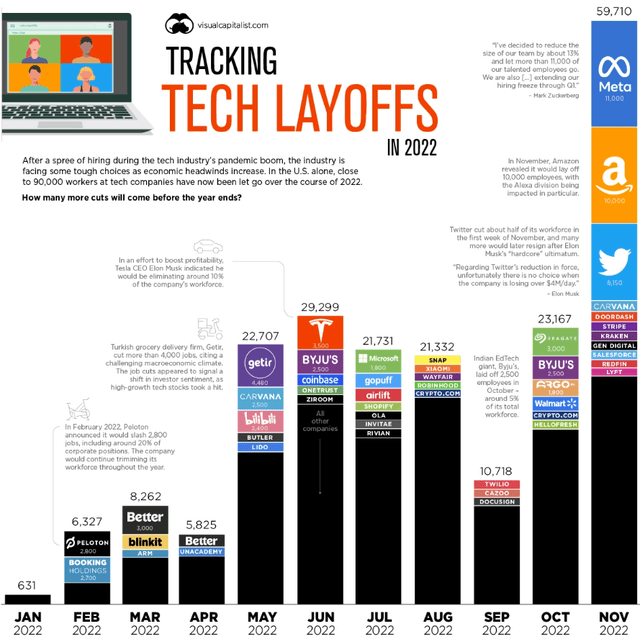 You and your employer like each other today, but that can change very quickly.
Love your job ….. But don't love the company you work for. Because you may not know when your company stops loving you – Dr. A.P.J. Abdul Kalam, Former President of India
Americans are much more dependent on their employer today than in past decades. In 2021, 156 million Americans were covered by health insurance from their employer (49% of the country's population). Additionally, according to a Gallup survey, 1 in 6 Americans stay in an unwanted job just for health benefits.
If you tie your passion and the financial aspects of your life together, you will have a truckload of regrets. We have two big dividends that you could use to start fulfilling your financial needs slowly. The more you focus on this strategy, the faster you are financially independent and can take up roles that add more meaning to your life.
Pick #1: ORCC – Yield 10.2%
Owl Rock Capital Corporation (ORCC) is the second largest publicly traded Business Development Company ('BDC'). BDCs finance small, growing American businesses that typically lack access to traditional sources.
ORCC is fundamentally well-positioned to grow its profits in the current environment. 98% of the BDC's portfolio is floating-rate. Due to tailwinds from higher interest rates, ORCC's NII grew 15.6% to $0.37 in Q3. As a result, the BDC raised its quarterly distribution by 6.5% and issued a $0.03 supplemental distribution. For Q4, the BDC provided a $0.39 NII guidance, an increase from Q3, indicating substantial distribution coverage and room for further distribution raises.
87% of ORCC's portfolio loans are senior secured, and 72% are first-lien investments. This gives the BDC substantial protection in unpredictable economic conditions. Additionally, ORCC lends to 180 portfolio companies, protecting the overall asset pool against individual company struggles. (Source: ORCC November 2022 Investor Presentation)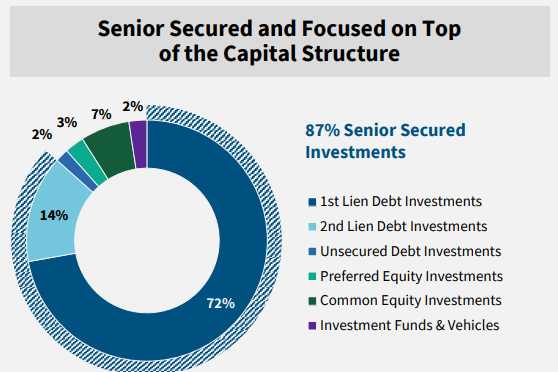 ORCC's focus is on lending to middle and upper-middle-market companies backed by leading private equity sponsors. Sponsor-backing provides substantial protection to the BDC since:
Equity sponsors conduct professional due diligence, and the reports are available for ORCC to study.

Sponsor-backed companies have professional management teams with defined reporting systems.

A sponsor is available to provide deep expertise, ongoing guidance, and support to management in addition to providing additional equity capital to weather exogenous shocks.
ORCC is highly selective in lending, focusing heavily on non-cyclical recession-resistant businesses. Management reported that during Q3, they evaluated over 7,400 companies and closed on only 5%. This selective portfolio management is the reason behind solid execution.
At the end of September 2022, ORCC's portfolio performance was strong, with 89% of companies rated 1 or 2 on the BDC's credit risk scale.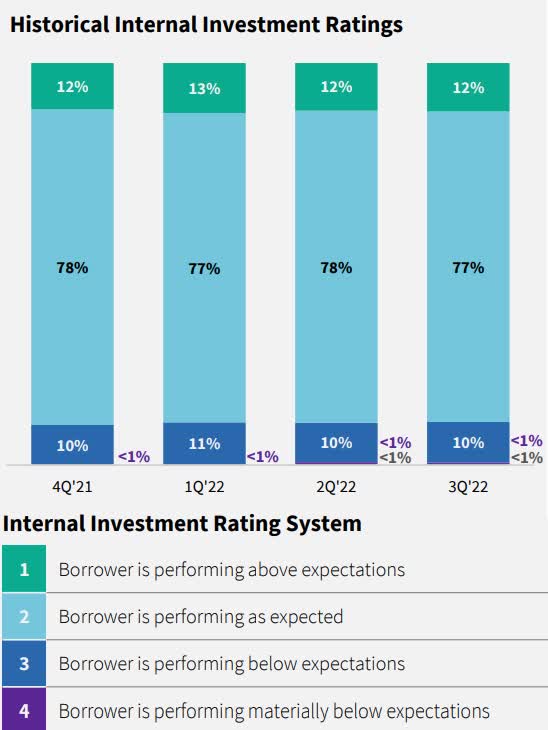 "We continue to have very strong credit performance and almost no losses, and higher rates are flowing through to the bottom line," – Craig Packer, CEO of Owl Rock
ORCC trades at an attractive ~13% discount to NAV. ORCC's board approved a $150 million share repurchase program to take advantage of these discounts amidst robust operating fundamentals and strong tailwinds. Additionally, it is revealed that employees and affiliates of Blue Owl intend to buy up to $25 million of stock. When it comes to investing, it is always good to know that management is eating their cooking.
ORCC maintains an investment-grade balance sheet with 47% fixed-rate debt with an average cost of debt of 4.3% and an average time to maturity of 5.8 years. The BDC maintains $2.1 billion of liquidity in Cash and Undrawn Debt and has no debt maturities until April 2024. This gives ORCC an advantage to deploy funds into new opportunities arising from a weakening economy. After all, BDCs were formed to help the economy recover from recessions.
The Fed continues to stay hawkish on the economy, and rate increases are on the horizon. ORCC is well-positioned to grow its profitability and pay higher distributions to shareholders. 10.2% yield from this deeply discounted blue-chip BDC.
Pick #2: SLRC, Yield 10.4%
SLR Investment Corp. (SLRC) is a unique BDC that provides U.S. middle market businesses with customized debt financing solutions to fund working capital, acquisition, refinancing, and growth capital requirements. (Source: slrinvestmentcorp.com)

SLRC specializes in equipment financing, and asset-based lending ('ABL'), and these segments constitute almost 64% of the BDC's investment portfolio. The ABL industry often does well during recessions – businesses don't stop operating just because the economic environment isn't positive. Companies fight to stay operational; to do that, they need their tools and assets. In fact, the longer the economy is in a recession, ABL will be mutually beneficial and potentially thrive as a business.
"Our ABL businesses have historically outperformed during challenging market conditions when asset-rich companies' access to traditional lending sources is constrained." – Michael Gross – Co-CEO, SLRC
SLRC's 2022 merger with SUNS has increased the BDC diversification across cash flow loans in non-cyclical industries and ABLs. SLRC also projects achieving an NII of $0.41 sooner than initially estimated due to tailwinds from rising rates and synergies from the merger. This will be instrumental in attaining sustained distribution coverage.
SLRC maintains a low-risk portfolio with 99.8% senior secured loans – liens against borrower assets provide additional credit risk protection. (Source: SLRC Q3 Press Release)

SLRC has a highly diversified portfolio with over 785 companies! 97.6% of the BDC's investment portfolio consisted of first-lien senior secured floating rate loans, which provide greater downturn protection during a challenging economy. As of Q3, 98.4% of SLRC's investments carry risk ratings of 1 or 2, indicating stability in the overall portfolio health.

SLRC trades at a rare 18% discount to NAV, making it a solid buy at current prices. This BDC maintains a highly diversified portfolio with lending techniques that have proven to do well during deep recessions. It is an excellent time to buy this discounted ~10.4% yielder and collect steady monthly distributions.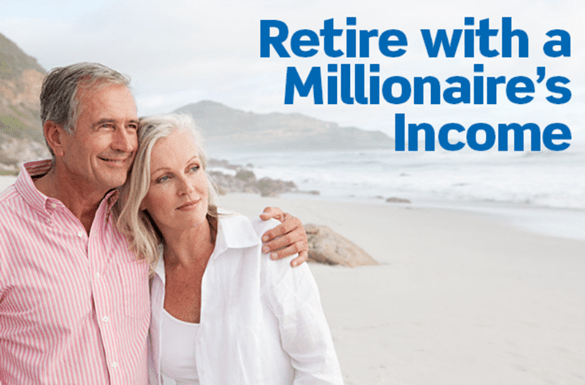 Conclusion:
In 1942, the nation faced a severe labor shortage with so many eligible workers diverted to military service. Economists feared that businesses would keep raising salaries to compete for workers, and that would make inflation spiral out of control as the country came out of the Great Depression.
President Roosevelt signed Executive Order 9250, establishing the Office of Economic Stabilization. Businesses were not allowed to raise pay to attract workers. But American companies were smart and began attracting workers using benefits – specifically with more generous health care insurance. The IRS followed suit, and employer-based health insurance was exempted from taxation. Similarly, the origin of the 401(k) can be traced back to the Revenue Act of 1978, geared to reducing individual taxes through deferred compensation arrangements.
Eighty years later, several Americans are clinging to their jobs for employer-based benefits. Your time is precious, and life is too short to pursue things you dislike just for financial benefits and other perks. Dividends help diversify your income needs and make your money work for you. The passive income stream from dividends lets you slowly reduce your financial dependence on your full-time job. If done right, you can retire at your convenience. We have two big dividends with up to ~10% yields to get you down the path to early retirement and pursuing things you enjoy.