Accelleron Industries: Earnings Coming Soon, Shares Fairly Valued
Accelleron Industries (OTC:ACLLY) has been a textbook spin-off in that at first a lot of holders sold it, making shares underperform in the short-term, but then outperforming a little further out. Since their spin-off Accelleron shares have nicely outperformed the S&P 500 index (SPY), delivering more than twice the total return. This is a company we continue to like, although as we'll see once we get to the valuation, shares appear fairly valued at this point, and we would wait for a meaningful dip before starting a position. Still, shares can be interesting for income investors, as the company is expected to pay a significant proportion of its earnings as dividends.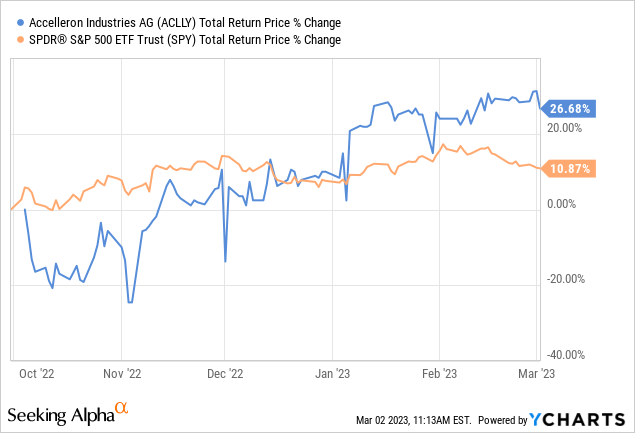 We've covered the company twice already, so we won't spend too much time here describing what it does. We recommend readers not already familiar with the company start with the article we wrote before shares were spun-off from ABB (ABB), as well as the article where we cover the company's first trading update.
A Note on the Liquidity of the ADRs
The ADRs trading with the ACLLY symbol have extremely low liquidity. For example, we show a screen shot below of the current volume at time of writing. Today it appears that only 1,671 shares have traded. As a Swiss company, Accelleron Industries AG's main listing is in the SWX exchange, where it trades under the symbol ACLN. The average volume there is much higher at ~271 K, and it trades in Swiss Francs. The most recent closing price being 22.83 CHF.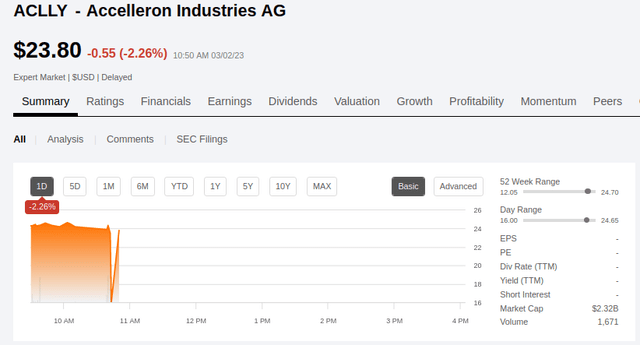 Why it is an Attractive Business
There are several attributes that make Accelleron an attractive business, even if it is expected to be a relatively low-growth company. We like that the business has superior products with average efficiency higher than peers, as well as higher power density.
Accelleron invests significant resources in research and development, roughly 7% of annual revenues, and this has resulted in 119 patent families and 30-50 new patents filed every year. As part of its development efforts it is also developing digital capabilities, including predictive maintenance and remote monitoring.
Its customers are also significantly incentivized to purchase turbochargers, as they basically pay for themselves with lower fuel cost. Accelleron estimates that its turbochargers have a 2x payback from reduced fuel costs over their lifetime. In addition, it helps its customers reduce emissions, which in some cases also have a cost due to the carbon emissions penalties imposed by some governments.
One of the most attractive parts of the business is the services segment, which generates highly resilient and predictable recurring revenues. It started as a classic spare parts business, but the company has transformed it into what it calls "availability as a service". This business has a significant competitive moat from its massive scale, with a global services network. Accelleron plans to grow this part of the business by increasing the market penetration of its own turbo chargers, and by targeting non-Accelleron turbo chargers as well.
Financials
Accelleron has excellent free cash flow conversion, transforming close to 100% of net income into FCF. The company is scheduled to release its FY2022 annual report on March 29th. We'll know then what the net income for the year was and will be able to figure out the TTM P/E ratio. So far the company has shared it expects revenue growth in 2022 to reach 8% in constant currency, and an operational EBITDA of ~24%. Based on this, we expect net income to be higher in 2022, and probably close to $160 million. Net leverage at the spinoff date was expected to be quite moderate at roughly 0.7x net debt to operational EBITDA, and we think the balance sheet should remain quite strong.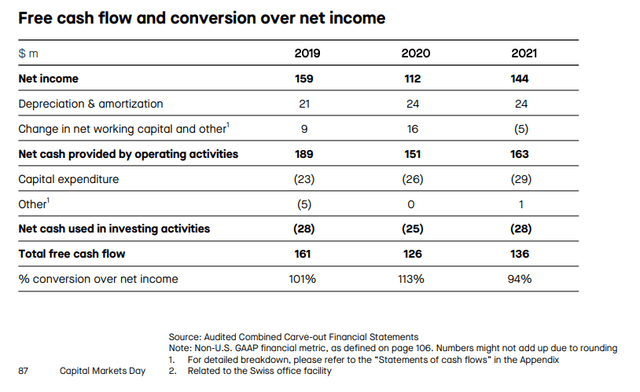 Dividends
Accelleron is planning to pay its first dividend of ~$75 million during the first half of the year. This would represent a ~3.4% dividend yield, but we would expect it to grow rapidly given the company's mid-term targets that call for a payment of 50-70% of reported net income as dividends, if net leverage is equal to or higher than 1.0x. The company aims to pay up to 100% of reported net income as dividends if net leverage is below 1.0x, which at current prices would translate to close to 7%.
Valuation
Accelleron is trading with a market cap of ~$2.2 billion. If we are right that it will probably make ~$160 million in net income in 2022, the price/earnings ratio would be ~14x.
We believe something in the range of 10-15x to be reasonable, give that this is a company with some competitive advantages, but at the same time it is not expected to grow very rapidly.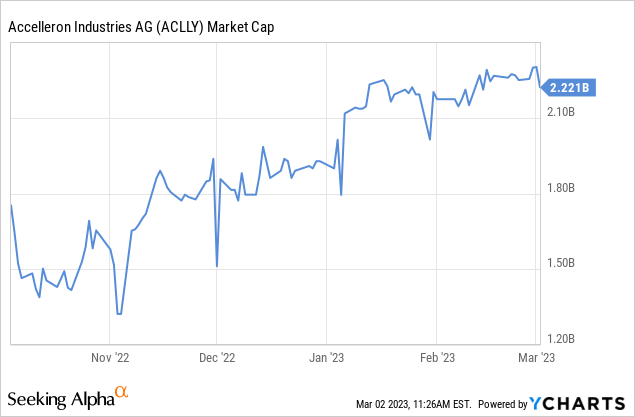 Based on our estimates for future earnings, we calculate a net present value for its earnings stream of ~$24 per share, or ~23.5 CHF. This is very close to where shares are currently trading, which is why we believe shares to be close to fair value right now.
| | | |
| --- | --- | --- |
| | EPS | Discounted @ 10% |
| FY 23E | 1.75 | 1.59 |
| FY 24E | 1.86 | 1.45 |
| FY 25E | 1.93 | 1.31 |
| FY 26E | 1.99 | 1.27 |
| FY 27E | 2.05 | 1.20 |
| FY 28E | 2.11 | 1.12 |
| FY 29E | 2.17 | 1.05 |
| FY 30E | 2.24 | 0.98 |
| FY 31E | 2.30 | 0.92 |
| FY 32E | 2.37 | 0.86 |
| FY 33E | 2.44 | 0.81 |
| | | |
| | | |
| Terminal Value @ 3% terminal growth | 38.95 | 12.41 |
| | | |
| NPV | | $24.97 |
Risks
There are several risks with Accelleron worth considering, including the fact that it has a very limited trading history, and that it has yet to publish its first annual report. That said, the biggest risk for Accelleron shareholders, we believe, is that electrification will probably make its products a lot less necessary in the future. The electrification of transportation is likely to play out over decades, giving the company time to profit from its turbochargers and potentially find new business opportunities.
Conclusion
Accelleron has some attractive attributes, and we believe its shares are worthy of consideration. Long-term we believe the electrification of transportation will prove an important headwind, but that it is likely to play out over decades. We find the current valuation to be reasonable, with shares trading close to our estimated fair value, but we would be a lot more interested if shares were trading with a P/E ratio closer to 10x. We'll learn more about the financials when the company releases its FY2022 annual report on March 29th. For the time being we are maintaining our 'Hold' rating.
Editor's Note: This article discusses one or more securities that do not trade on a major U.S. exchange. Please be aware of the risks associated with these stocks.