Adeia Inc.: Lacks Catalysts To Break Out At This Time (ADEA)
Adeia Inc. (NASDAQ:ADEA), which operates as a consumer and entertainment product/solutions licensing company around the world, recently reported earnings in its first quarter as a standalone company after Xperi (XPER) completed the spin-off of the company on October 1, 2022, and while it beat on the top and bottom lines, when compared against its performance since the first quarter of 2021, its numbers remained in the range it has been performing in.
During the reporting period the company closed on ten renewals and new licensing agreements across a variety of verticals, including consumer electronics, Pay-TV, social media and semiconductors.
Since then, it has also renewed its licensing agreement with Altice USA (ATUS), helping the company to maintain some momentum in early 2023.
In this article we'll go over some of the numbers from its earnings report, the strategy of the company going forward, and what its long-term prospects look like.
Some of the numbers
Revenue in the fourth quarter of 2022 was $103.3 million, compared to revenue of $89.7 million in the fourth quarter of 2021. It was up 16 percent sequentially from the $89.3 million in revenue generated in the third quarter of 2022. The boost in revenue primarily came from closing ten licensing renewals and new deals during the reporting period.
Revenue for full year 2022 came in at $438.9 million. Management guided for full year 2023 revenue to be in a range of $385.00 million to $415.00 million.
Adjusted EBITDA in the fourth quarter of 2022 was $74.9 million, with adjusted EBITDA margin of 72 percent. Adjusted EBITDA for full year 2023 is projected to be in a range of $252.3 million to $272.3 million, and adjusted EBITDA margin to be about 66 percent for full year 2023.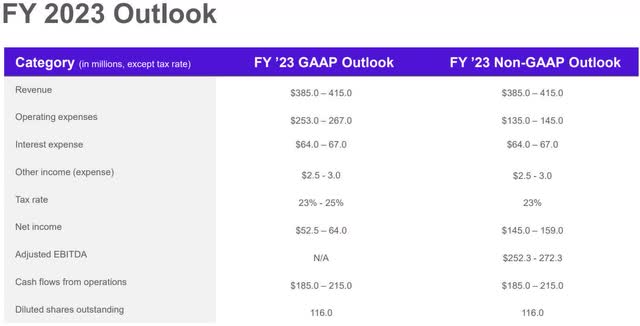 Operating expenses in the reporting period were $28.8 million, compared to $28.4 million in the fourth quarter of 2021. On a non-GAAP basis, operating expenses for full year 2023 are expected to be in a range of $135.00 million to $145.00 million.
Interest expenses are guided to be in a range of $64.00 million to $67.00 million for full year 2023. That's something I definitely want to see the company start to chip away at, as it would immediately boost the bottom line performance of the company.
Net income in the fourth quarter of 2022 was $46.7 million, compared to net income of $44.9 million in the fourth quarter of 2021. For full year 2022, the company had a net loss of -$(295.9) million, or -$(2.75) per diluted share, compared to a net loss of -$(55.4) million, or -$(0.52) per diluted share for full year 2021.
Non-GAAP net income for full year 2023 is guided to be in a range of $145.00 million to $159.00 million.
At the end of calendar 2022 the company held cash and cash equivalents of $114.6 million, compared to cash and cash equivalents of $201.1 million at the end of calendar 2021. As of the end of calendar 2022 the company held long-term debt of $619.6 million, compared to long-term debt of $729.4 million at the end of calendar 2021.
The way forward
Management laid out four areas it is focusing on in 2023. They include increasing its annual baseline revenue, increasing its patent portfolio, expanding the number of licensing agreements it has in media and semiconductors, hybrid bonding in semiconductors, and looking for opportunities in adjacent verticals. Increasing its annual baseline revenue is important to the company because it will provide a fairly predictable revenue base it can work from. To that end it is highly focused on renewing current agreements while looking to take on new clients.
One area ADEA is specifically targeting is large unlicensed OTT providers, which management stated they are making progress on.
There are two things the company is looking to growth from. One in relationship to innovation within the company concerning support of its current licensing programs and entering into new verticals. The other area is targeting "tuck-in acquisitions" that complement its existing portfolio.
On the IP side of the business, the company is looking for opportunities to emerge as a result of companies needing to divest of assets in order to raise capital within the context of the current economic environment.
I see acquisitions as having the most potential to trigger growth for the company, and the opportunity to take advantage of that is right now. I'm looking for 2023 to be a year where the company supports a growth narrative via significant acquisitions.
Maintaining predictable baseline revenue that has the potential to grow incrementally is important, but real growth is going to have to come via acquisitions, in my opinion.
To that end, management sees momentum for deals continuing on in 2023, and suggests it has a healthy pipeline of opportunities before it.
As for adjacent verticals, ADEA is at various stages of progress on that front, but based upon current engagement, sees music streaming as being the first vertical it'll have success in.
Hybrid bonding
If there's a sleeper segment in the company, I would say it would be concerning hybrid bonding in the semiconductor industry, which management believes will be crucial to successfully advancing the next generation of semiconductor chips.
The company stated that hybrid bonding "provides a massive boost in communication bandwidth, condensed high architecture and footprint and improved speed and energy efficiency."
In the near term the company sees its portfolio being well-positioned to win share in the smaller processing nodes. That said, it also believes the more advanced semiconductor firms will gravitate toward hybrid bonding as a means to boost performance while lowering costs.
The major category of the semiconductor market the company sees as having a strong possibility of adopting hybrid bonding is in the logic market, which is among the largest and fastest-growing markets in the semiconductor industry, according to the company.
I don't see this having much of an impact on the performance of ADEA in the near term, but if the semiconductor industry does, at least in a significant part, adopt hybrid bonding, it could be a huge tailwind for the company over the long term.
As for modeling the company, I wouldn't include hybrid bonding in the model until there's more evidence the semiconductor industry is interested in it beyond smaller nodes.
Conclusion
Without a doubt ADEA is a work in progress, and the jury is still out as to whether or not it can successfully operate as a standalone company. It has promise as evidenced by some of the renewal and new wins in the fourth quarter, but it also has a lot of expense that needs to be reduced in order to fully take advantage of the potential opportunities before it.
In the short term, I see IP acquisitions as the major positive catalysts to look for, as they'll have the most impact on the company's performance over the next year or two.
It also has to prove it can continue to maintain and grow its baseline revenue, as it's showing some signs of weakness based upon management's guidance for 2023.
Further out, the progress it makes in the semiconductor hybrid bonding market would be a strong tailwind if the industry confirms it's ready to adopt it at some meaningful level.
The company has a portfolio of over 9,750 patents at this time, but I see them as already being priced in, so any progress in adding significantly to its patent portfolio would also be a plus for the company.
As the company stands today, I see it as having, at best, the potential to grow incrementally. I don't see it having an enormous amount of downside at this time, although failure to maintain baseline revenue and support is EBITDA margin would be a negative catalyst that could result in a hefty correction.
I think it would be best to wait-and-see with ADEA stock until it proves it can generate sustainable growth while improving its bottom line.