Alamos Gold: Quality At A Price (NYSE:AGI)
Alamos Gold (NYSE:AGI) reported Q4 and full year 2022 results on February 28, providing the final data points for the year. The last quarter also turned out to be the strongest in terms of operational and also financial performance. All done and dusted, the company met production guidance and also the lower half of the cost guidance range, a rare occurrence in the present inflationary environment.
Of the three operating mines we took special note of the Mulatos operations where the newly commissioned La Yaqui Grande showed its potential for the first time. Gold production at Mulatos logged near record levels and costs have come down markedly from the past few quarters underpinned by the transition to the new La Yaqui Grande ore source. We expect consolidation at this level in the coming quarters, and we are looking forward to the technical report outlining the next growth project at Mulatos, the Puerto Del Aire, or PDA, underground mine to be released later this year. Reserves for this future mine have already been reported at 728,000 ounces.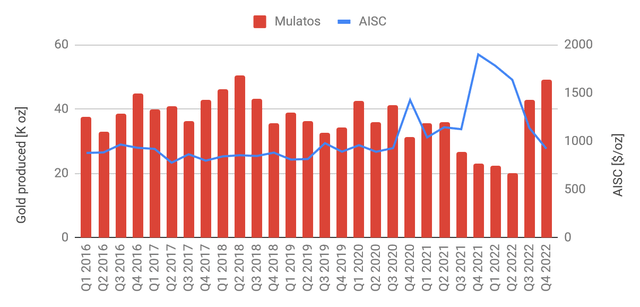 Moving on to the Island Gold mine we note solid Q4 results in line with the mine plan. In fact, as a result of current permit limitations certain excess stockpiles were trucked to the Young-Davidson mine throughout the year and processed as capacity was available at the Young-Davidson mill.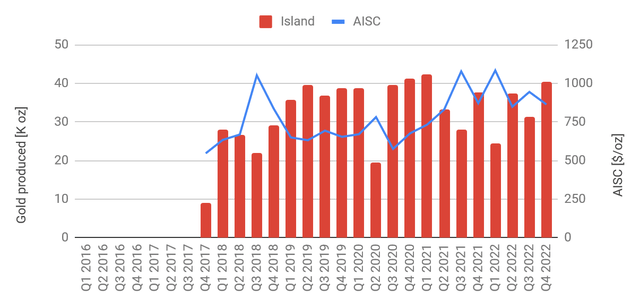 Performance at the Young-Davidson mine was slightly below par in Q4 as a result of unscheduled downtime for maintenance on the underground conveyor, and investigations following a fatality in November. Grades at Young-Davidson have been recorded below reserve grades lately. When prompted during the earnings call, this was explained by the mining sequence with grades scheduled to move higher again in the next couple of years. Overall, Q4 gold production was slightly below expectations, with higher costs than anticipated.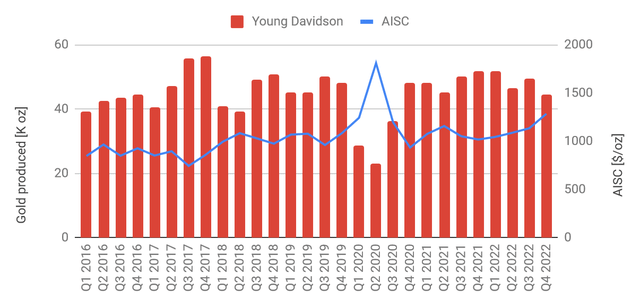 On a consolidated basis, we note record quarterly production and stable costs across the three mine portfolio.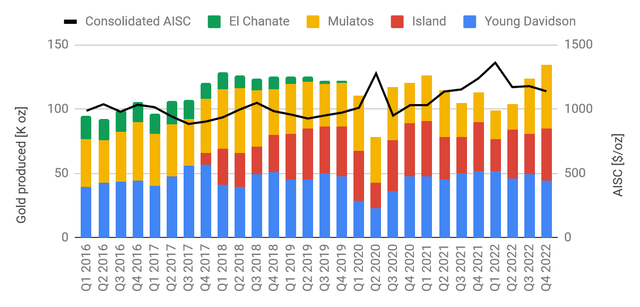 All-in-sustaining costs of $1138/oz in Q4 and $1204/oz for the full year ensured healthy margins.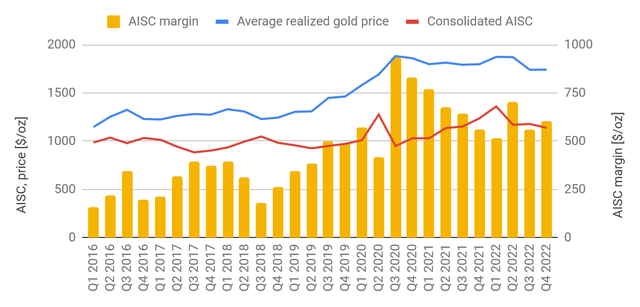 And these margins transferred into solid free cash flows. Alamos generated $266.5M in free cash flow before growth capital deductions, and a healthy $47.9M in free cash flow after including the growth initiatives at Mulatos (namely the now completed La Yaqui Grande expansion) and Island Gold (the ongoing Phase 3+ capital program).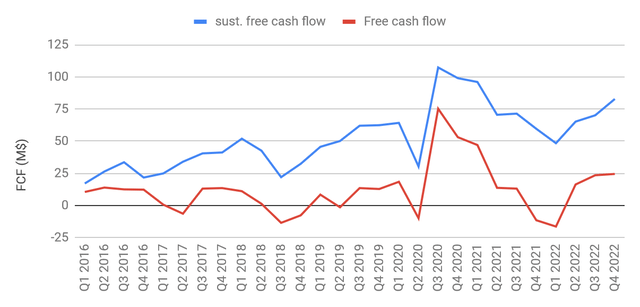 In other words, the company continues to self-fund its growth while still generating sufficient free cash flow to bolster the balance sheet and pay $35M in dividends. And talking of Alamos Gold's balance sheet, we note that it stands out among peers in terms of strength. The $500M credit facility remains undrawn, and working capital of $259M ensures ample capacity to fund the ongoing expansion at the Island gold mine (the priority capital program within the company's portfolio) and engineering studies and permitting at Lynn Lake (the development project in Manitoba, Canada). The recently announced acquisition of Manitou Gold (OTCPK:MNTUF) also deserves a mention when talking about capital allocation. This deal ensures access to a much larger portion of the gold trend that hosts the Island gold mine and we are already curious to see the exploration results from this new land holding.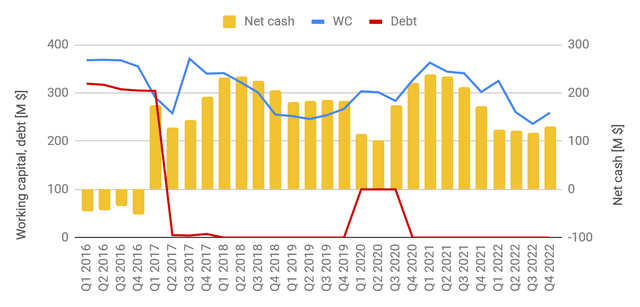 Summary & Investment Thesis
Alamos Gold is perhaps the single best performing mid-tier gold miner, at least within the group of companies we tend to follow closely. The company operates its mines with outstanding efficiency, and it delivers capital projects within time and according to schedule. All three operating mines are assets with relatively long mine lives and plenty of future potential in desirable jurisdictions.
Unfortunately, this obvious quality currently comes with a hefty price tag. At a share price of $10.30 at the time of writing Alamos Gold is trading at 1.25xNAV, 15x trailing sustaining free cash flow, and 50x forward free cash flow. That's a very generous market valuation, befitting a quality company like Alamos Gold. However, it's certainly not a bargain.
Looking ahead, the company guides for 9% more gold production in 2023 compared to 2022 thanks to La Yaqui Grande, and a decreasing cost profile thru 2025. The next step change in the company's production profile is due in 2026 with the completion of the Phase 3+ expansion project at the Island gold mine. Whether this outlook relatively light on major catalysts will be sufficient to maintain the current market valuation remains to be seen. However, we see relatively little room to move much higher from where the company trades at the moment. We rate Alamos Gold as a HOLD.
Editor's Note: This article discusses one or more securities that do not trade on a major U.S. exchange. Please be aware of the risks associated with these stocks.