Amazon: It Could Get Ugly (NASDAQ:AMZN)
All eyes will be on Amazon.com, Inc. (NASDAQ:AMZN) when it reports fiscal fourth quarter results after market close tomorrow, February 2. The currently-prevalent recessionary environment has weighed down on the results of e-commerce companies across the globe, and investors would be anxiously waiting to see how Amazon's revenue gets impacted as well. But in addition to tracking the e-commerce giant's headline sales figure, investors may also want to monitor its segment revenue, Amazon Web Services ("AWS") growth rate, profitability profile, and its management's outlook for the year ahead. These items will better highlight Amazon's near-term prospects and are likely to dictate where its shares will head next.
Growth Fluctuations
Let me start by saying that Amazon's top brass has done a terrific job at growing their business so far. Their revenue is up nearly 700% in the last decade and it continues to grow with each passing year. This is truly a commendable feat and an enviable position to be in. But with credit given where it was due, there's a good chance that Amazon's growth will stall in the near-future, given the ongoing recessionary environment and spending cuts happening across the globe.
For the record, Amazon classifies its revenue in three reportable segments, namely North America, International and AWS. The former two segments comprise of revenue generated through e-commerce activities and subscriptions of earned in domestic and foreign markets, and they tend to do well during the holiday season that falls in Q4. But since interest rates have been on a meteoric rise across the globe and consumer budgets have been strained lately, the seasonal uptick that we usually see in Q4, may be limited. So, I estimate Amazon's North America and International segments to post a sequential revenue growth of 15% each, during Q4.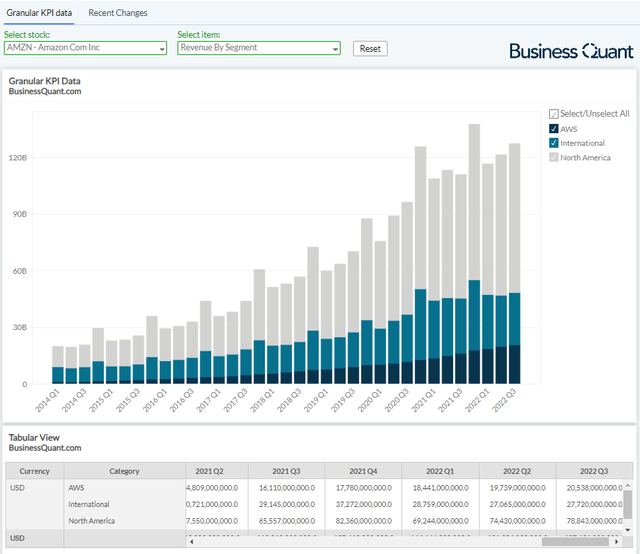 The third segment, that is Amazon Web Services, has been the shining star in the company's growth story but it's likely to register a sales deceleration this time around. Its closest comparable, Microsoft (MSFT) Azure, posted a significant slowdown in its pace of revenue growth during the quarter as enterprises across the globe have begun slashing their discretionary spending in a bid to be financially frugal. Since this is an industry dynamic, I believe Amazon's AWS will experience similar headwinds and its revenue growth will decelerate to 1% sequentially and 16.7% year-over-year.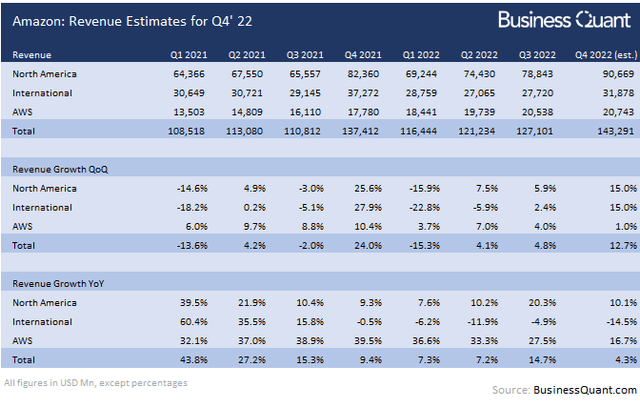 These projections bring us to an Amazon-wide revenue estimate of $143.3 billion for Q4. This figure is coincidentally within the Street's range of estimates, that are currently spanning from $140.14 billion to $148.25 billion for the quarter. But having said that, also pay close attention to Amazon management's outlook for the year ahead. Everyone, from IMF, analysts to the big banks, has a different view about the macroeconomic environment in CY23. So, look for clues on what's Amazon's take on the same and when do they expect revenue growth to pick pace going forward. I believe this will be another key item that will influence investors' sentiment in the coming weeks.
Impact on Profitability
Moving on, although Amazon has been an immensely profitable company over the years, I contend that its profitability will take a drastic hit during Q4.
Note in the chart below that two of the three reporting segments have already been posting operating losses. The company is expanding operations internationally and is yet to unlock the economies of scale, which is one of the major reasons why its International segment has recorded staggering operating losses and will likely come in flat sequentially in Q4. The North America segment might post sequentially flat operating losses as well, due to the absence of any major catalysts that would change the status quo. However, the drop in AWS' revenue growth momentum while its investments remain high, is likely to drag the segment's, and the overall company's, operating profits lower in Q4.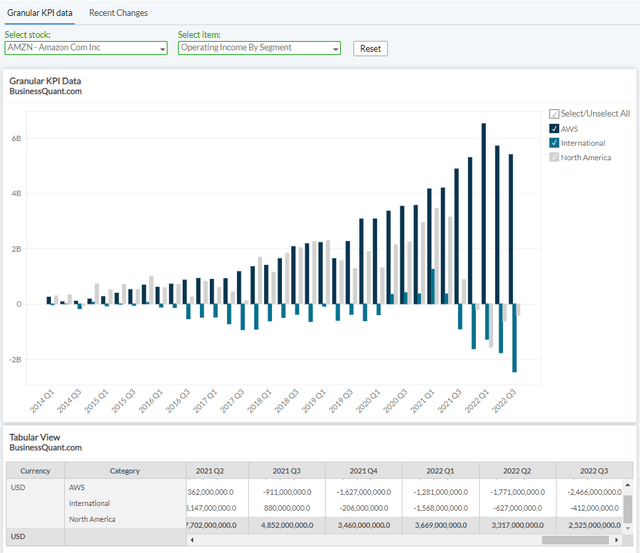 Secondly, the company held roughly 158 million Class A shares of electric vehicle manufacturer Rivian Automotive, Inc. (RIVN) as of September 30, 2022. This was a really smart investment at the time, considering Amazon can strategically replace and expand its fleet of delivery vehicles with these electric vehicles to cut down on fuel expenses. But the problem is that Rivian's stock price has been falling like a rock, which will inevitably drag Amazon's profitability lower.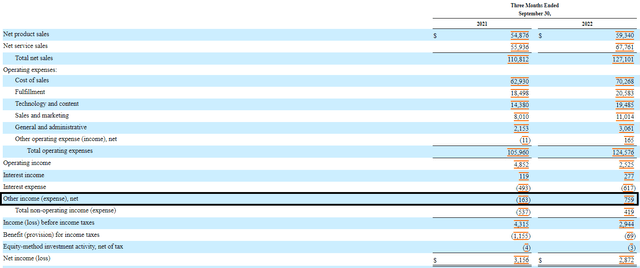 See, Amazon has an item called "Other Income" on its income statement which includes the gains or losses from marketable securities. On June 30, 2022, when Rivian's stock price was $25.4 apiece, Amazon's equity investment in the company had a fair value of $4.1 billion. But by September 30, 2022, Rivian's stock price rose to $32.9 apiece and Amazon's equity investment value in the company rose to $5.2 billion. As a result of these paper gains, Amazon recorded a $1.1 billion worth of increase within "Other income," which lifted the ecommerce giant's overall net income.
From its last 10-Q filing:
Included in other income (expense), net is a marketable equity securities valuation gain (loss) of $1.1 billion in Q3 2022… from our equity investment in Rivian Automotive, Inc. ("Rivian")
In other words, Amazon's net income would have been approximately $1.1 billion lower (pretax) in Q3 if it had not registered these paper gains. But the issue now is that Rivian's stock had a closing price of $18.43 as of December 31, 2022 – the day when Amazon's Q4 most likely came to a close. So, per my guesstimates, the ecommerce giant's investment in Rivian had a fair value of $2.87 billion as on December 31, 2022, and it'll drag its other income, as well as net income, lower by $2.33 billion during Q4. This figure may not mean much in isolation but it's actually comparable to Amazon's entire net income of $2.87 billion last quarter.

Therefore, due to the above-mentioned factors, I estimate that Amazon's net income will take an ugly hit in Q4 and the e-commerce giant will post a net loss of roughly $200 million in the said quarter. But having said that, it's surprising that rarely anyone's talking about the Rivian-effect when assessing Amazon's Q4 results.
Final Thoughts
As far as Q4 is concerned, Amazon is likely to post revenue and net loss in the vicinity of $143.3 billion and $200 million, respectively. Investors who aren't aware of Rivian, and how it stands to impact Amazon's financials, might be in for a rude awakening when they see the e-commerce giant's net income plummet during Q4. So, investors with a short-term time horizon may want to brace for an ugly quarter.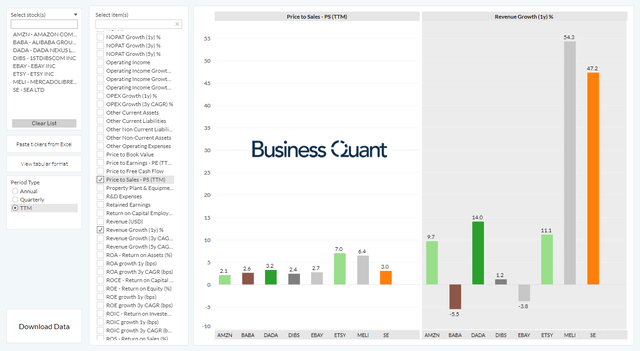 Having said that, Amazon's shares are trading at 2-times the company's trailing-twelve-month sales. This is quite low when seen in tandem with industry comparables. Many of the other e-commerce platforms are either trading at vastly higher multiples or having much inferior levels of revenue growth. This leads me to believe that Amazon's shares are already pricing in a lot of the risks and offer an attractive price point for investors with a multi-year time horizon. Hence, I believe that Amazon's shares are a good buy for the long-term, in spite of the short-term risks ahead of it. Good Luck!