Applied Digital: Examining The Big Cryptocurrency Discount (APLD)
The desire for safety stands against every great and noble enterprise."― Tacitus
Today, we take our first look at a small cap 'Busted IPO' with a somewhat unique niche. The stock has given its shareholders a wild ride over the past couple of years. There are some potential catalysts on the horizon. An analysis follows below.
Company Overview
Applied Digital Corporation (NASDAQ:APLD) is a Dallas based operator of 'next generation' data centers, which it designs and constructs to provide substantial high-performance computing [HPC] power to customers – primarily cryptocurrency miners. The company has one operational facility with 100 Megawatts (MW) of capacity in North Dakota, as well as a 200MW data center in Texas and a second facility (180MW) in North Dakota both due to come online by the end of February 2023. Applied Digital was originally a miner of Bitcoin (BTC-USD) and Ethereum (ETH-USD), housing its hardware in China. When the Chinese government cracked down on mining facilities located within its borders, the company sought hosting facilities elsewhere, eventually resulting in the construction of its first data center and an exit from its mining operations. Able to sell its vision of predictable recurring revenue, it went public as Applied Blockchain in April 2022, raising net proceeds of $36 million at $5 a share. Applied Digital stock trades around $2.50 a share now, translating to a market cap of roughly $250 million.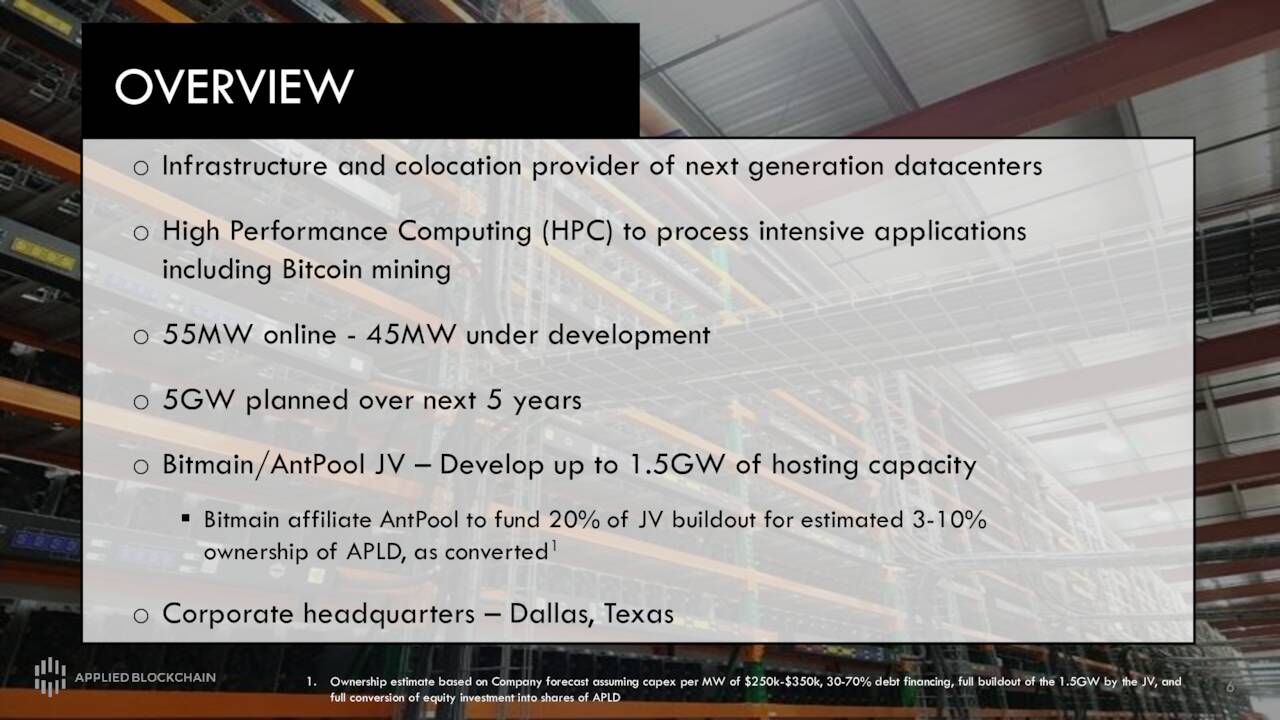 The company operates on fiscal year (FY) ending May 31st.
Data Centers and Crypto-Mining
For those not involved in cryptocurrencies, Bitcoin transactions are posted on the network's public ledger (the blockchain) using the secure hash algorithm, which is designed for digital signatures. The network pays Bitcoin miners to bundle recent transactions utilizing the cryptocurrency into 'blocks', which are then validated when the miner solvers cryptographic problems. Solving these problems requires the heavy-duty computational power of mining servers housed in data centers. The greater the computational power to validate the transactions, the greater the portion of compensation received by the miner. As a further economic wrinkle, owing to the fact that there is only a fixed amount of Bitcoins (21 million) to ever be issued, as time goes by, miners receive diminishing pay for their services. To illustrate, in 2009 when Bitcoin launched, each block created was worth 50 Bitcoins. By design, this compensation falls by half every four years, meaning that in 2024 each block created will be worth 3.125 Bitcoins. When a miner's revenue falls by half, energy consumption must fall proportionately or the activity of creating blocks becomes increasingly uneconomic. That is where Applied Digital's ultra-low cost digital infrastructure is crucial.
Approach
The company provides energized space to customers, who place their hardware within its co-hosting facilities. Its next generation data centers consume copious amounts of energy to keep the servers powered and cool. As such, its facilities are better suited for remote geographies with low power costs. Owing to this distinction, it is difficult to convert legacy data centers – which are typically close to metropolitan areas for low latency Web 2.0 functions such as streaming – to next generation properties.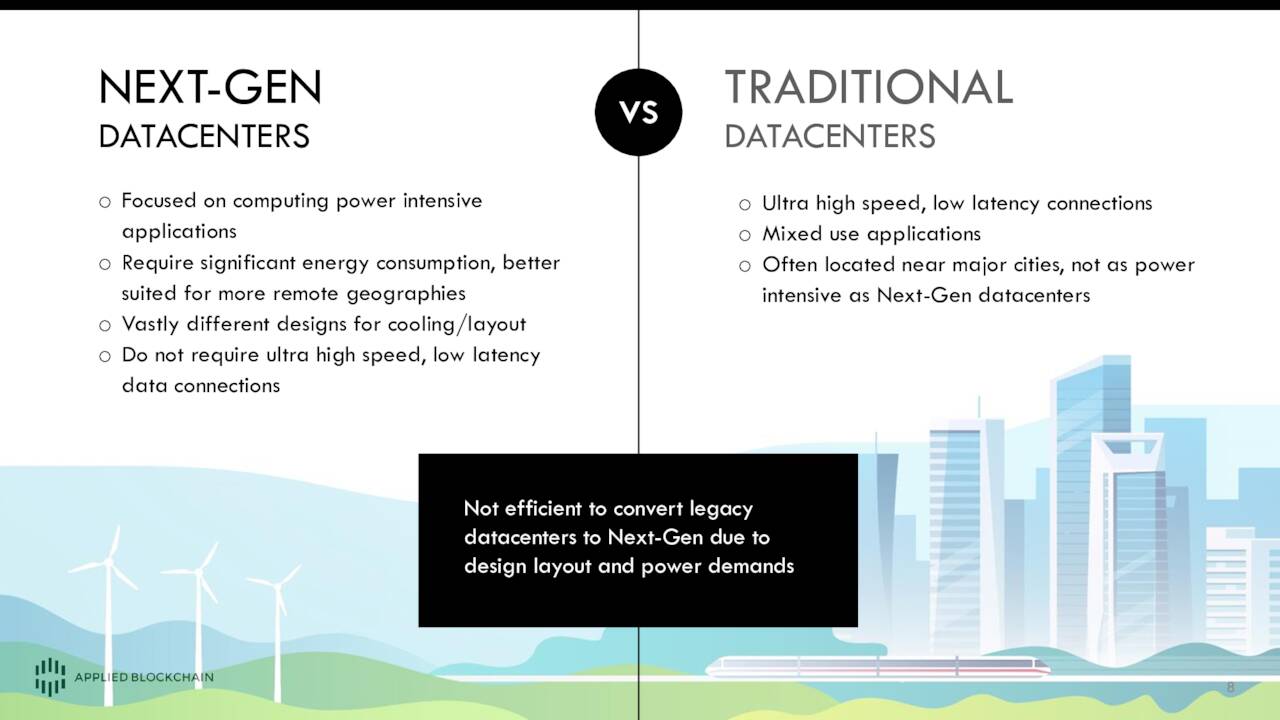 Obviously, maintaining the blockchain is not the sole function of HPC data centers, but it has been for the company's 100MW facility in North Dakota, which hosts five cryptocurrency miners. Furthermore, the two facilities scheduled to be energized very shortly (Management stated the end of February in last communication) are fully contracted by agreements with crypto miners. It is anticipated that the nearly 500MW of operating capacity from the three data centers will generate annual EBITDA of $100 million.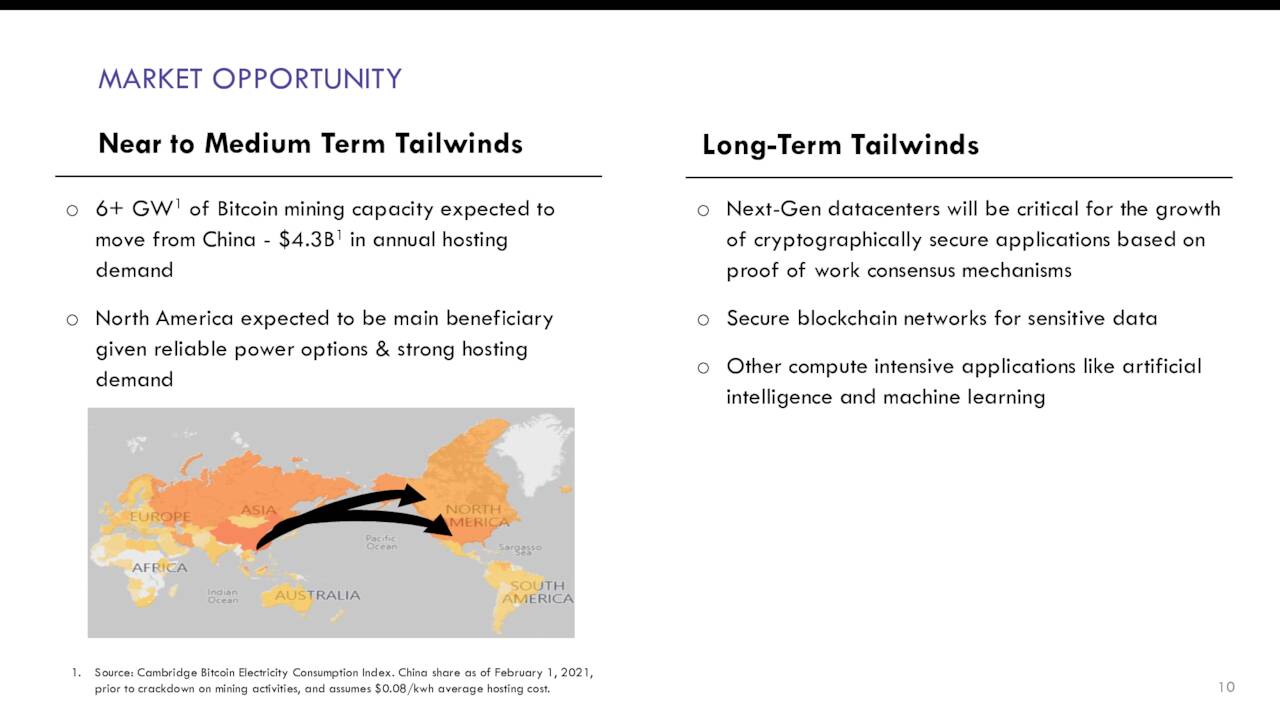 That said, Applied Digital is attempting to broaden its customer base, taking the first steps in 2QFY23 with the signing of its first two non-crypto clients, of which one will be housing its equipment at a currently under construction 5MW processing center purpose-built for graphics processing units located next to its 100MW facility. In preparation for this expansion into other HPC use cases – including artificial intelligence, machine learning, natural language processing, drug discovery, graphics rendering, and other Web 3.0 functions – the company changed to its current moniker in November 2022. According to Verified Market Research, Web 3.0 applications will comprise a $65 billion market by 2030.
In addition to its ongoing buildout, Applied Digital entered into a 50/50 joint venture (dubbed Highland Digital) with GMR Limited to target distressed mining hardware and digital infrastructure asset acquisitions up to $100 million in September 2022. Funding will be provided from outside investors, meaning the company will not directly contribute capital to the JV.
Share Price Performance
Although Applied Digital's IPO was priced at $5 per share, its extremely volatile stock has touched that level just once (June 2, 2022), only to be trading under $1 a share eight trading sessions later. The only news items during that time were the recapture of 4.97 million shares (5% of total outstanding) from a vendor who could no longer provide services and the end of the lock-up period for 36.4 million shares. The stock then doubled in value (to $2.12) on volume of more than 131 million shares after news that Applied Digital had entered into a five-year hosting contract with crypto miner Marathon Digital (MARA) for 270MW of Bitcoin mining capacity on July 29, 2022. That positive story was tempered by a concurrent bulletin that its facility was partially (~50%) offline due to unexpected equipment failure at the substation powering the facility with full-service not restored until mid-August. After the dust settled on those developments, shares of APLD traded in a 'relatively narrow' range of $1.45 to $2.62 since the end of July until a breakout in January, before recently falling back into that trading range.
2QFY23 Earnings & Outlook
With its one operational facility at more than 90% capacity for all of 2QFY23 – and fully contracted on multi-year contracts – Applied Digital reported financial results on January 9, 2023, posting a loss of $0.04 a share (non-GAAP) and negative Adj. EBITDA of $2.1 million on revenue of $12.3 million. There are no prior year comparators as the company was not generating revenue at that time. The bottom line was two pennies better than Street consensus while the top line was $140,000 better.
Applied Digital did provide an operational update in which (as stated previously) it expects both its Texas and second North Dakota facilities to be energized by the end of February 2023, but hasn't announced yet if they are on line yet. Substantially all of the capacity from the latter and 90MW from the former will fulfill the Marathon contract, which should produce annual revenue of ~$100 million.
Balance Sheet & Analyst Commentary
As of November 30, 2022, the company held cash and equivalents of $18.1 million and debt of $20.5 million.
With prospects for profitability in calendar 2023, Applied Digital is a favorite of Street analysts, who feature one outperform and six buy ratings and a median price target of $3.85. It should be noted that targets have been lowered at three firms since October 2022 to reflect a delay (versus prior expectations) in the ramp schedule of the company's Texas facility.
Chairman & CEO Wes Cummins is also bullish. Representing the interests of B Riley Asset Management, he has purchased 300,000 shares since the company's 2QFY23 earnings report. It should be noted that he is also very personally vested, with his account reflecting over 3.7 million shares and his family trust owning an additional 17.6 million shares.
Verdict
The irony with the volatility in Applied Digital's stock is that the company will most likely transform its capital structure to a real estate investment trust – like traditional data center REITs Digital Realty Trust (DLR) and Equinix (EQIX) – once it reaches critical mass. Obviously, comparisons are challenging when Digital Realty operates over 300 locations and Applied Digital is hoping to have three energized by the end of February 2023. That said, Digital Realty trades at an EV/Adj. EBITDA of just under 20 and yields 4.7%. Equinix, with its 249 data centers supporting the cloud, trades at an EV/Adj. EBITDA of just under 22 and yields 2%. A back of the envelope calculation would suggest that if Applied Digital can execute on its $100 million annual EBITDA forecast once its three data centers are fully operational, it is currently trading at a forecasted EV/Adj. EBITDA significantly under 4.
This busted IPO appears worthy of a small 'watch item' holding with several caveats. First, despite its talk of diversification, Applied Digital has massive exposure to crypto miners with effectively all of its top line generated from this sector. Second, its 200MW facility in Texas is being powered by a wind farm, which can be an intermittent or, as was the case of during the winter of 2022, non-existent energy source. Although supported by battery storage, this setup merits scrutiny. That said, this is a stable business model in an otherwise uncertain industry. With diversification just beginning, Applied Digital is worthy of a small investment at current trading levels.
As day is to a sword, night is to a shield."― Anthony Liccione