Astellas Pharma: Balanced Investment Debate After Q3 Numbers
Investment Summary
Carrying through our broad coverage of prostate cancer interventions, we turn to global competitors in order to analyze the entire value chain. Following its Q3 FY22 results we firmly believe the investment debate for Astellas (OTCPK:ALPMY) (OTCPK:ALPMF) remains balanced. Whilst YoY growth percentages in its core business segments was reasonably strong, there's some potential doubt about generic competitors to its XTANDI label, and particular order metrics fell behind company expectations during the quarter. As a footnote, we were encouraged by the sale of Astellas' anti-fungal label Mycamine to Novartis (NVS) via its subsidiary Sandoz back in January, on a sales of JPY 18.9Bn [note, being a Japanese-based firm, its reports in JPY, consequently, for the purposes of consistency I'll be writing in terms of JPY in this report, unless otherwise stated, where USD $1.00. = JPY 130.96 at the time of writing. Moreover, the company is reporting its Q3 FY22′ results, corresponding to Q4 CY22′. I'll be talking in terms of its Q3 for consistency as well].
Prior to jumping into the analysis, we have formed a neutral view on ALPMY stock price based on 1) XTANDI's capacity to compete against generic labels from a cost perspective; 2) new-starts in its XTANDI segment still below pre-pandemic range; 3) reasonable YoY quarterly sales and operating profit growth; 4) positive rating from quant grading system; 5) robust periodic profitability; 6) the latter balanced by potential JPY/USD headwinds. We are well versed in our coverage on Japanese pharmaceutical players, and refer you to our recent buy case on Takeda Pharmaceutical (TAK) for comparisons. In addition, our recent longs in prostate cancer treatment are listed below:
Exhibit 1. AMPLY quarterly accounts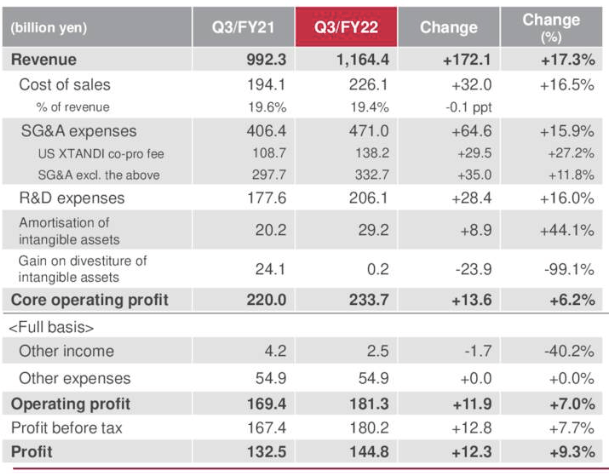 Separate to its financial accounts, we noted the company's clinical trial momentum on the earnings call, especially around its AT845 pathway in Pompe disease and two phase 3 studies for zolbetuximab each meeting primary endpoints. However, it's nephrology and anaemia pathways have lagged in recent periods, face regulatory pressures in Japan, and haven't met internal expectations. Supporting our neutral stance, the company announced a buyback of up to JPY 50mm, equating to ~29mm shares per management, to be conducted from February through to March 24th, supporting the trailing dividend of USD $0.41. Management also are confident the "core business is in line with the forecast" yet we are also cautions on ongoing FX impacts from the JPY/USD cross, as mentioned. Net-net, rate hold.
ALPMY Q3 financial results analysis
Starting with the positives, we observed the following key data points:
ALPMY experienced an increase in top-line growth of 17.3% YoY, with sales reaching JPY 1,164TBn. As such, the company is on track to meet its full-year forecast of JPY 1,529Bn, currently at ~76% towards that goal. Core operating profit also increased by 6.2% YoY on-track to reach full-year forecasts of JPY 233.7Bn.
Importantly, following a review of its development plan for Xyphos post-acquisition, the company booked an increase to its fair value of contingent consideration of JPY 4Bn.
Moving down the P&L, we welcomed the overall operating profit growth of 700bs YoY, reaching JPY 181.3Bn for the quarter – ~67.5% towards the full-year guidance. It pulled this down do earnings of JPY 144.8Bn, a 9.3% YoY gain.
Related to point 2), looking at the divisional highlights, as anticipated, XTANDI global sales were up double digits to JPY 511Bn. The standout was the 127% YoY growth in PADCEV revenues [Exhibit 2]. Given the cost differentials for XTANDI [USD $14,382 for 120 oral capsules] this is a solid result, by estimate.
Further balancing the risk/reward calculus, ALPMY's periodic ROIC continued to exceed its cost of capital over the 12 months [on a rolling TTM basis], generating a tidy economic profit ("EP") each over this time. Consequently, we'd note that each period of growth is likely accretive to valuation.
More importantly to this analysis, the firm continues to believe it is on track to at least meet its full-year guidance at the top and bottom lines.
Exhibit 2.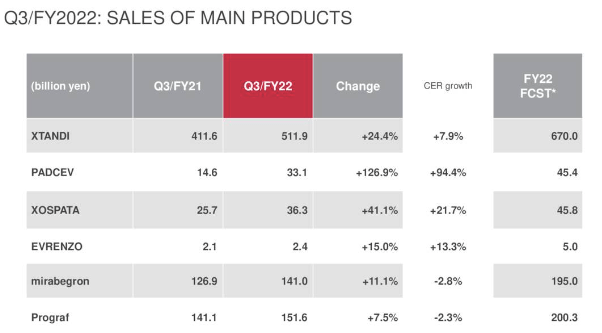 Exhibit 3.

Switching to the negative news from its third quarter, our key takeaways include the following:
In view of point 4) above, in view of its double digit YoY growth, forward-looking sales of XTANDI in the U.S. were revised downward. Moreover, despite strong performance in Europe, PADCEV's global sales were marginally in line with the internal guidance.
Speaking further of PADCEV, revenue from clinical trial orders fell below expectations. We estimate this could result in the company falling short of its full-year guidance in this department.
Further related to point 4) above, we are uncertain on the U.S. market conditions for XTANDI. This is supported by the high ratio of XTANDI patients on the Patient Assistance Program ("PAP"), coupled with increased share of generic competitors to Janssen's Zytiga [and therefore XTANDI] continuing to impact the market. XTANDI new patient starts also haven't returned to pre-COVID levels, and there's been no sequential improvement in this situation versus AMPLY's Q2. Subsequently, the impact of generic competitors is not yet clear, balancing the risk/reward symmetry.
Valuation and conclusion
The company's JPY 50Bn buyback is well received and a complement to its prospective dividend stream [Appendix 1]. With respect to ALPMY's valuation, we are encouraged by the stock's ~35% discount to the sector at 17x forward earnings, sporting no debt and thus reduced sensitivity to rates, and Q3 FCF of JPY 150Bn. Quant ratings also support this undervalued nature and rate ALPMY a respective buy [Exhibit 4, Exhibit 5 respectively].
Exhibit 4.

Exhibit 5.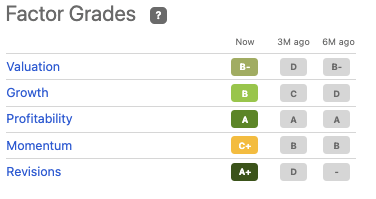 Balancing the valuation debate is the fact shares are priced at >2.2x book value on a PEG ratio of 1.71x, two supportive points for a neutral view on valuation. We'd look for the stock to increase bottom-line growth in its full-year earnings to see these figures balance to more attractive levels.
From the above figures we believe there are more selective opportunities elsewhere and await clarity on the XTANDI situation in terms of costing and potential threat to market share from generics. New CEO Naoki Okamura will have to demonstrate the company's strategy for the new fiscal year. Nevertheless, we are balanced in our view on ALPMY's stock price for now. Net-net, rate hold.
Appendix 1.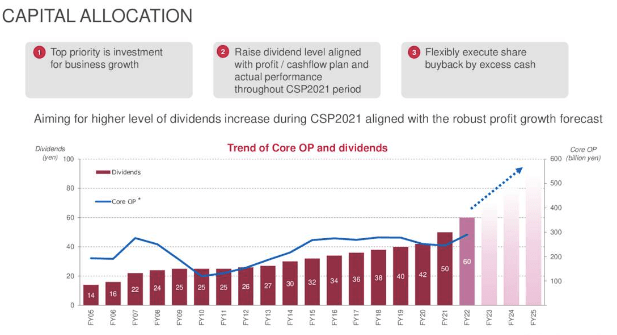 Editor's Note: This article discusses one or more securities that do not trade on a major U.S. exchange. Please be aware of the risks associated with these stocks.