Atreca (BCEL) Locks In A Catalyst In The Oncology Space
Atreca (NASDAQ:BCEL) is a biotechnology company with a upcoming catalyst from its lead pipeline candidate, ATRC-101, in advanced solid malignancies. This article takes a look at the data to date and what we might expect when BCEL reports updated results from its trial.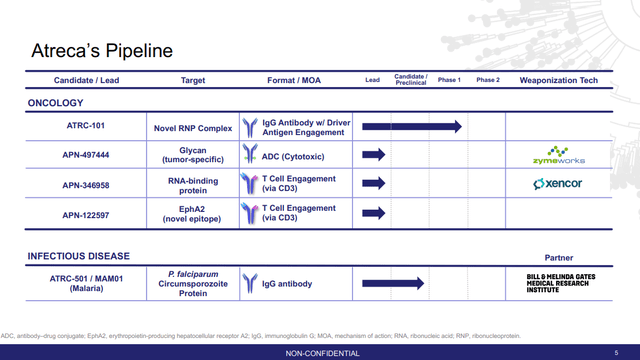 ATRC-101
ATRC-101 is a fully human, IgG1 subclass antibody, derived from a naturally occurring human antibody, found in patient with lung cancer, using BCEL's technology.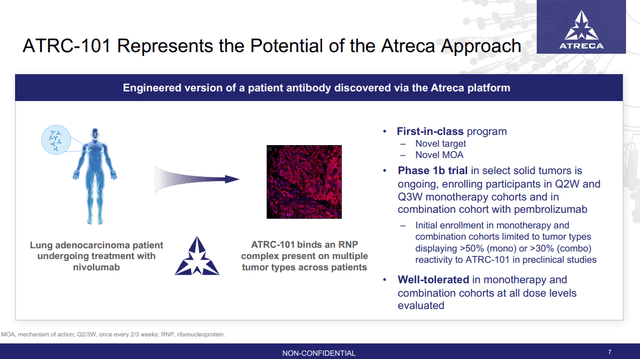 Results so far with ATRC-101 in a phase 1b trial show that the drug does have potential, with activity seen across a variety of tumor types. The most impressive data previously were seen in combination with Merck's (MRK) pembrolizumab (Keytruda), with one melanoma patient achieving a complete response, but a partial response was seen with ATRC-101 monotherapy in an non-small cell lung cancer patient. In the safety set of 50 patients, there were grade 3 adverse events in 16 participants, including acute respiratory failure reported in two patients. When BCEL initially provided an update on the phase 1b study, in March 2022, the company noted based on the 47 patients of safety data at the time, on two of the grade 3 adverse events were considered potentially treatment-related (headache, small intestinal obstruction). That seems to fit well with the table presented in a poster at Society for Immunotherapy of Cancer Annual Meeting in November 2022, which includes all 50 patients.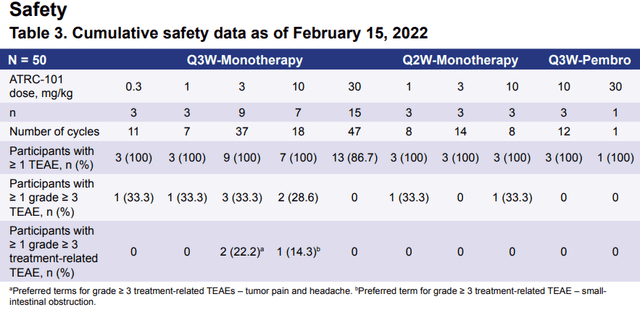 Based on data collected to date, BCEL has decided to continue its phase 1b trial in patients where expression of the target for ATRC-101 is found above a certain level. Among patients with an H-score (a score quantifying expression of the target to which ATRC-101 binds) greater than 50 (n = 12 patients), the benefit of the drug is more obvious, six cases of stable disease, one partial and one complete response were seen. In those patients where the H-score was less than 50 (n = 12) only two cases of stable disease were seen (Figure 2, right panel). These analyses of H-score vs response, were only performed in 24 of a total 50 patients that had received at least one dose of ATRC-101 at the time data were extracted (February 15, 2022). Nonetheless, even though only coming from a 12 vs 12 analysis, the H-score findings make sense, why wouldn't the drug work better in tumors with higher target expression.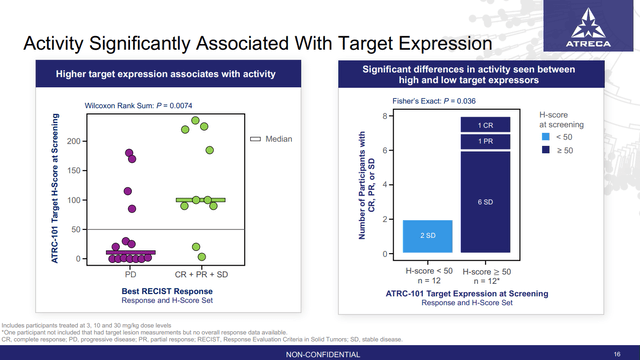 I think BCEL's decision to proceed with patient enrollment based on target expression data from biopsies is a good move that will increase the proportion of patients enrolled achieving a response. Further, I note that in the subset of patients with H-score and response data available, 12 from 24 patients had an H-score equal to or greater than 50, so BCEL still has plenty of patients its drug can potentially benefit. BCEL has continued enrolling patients at the highest dose of ATRC-101 tested, 30 mg/kg, both as a monotherapy and as a combination, and is planning to report additional data in Q1'23. A November 10, 2022, press release from BCEL noted that 67 participants had been enrolled in the phase 1b study, and that the company was initiation new trial sites. As such there were at least 17 new patients (on top of the existing 50 patients which BCEL has reported on) in the trial at the time of that press release and by the end of Q1, perhaps we could expect data from another 20-25 patients.
I think that based on the fact that BCEL is exploiting what it has learned about target expression, and that there is also further work with pembrolizumab in combination, we have a good chance of seeing more partial and complete responses in the next dataset. A January 9, 2023, press release confirmed that BCEL expects to present additional phase 1b study data "later this quarter." With that in mind I consider it unlikely there would be much slippage of the timelines on this catalyst.
Financial Overview
As of September 30, 2022, BCEL had cash, cash equivalents and investments of $85.7M. Net loss was $23.1M for Q3'22 and net cash used in operating activities was $65.3M in the first nine months of 2022. At the current rate of burn, BCEL would be out of cash in about 12 months from the end of Q3'22, about Q3/Q4'2023. BCEL's January Corporate Presentation notes it expects cash to fund operations through "EOY 2023," which is loosely consistent with my burn rate calculation. As of November 10, 2022, there were 32,351,950 Class A shares outstanding and 6,715,441 shares of Class B shares outstanding, corresponding to a market cap of $68M ($1.74 per share). At the current share price then, BCEL really doesn't have a lot of ability to raise another 12 months of funds without diluting the stock in half and then some. Of course that is not likely the idea of the company, instead I'd expect we'd see some sort of raise further down the road, especially if the stock continues its recent reversal, helped by a technical breakout and any well received clinical data, or other updates.
BCEL has an existing sales agreement, made in August 2020 with Cowen and Company, LLC, allowing them to sell Class A shares at-the-market, up to $100M. Cowen gets compensation of up to 3% gross proceeds. As of September 30, the company had sold 1,493,361 Class A shares, yielding net proceeds of $7.9M, after deduction of $0.3M in underwriting fees and $0.3M in issuance costs. For example, net of issuance costs, BCEL raised $3.5M in proceeds using at-the-market offering in the first nine months of 2022. As such BCEL has the potential to raise another $90M or so using the at-the-market agreement with Cowen.
Conclusions
I expect more positive news with regards to the activity of ATRC-101 in Q1'23, and that will provide not only excitement about the potential of that drug, but another encouraging validation of BCEL's antibody discovery technology. I've rated BCEL a strong buy as the company currently trades below cash, or at about cash considering current cash will be lower than at the end of Q3'22, has an upcoming catalyst where I expect positive data, and an appealing chart pattern with a flag forming following a break from a downward channel.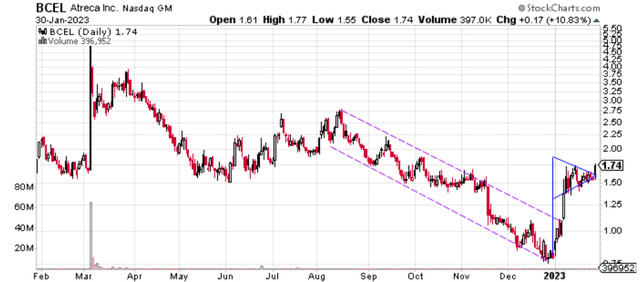 The risks of any long are several fold, a few of which are discussed here. Firstly, adverse events with ATRC-101 could offset any enthusiasm about the efficacy of the drug. Secondly, subsequent updates may underwhelm on efficacy. Lastly, although BCEL has other pipeline candidates, they aren't in trials yet, and delays in filing an Investigational New Drug application, or clinical holds could result in delays developing these drugs, leading to the stock selling off.
Editor's Note: This article covers one or more microcap stocks. Please be aware of the risks associated with these stocks.