BlackRock Health Sciences: Well-Positioned Healthcare CEF For Monthly Income (NYSE:BME)
To follow up my recent article on the BlackRock Science and Technology Trust (BST), I wanted to examine another favourite CEF of mine that can serve as a non-overlapping complementary holding, the BlackRock Health Sciences Trust (NYSE:BME).
Overview
BME is a perpetual closed-end fund run by BlackRock (BLK), the largest asset manager in the world. It boasts nearly $600M in AUM and invests in roughly 120 stocks in the health care sector with "strong pipelines and potential long-term growth opportunities", bought and sold at the fund managers' discretion like an actively managed mutual fund. BME pays monthly distributions at a current annual rate of 5.93%. Historically, the vast majority of its distributions are classified as capital gains for tax purposes, showing that the fund's returns have been more than sufficient to fund its distributions without eroding its NAV over time.
BME is trading at a slight 1.4% premium to NAV, which suggests shares are slightly overvalued at the moment: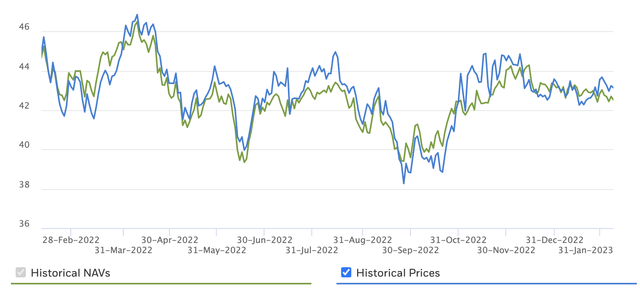 As with most of BlackRock's equity CEFs, BME's high yield is primarily achieved through writing (selling) covered calls on the fund's holdings to generate additional income. As we can see below, as of the end of 2022, covered calls were written against approximately 35% of the fund's positions. Furthermore, its average market cap of $181B shows us that the fund primarily invests in large-cap companies, which indeed comprise 90% of its holdings.

BME is headed by a capable team of several long-time fund managers, led by Erin Xie and Xiang Liu. Ms. Xie is the head of BlackRock's Health Sciences team with lead portfolio management experience dating back to 2001 and a PhD in Biochemistry, and Mr. Liu's tenure with BlackRock dates to 2008 with a prior background in pharmaceuticals and health care consulting and a PhD in Chemistry.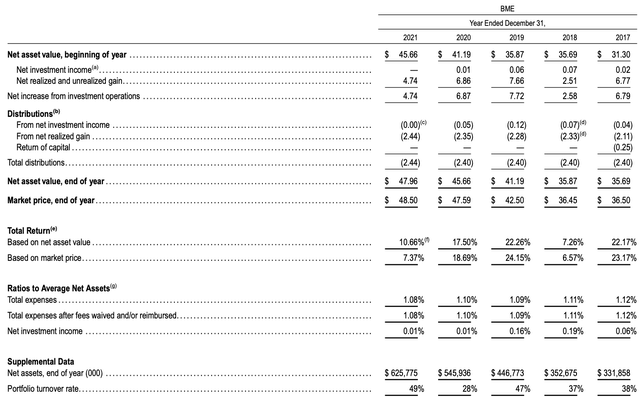 A look at BME's annual report above shows some good trends along with one concern. The fund's NAV has been steadily increasing over the years, and along with this its expense ratio has been gradually declining from 1.12% in 2017 to 1.08% currently. It's still a high expense ratio compared to most ETFs, but remains well in line with other covered call CEFs, which require much more active management than traditional sector or broad market ETFs that follow an outside index's weightings and methodology.
My main concern with BME is its turnover rate, which reached as high as 49% in 2021. Of course, covered calls can lead to higher turnover when shares are called away (sold to the option buyer), but I prefer to see lower turnover rates even in actively managed funds. This is because when I look at a fund's top holdings, I want to know that the fund will hold those positions long enough for me to benefit from their medium-to-long-term price appreciation and not trade in and out of them too frequently. This is especially true with BlackRock's CEFs, as BlackRock typically only discloses their CEFs' top 10 holdings at the end of each month, and investors might only get a glimpse of the full holdings list every six months via Morningstar or via the CEF's semi-annual fund reports. It's a bit frustrating to invest in a fund based on an outdated holdings list only to find out a month later that the holdings have completely changed.
Fund Holdings
The main reason I chose now to feature BME is that its current portfolio is highly aligned with my own strongest-conviction healthcare stock picks. As of the beginning of 2023, its top holdings included UnitedHealth Group (UNH), Eli Lilly (LLY), Johnson & Johnson (JNJ), Merck (MRK), Elevance (ELV) and Amgen (AMGN); all wonderful, wide-moat companies whose shares happen to be on dips at the moment. Three of its other top 10 holdings — Thermo Fisher (TMO), Danaher (DHR), and Abbott (ABT) — all had a rough 2022 as their COVID testing-related revenues plunged but are now starting to recover.

UnitedHealth and Elevance just delivered excellent earnings results and recent double-digit dividend hikes, Lilly's T2D and obesity treatment Mounjaro and Merck's multi-cancer immunotherapy injectable Keytruda continue to enjoy blockbuster drug status, and Amgen stands to benefit from its recently launched biosimilar to AbbVie's Humira, the best-selling drug in history, along with the addition of several other rare disease and anti-inflammatory drugs from its pending acquisition of Horizon Therapeutics.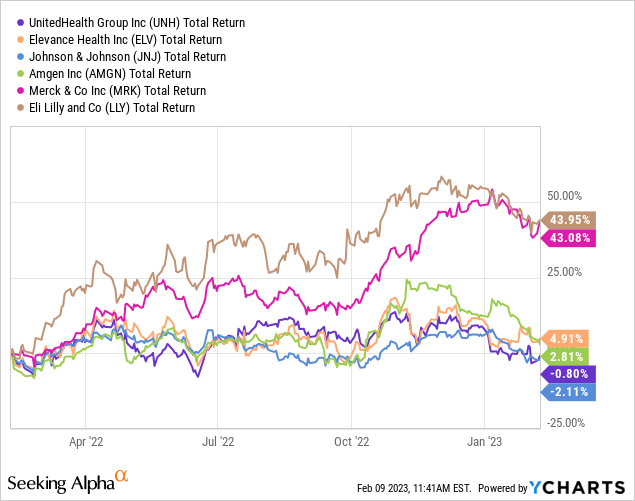 While I would feel comfortable buying shares of any of those companies individually at the moment, when multiple top names in a sector are dipping like this, I think the safest bet is often to buy a sector ETF for a swing trade or long-term hold. While a low-cost, highly liquid ETF like the Health Care Select Sector SPDR Fund (XLV) would be appropriate for short-term swing trades, for long-term holders I think BME presents an attractive value, giving investors an excellent core health care portfolio as well as monthly distributions that can help to lessen volatility if reinvested or provide reliable income if withdrawn. In fact, BME has actually significantly outperformed XLV in total return (with distributions reinvested) since its inception.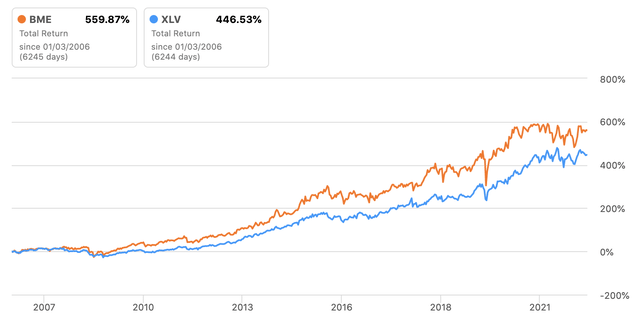 Distribution Yield & History
Like BST, BME also pays monthly distributions and has a long-term history of distribution growth, although this can be somewhat hard to discern since BME paid quarterly distributions from its inception in 2005 through late 2014, and it also pays occasional year-end special distributions to deliver excess capital gains to unit holders, as is required for CEFs to maintain their tax-free status.
Although its current 5.9% yield is somewhat low by CEF standards and significantly below BST's 9% yield, it is roughly at the midpoint of BME's long-term historical average: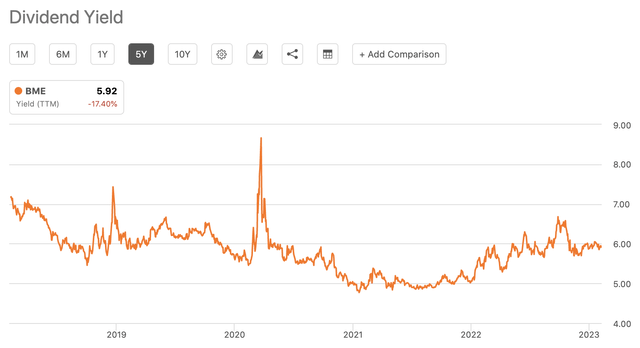 Lending to the strong investment case for BME is its history of distribution growth, something that few CEFs can claim. The fund does not raise its distribution every year, but it has managed to raise it consistently over the long term from $0.126 per month upon inception in 2005 (paid quarterly) to $0.21 per month currently. An extra 8-9 cents per month may not seem like much, but with a high-yielding fund it can mean the difference between a yield on cost that remains constant versus one that rises meaningfully over time like it would if you owned a dividend growth stock or ETF.

As we can see above, if an investor had bought BME ten years ago, their current yield on cost would be nearly 11%. And if they had bought BME back in 2005, their YOC would be more than 15.5% annually. Of course, there is no guarantee of future distribution growth with any CEF, but BME's 20-year history of it should give us confidence that management views raising the distribution as a long-term goal.
Conclusion
For investors that rely on dividends and distributions for their primary or secondary source of income, few funds in any sector have done as well to deliver a consistently high, growing yield as the BlackRock Health Sciences Trust. It offers good liquidity, experienced management, and a wide-moat, large-cap-heavy portfolio that can serve as an income-focused alternative to a core health care sector ETF like XLV.
With most of its holdings on a current market dip despite their top quality, promising pipelines, and solid earnings outlooks, I rate BME a solid buy at current levels for long-term investors. For those simply looking to capitalise on this sector dip for a swing trade, I'd recommend considering XLV instead for similar stock exposures but higher liquidity and a lower, more tax-efficient quarterly yield.