Block: Reasonably-Priced With Strong Potential (NYSE:SQ)
Investment Thesis
Investor sentiment for Block (NYSE:SQ) deteriorated throughout 2022, causing the stock to give up almost all gains from its Covid highs. In contrast to its price performance, Block's underlying businesses continued apace. With impressive cohort economics and expanding moats, Square and Cash App are the foundation for the company's vision to create an ecosystem connecting sellers and consumers. This integration of Square, Cash App, and Afterpay would be highly synergistic in my view but depends heavily upon execution. A new focus on profitable growth and a stock price near my estimate of fair value complement my long-term bullish investment thesis.
Square
Block's merchant business, Square, started with POS (point-of-sale) hardware but has since expanded to cover the vast majority of small-to-medium-sized business needs. This strategy has allowed Square to grow alongside and more effectively retain its customers. As customers' businesses grow, they tend to adopt more of Square's products, creating powerful cohort economics, revenue retention, and switching costs. Below is a chart of cohort ROIs dating back to 2012. A cohort is defined as the group of new customers from a specific quarter. ROI is measured here as cumulative cohort gross profit divided by the Sales & Marketing (S&M) expenses for the applicable period.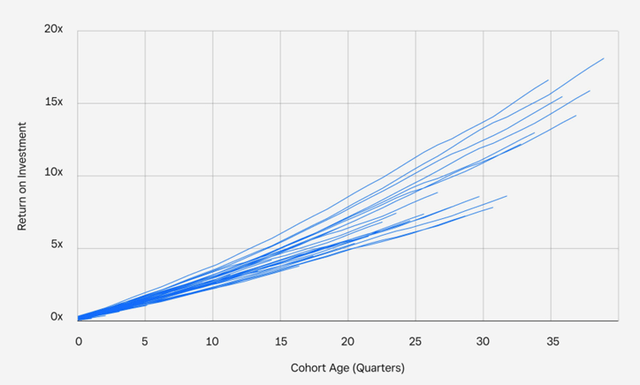 Square has historically been able to capture high rates of return on its S&M spend, with much of this gross profit recurring yearly. In addition, the payback period for the initial S&M spend usually occurs within 4 quarters. That means they recover the costs to acquire a cohort in under a year. With rapid payback periods and high long-term ROIs, Square merchants have tremendous customer lifetime value (CLV). Square's strategy of cross-selling to its merchants has also been effective in increasing CLV, with gross profit growing 3.5x as sellers adopt more products.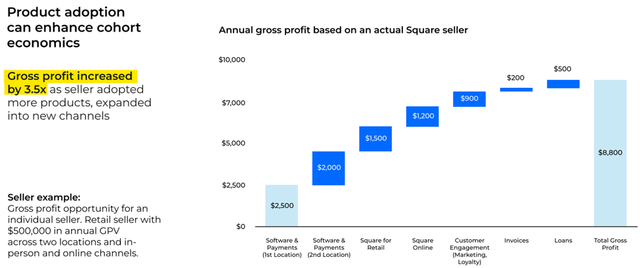 The switching costs inherent in this business model are clear as well. CEO Dorsey Explains:
It also gave us resiliency. Sellers may hire us to do three or four jobs for them. If they aren't satisfied with one, they can fire us for that one, but they aren't firing our entire company. They may not use us for a loan, but will continue to use us for software, payments, register and CRM. It gives us time to address the issues for the service they fired, and perhaps in the future, they'll rehire us for that one too.
Square's growth strategy going forward is centered around acquiring customers both internationally and up-market (larger merchants) and further developing its omnichannel offering (online, social, and in-person). The business has grown its share of international gross profit to 15% of total gross profit in Q3 of 2022, up from just 3% in 2015. Its international gross profit represented one of its fastest-growing categories as well, up 60% in 2021. Management estimates an international addressable market of $25B. With around $4B to $5B in company-wide gross profit, there is a sizable international runway for Square. Square stands to benefit from growing up-market as larger sellers tend to adopt more products, expanding the business's recurring gross profit and strengthening customer lock-in. They've already gained meaningful ground on this front, with mid-market sellers (>$500k annualized GPV) representing 40% of Q3 2022 GPV, up 22% YoY. The robust demand for omnichannel business software is evident, especially for smaller businesses, as it unlocks a wider customer base.
Cash App
Block's consumer finance business, Cash App, has grown to contribute roughly half of the company's total gross profit. Starting with peer-to-peer payments, Cash App quickly rose to the top of the heap, garnering massive brand awareness. Cash App has been the number 1 Finance app in the app store for 5 years, was the 8th most downloaded app in the US in 2021, and has around 80 million annual active users. Similar to Square, Cash App has demonstrated powerful cohort economics with payback periods under 12 months on customer acquisition spend and over 125% gross profit retention for each annual cohort in the last 4 years. Much of this growth and retention is driven by exploiting the app's network effects. Being one of the first P2P payment apps allowed Cash App to build its active user base quickly. With P2P payments, users pick the app their friends and family have and tend not to switch. With over 80 million annual actives, the focus is now on creating optionality for greater monetization of Cash App. New features in recent years like the Cash App Card, instant & direct deposits, and stock/crypto trading have been used to grow gross profit per user from $5 in 2016 to nearly $50 in 2021.
Afterpay Synergies
Block's long-term vision is the complete integration of its portfolio of seller-consumer businesses; an 'Ecosystem of Ecosystems'. Square and Cash App have a strong lock on their respective markets. One can imagine that the integration of a high-quality merchant business and a high-quality consumer business would create compelling synergies, which is exactly what Block aims to do via Afterpay. Afterpay, a leading buy-now-pay-later ('BNPL') company, was acquired by Block in early 2022. BNPL is a controversial business model but aims to add value by reinforcing consumer demand and driving greater sales on the merchant side, fitting nicely between Square and Cash App. Afterpay's synergies are fourfold. First, it has the potential to add over 140K active sellers and 20M active consumers (as of 2021) to Block's existing network. Second, it should drive increased sales and conversion (specifically omnichannel) for Square sellers. Third, it will strengthen the commerce features of Cash App, generating lead referrals and demand from users. Lastly, it unlocks advertising capabilities for Block as a whole. A complete integration would create a highly defensive business model through further enhanced network effects and switching costs. Additionally, the potential for transaction-based revenue would increase as money is kept within Block's ecosystem. Square sellers paying employees with Cash App, Cash App consumers purchasing from Square sellers, and other like-transactions could be highly monetizable.
Risks & Uncertainty
Integration of Block's three core businesses is attractive but depends heavily upon execution and continued efficacy. In the midst of a challenging economic environment, management highlighted their new focus on profitable growth in the company's Q3 2022 earnings call:
Ultimately, we remain focused on balancing growth and profitability in this environment. We want to operate with efficiency and agility in 2023 and beyond with an increasing focus on not only top-line growth but also profitability across both adjusted EBITDA and profit metrics that factor in stock-based compensation, where we intend on driving leverage over time.
They aim to do this mainly through reduced headcount and Sales & Marketing spend. This shift to profitability is positive for shareholders but lays more of a burden on management's capital allocation ability to effectively build out their 'Ecosystem of 'Ecosystems'. Integrating a sizable company like Afterpay is no easy feat and may require more capital than initially planned. Nonetheless, leadership has done well in fortifying Block's balance sheet with $5.4B in cash and a Debt-to-Equity of 33%. Another positive sign of management's allocation ability was purchasing Afterpay with all stock at a time when SQ stock was extremely expensive. The deal was announced in August of 2021 at a value of $29B. But by the time the deal closed in January of 2022, SQ stock had fallen and the deal was valued at $14B.
The efficacy of Afterpay's integration also carries some uncertainty. The BNPL business model is relatively new and unproven long-term. It became popular during the extra-ordinary circumstances of the Covid-19 pandemic when many buyers were forced online and economic stimulus was in place. Peer stocks have also struggled since then, with names like Affirm (AFRM) falling over 70% in 2022. The upcoming Q4 and full fiscal year should give more insight into how the integration is progressing and if there are any early signs of synergies. Another risk is Block's exposure to bitcoin, as is evident by Block's YoY revenue growth of only 1.3% which was heavily impacted by poor bitcoin performance. Lastly, Block's merchant and consumer businesses are exposed to fluctuations in the business cycle. Elevated prices, rising rates, and wavering consumer demand hurt Block throughout 2022. An uncertain macroeconomic outlook could continue to weight on the company's near-term performance.
Valuation
Moving to valuation, I expect Block to grow revenues by 27% in FY23 tapering down to 8% in year 10 of my forecast, representing an annual clip of 12.5%. Revenue growth will be primarily driven by the continued penetration of Square and Cash App into their combined nearly $200B market for gross profit alone. Revenue should also be impacted as they realize synergies from the Afterpay integration, but I have left growth conservative and would be happy to see them beat my expectations. I expect gross margins to slowly expand to 35% in year 10 driven by Square and Cash App's strong cohort economics. I also see Block reducing SG&A margins over my forecast to 12% of revenues (currently 20%) and R&D margin from 12% to 8% of revenues as they focus on a more disciplined approach. This results in EBIT margins climbing to the mid-teens by 2032. I expect change in net working capital, depreciation & amortization, and capex to remain relatively consistent with historical numbers as a percentage of incremental revenue. My estimate of fair value per share for SQ based on these assumptions is $73.48 per share.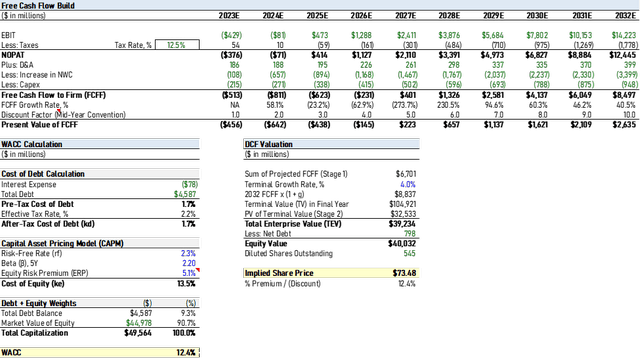 Additionally, I calculated the expected 10-year annual return and my current 'Max Buy Price' for SQ using a Price/FCFE exit multiple in year 10 and a hurdle rate (required rate of return) of 12%. In other words, I am looking to buy SQ at most around $74 to receive a 12% annual return for the next 10 years. At Block's current price near $82, the 10-year annual rate of return is about 10.8%. I also included a sensitivity analysis showing the impact on the 'Max Buy Price' if my assumptions are changed.


Summary
In summary, Block's legacy businesses, Square and Cash App, are worth owning in and of themselves. If management is able to successfully integrate the two via Afterpay, the result would be an even more defensive business driving strong long-term returns on capital in my view. I will be monitoring their progress on this front and increase my conviction in tandem. Lastly, SQ's recent run-up in price to the $80s has taken shares out of my buy range. I will look to add more in the $70s but believe 10-11% annual returns are attractive and rate the company a current Buy.