CoreCivic: Great Opportunity To Go Long Here (NYSE:CXW)
Intro & Thesis
CoreCivic, Inc. (NYSE:CXW) is a $1.3-billion market cap company in the government real estate and corrections fields, providing services like the design, construction, and management of prisons, jails, and immigration detention centers.
I think the company is quite attractive at its current stock price level. The catalyst in the form of the termination of Title 42 combined with the depressed valuation multiples, provides a comfortable margin of safety for medium-term investors, in my view.
The Catalyst – Title 42 cancellation
Back in March 2020 – just at the start of the COVID-19 pandemic – President Trump introduced a plan to control the spread of the virus by restricting migration – it was named "Title 42". As CBS News writes, most migrants processed under Title 42 have been expelled by land to Mexico, and that process usually takes just a few hours. This move was meant to reduce the risk of the virus spreading within U.S. detention facilities – accordingly, the load on these centers has dropped significantly, which affected the revenue of companies such as CoreCivic. If in FY2019 the company generated almost $1.981 billion in revenue, then in FY2020 and FY2021 its revenue fell to $1.906 (-3.79% YoY) and $1.863 (-2.26% YoY), respectively.
Since the launch of Title 42, the U.S. government has carried out over 2.4 million expulsions of migrants along the border with Mexico, according to government statistics.
In April 2022, the Biden Administration wanted to rescind Title 42 but then invoked it to expel Venezuelan migrants to Mexico in October 2022.
On November 15, 2022, a senior judge in Washington, D.C. ruled that expulsions under Title 42 were illegal. The judge stated that the Title was an "arbitrary and capricious" violation of the Administrative Procedure Act. On December 19, 2022, Chief Justice John Roberts made a significant move by temporarily keeping Title 42 in place and blocking Judge Emmet G. Sullivan's decision. This controversial decision caused a rift, with the U.S. Supreme Court split 5-4 on the issue.
Once Title 42 is fully lifted, migrants will be able to seek asylum in the United States and avoid being deported. This could result in an increase in the number of people attempting to enter the country without documentation and a corresponding increase in the number of people apprehended and detained by ICE, according to the CEO of CoreCivic during the company's recent earnings call. The CEO also noted, that their occupancy in safety and community facilities was about 71.1% in Q4 FY2022, compared to 72.5% in Q3. This is where I see an opportunity for CoreCivic – the catalyst in the form of the repeal of Title 42 will allow it to utilize the currently idle capacity of its facilities with an influx of migrants, further reversing its long-term stock price cycle: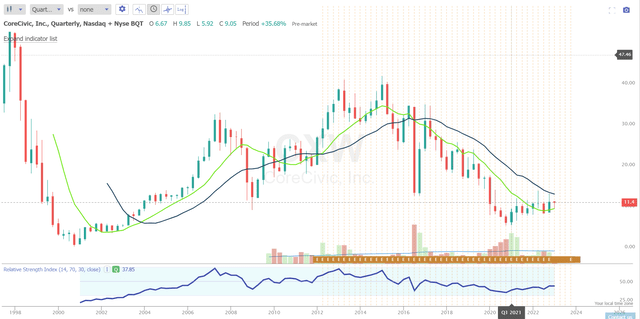 The Business Specifics
CoreCivic operates in 3 business segments [data as of Q4 2022, description is based on Q3 2022 report]:
Safety (91.3% of total sales) – 45 correctional and detention facilities that are owned, or controlled via a long-term lease, and managed by CoreCivic. The company also operates TransCor America, a subsidiary that provides transportation services to government agencies;
Community (5.7%) – 24 residential reentry centers that are owned, or controlled via a long-term lease, and managed by CoreCivic;
Properties (3%) – 8 real estate properties owned by CoreCivic for lease to third parties and used by government agencies.
In Q4 2022, the company's EBITDA was $87 million – a decrease from $97 million in the year-ago quarter. Adjusted EBITDA also decreased from $103.2 million to $87.7 million, primarily due to the transfer of prisoners at La Palma Correctional Center, which caused a $9.1 million decrease in EBITDA, and the end of a contract with McRae Correctional Facility in November 2022, which resulted in a $2.6 million decrease in EBITDA compared to the prior year's 4Q.
Management has made it clear that the decline in EBITDA in the most recent quarter is primarily due to CXW preparing for higher facility utilization shortly.
In FY2022, CXW reduced its debt by over $287 million. On February 1, 2023, they fully repaid the $154 million remaining on their 4.625% Senior Notes, which were originally due on May 1, 2023. During the last quarter, CXW also repurchased $27.4 million of their 8.25% senior notes in open market purchases; Now they have no maturities until the 8.25% senior notes mature in 2026 amid the Net debt to EBITDA (TTM) ratio standing below FY2017 levels and EBITDA margin coming back at pre-Covid levels: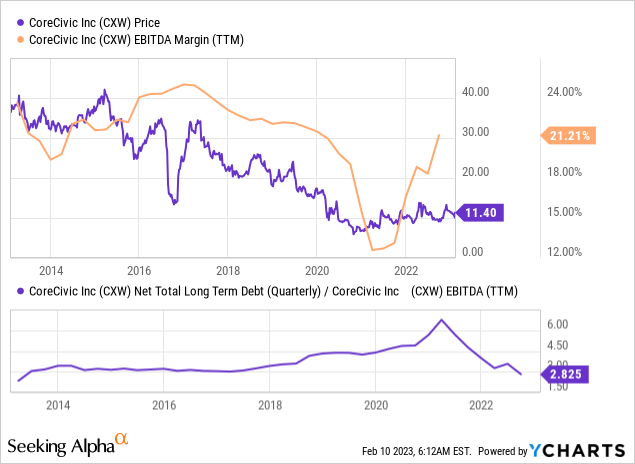 With these assumptions, the shares should theoretically trade at late 2019 levels – in the $15-17 per share range. This is supported not so much by the company's EBITDA or profit margin, but by the EPS momentum – in Q4 2022, CXW reported the maximum since 2014 [TTM-based] due to the systematic buyback of its shares and the improvement in the business environment.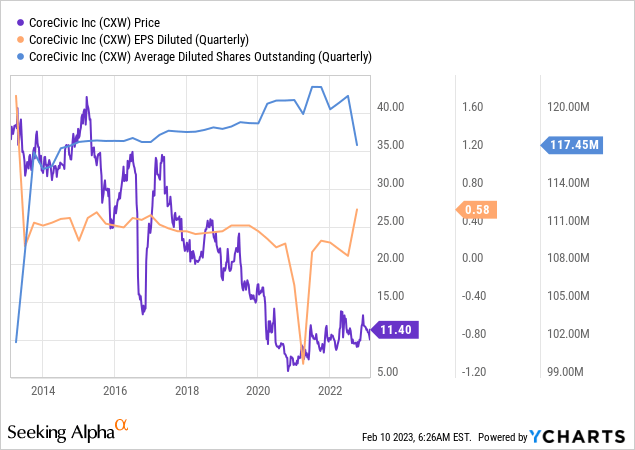 CXW did not repurchase shares throughout Q4 2022 to maintain a balance between liquidity and debt. However, according to CFO Gafrinke, approximately $10 million worth of shares have already been bought back in 2023. The increase in the share repurchase program approved by CXW's Board of Directors in August 2022 allows the company to repurchase up to $250 million worth of shares – I expect that with the implementation of the catalyst I wrote about above, the company will be able to continue to actively reduce the denominator for EPS throughout FY2023 and beyond.
At the end of 2022, CoreCivic had $149 million in cash on hand and an additional $233 million available to borrow through the revolving credit facility, bringing total liquidity to $382 million. That's a multiple of what the firm needs to cover its CAPEX and interest expenses.
Valuation Gap
I'll start right away with a guidance analysis: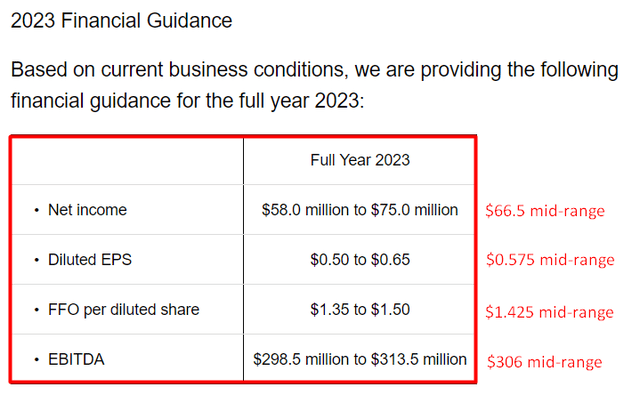 To understand how this relates to the company's valuation today, let us look at the current multiples (both TTM and FWD) and compare them to the long-term medians. It turns out that CXW is trading 7-24% below its long-term EV/EBITDA medians and roughly in line with its long-term P/E ratios: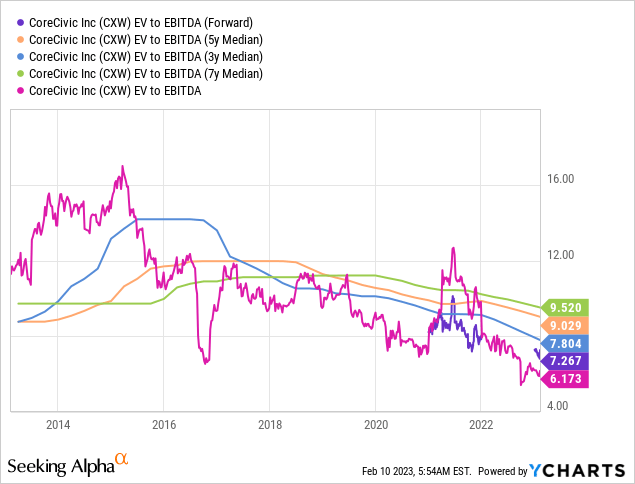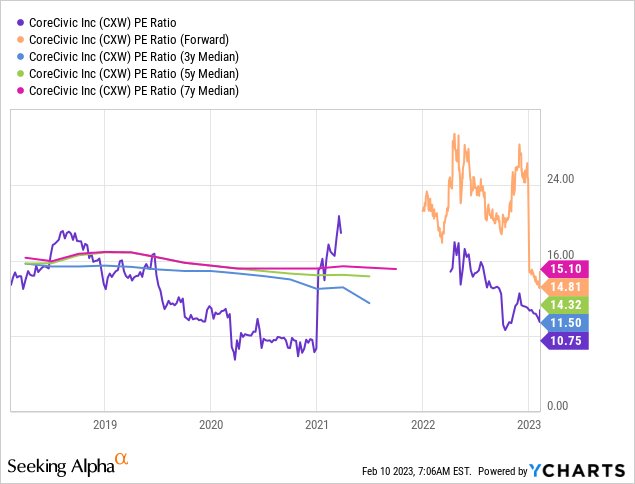 This estimate does not include a further reduction in the leverage ratio – according to management's plans, the ratio of net debt to EBITDA should be 2.25x to 2.75x, which is significantly lower than current levels. This is important because the lower the leverage ratio, the lower the enterprise value (the higher the ratios of market cap to EV) – the upside to the implied exit multiple at year-end should be noticeably higher.
Morningstar's system agrees with my conclusion, estimating CXW's undervaluation at about 27%: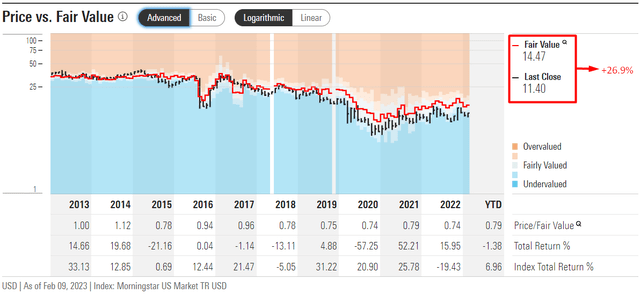 Bottom Line
Of course, there are risks that all potential investors need to be aware of.
In January 2021, President Biden issued an executive order ending the Department of Justice's (DOJ) use of private prisons. Two DOJ agencies, the U.S. Marshals Service and the Federal Bureau of Prisons use CoreCivic's services. However, this arrangement does not apply to facilities used by U.S. Immigration and Customs Enforcement, which is a different agency. CoreCivic has two facilities with contracts with the U.S. Marshals Service that expire in 2023 and 2025, and the company is seeking to renew or replace the 2023 contract, but there is no guarantee of success. The outcome of the 2025 contract is unclear.
In addition, real EBITDA and other forecast figures for FY2023 remain in question – they can be revised downwards at any time.
Based on all of the above, and despite the risks, I would note that CXW appears undervalued at this point – the upside potential is not very big, but the idea alone seems actionable enough to me.
I expect a continuation of the bounce we saw on 02/09/2023. Analogous to June and October 2021 [or March and October 2022] CXW stock can rally 30-40% quite quickly and enter the overvaluation zone again: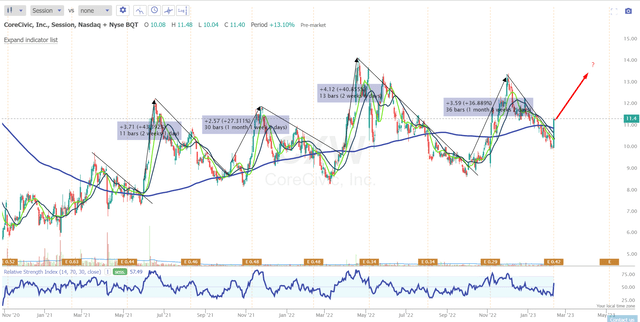 Thank you for reading!