ECAT CEF: High ROC Fund Set For More Weakness (NYSE:ECAT)
Thesis
BlackRock ESG Capital Allocation Trust (NYSE:ECAT) is a new multi asset closed end fund from BlackRock. The fund has a flexible mandate and aims to achieve total returns with an underlying ESG mandate:
BlackRock ESG Capital Allocation Trust's investment objectives are to provide total return and income through a combination of current income, current gains and long-term capital appreciation. The Trust invests in a portfolio of equity and debt securities. Generally, the Trust's portfolio will include both equity and debt securities. At any given time, however, the Trust may emphasize either debt securities or equity securities. The Trust will invest at least 80% of its total assets in securities that, in the Advisor's assessment, meet the environmental, social and governance ("ESG") criteria as described in the Trust's prospectus and shareholder reports
The fund has a 60% equity / 40% fixed income build currently when normalizing for cash equivalents: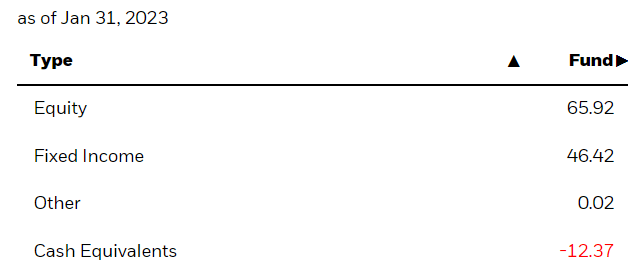 An investor needs to keep in mind that the fund has a flexible allocation mandate, meaning the above weighting can change as the portfolio manager sees fit.
On the equity sleeve, the fund is overweight Large Cap Growth names, with the likes of Microsoft and Alphabet in the top equity names: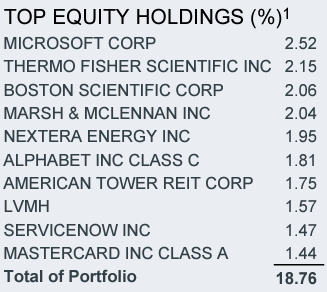 The underlying portfolio here is extremely sensitive to interest rates, and has benefited from the substantial run-up in technology stocks in 2023. This is set to reverse as a higher for longer Fed takes its tool on these names. To note, the underlying equities are on the overvalued side when looking at fundamental metrics and comparing them to industry averages: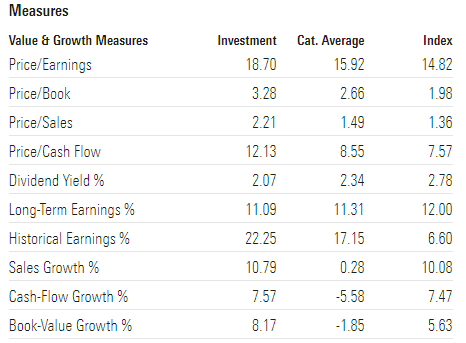 On the fixed income side the vehicle is overweight investment grade paper:

When drilling into the details, we can see the CEF being long mortgages via the TBA product and investment grade bonds:

TBAs can be considered a form of mortgage futures, given their low balance sheet utilization:
Most mortgages in the United States are securitized through the agency mortgage-backed- securities (MBS) market. These securities are generally traded on a "to-be-announced," or TBA, basis.
Investment grade bonds have re-traced a very significant portion of their spread widening since October: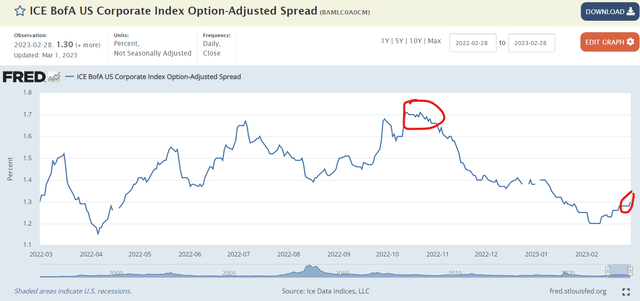 Even as the 2s/10s curve continues to invert, signaling a clear recession, bonds have yet to re-price the new environment. We believe this is about to change, with another down leg in the market: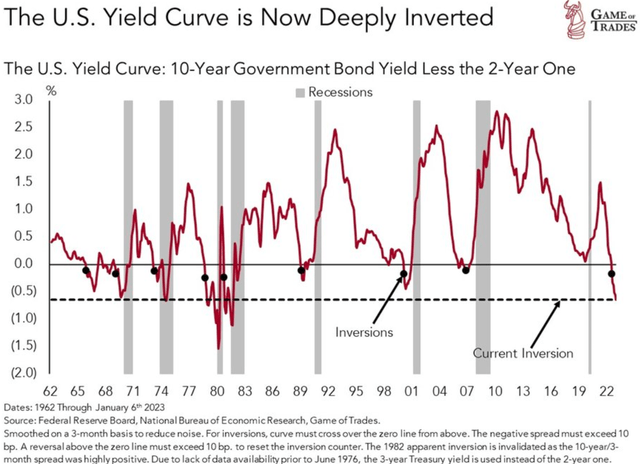 The 2s/10s curve has not been this inverted since the 80s! We can see from the above graph that each significant inversion is followed by a recession. There are no exceptions! The market has eaten up the concept of 'no landing' in 2023, but that is about to change. Once the market acknowledges higher for longer in rates, both equities and credit spreads are going to price that in. We expect another shock in investment grade credit spreads soon.
Analytics
AUM: $1.5 billion.
Sharpe Ratio: n/a (3Y).
Std. Deviation: n/a (3Y).
Yield: 10%
Premium/Discount to NAV: -14%
Z-Stat: 1.36
Leverage Ratio: 1%
Distribution – 100% ROC Utilization for February
Given its lack of performance, the fund is using a very high amount of its own capital to support its distribution:

An investor needs to keep in mind that a CEF structure simply distills the underlying holdings risk factors and passes to investors capital gains and relevant cash flows. In respect to the equity sleeve here there are no capital gains to be had. For the fixed income sleeve – there is cash generation via the received yield, but the timing does not always match the fund's distribution.
Do not think about ECAT as 100% ROC, but more in line with what we saw in January: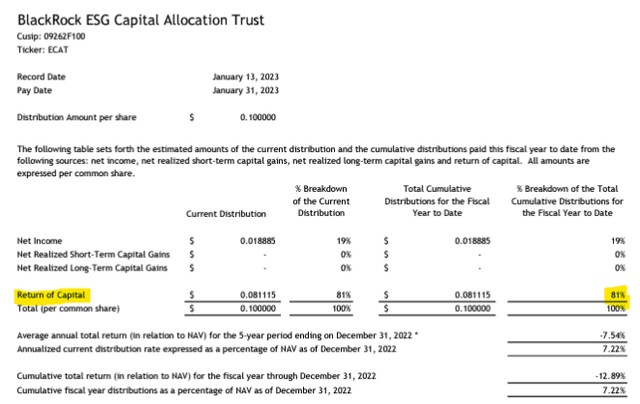 We can see 81% ROC utilization in January. Expect this to persist as long as the equity sleeve is not performing. An investor is merely getting his/her own capital back currently. Moreover, this NAV degradation will result in longer term underperformance versus funds that are not overdistributing. Overdistribution refers to passing investors yields which are not supported.
Performance
The CEF has a similar performance in the past year to a 60/40 ETF and the S&P 500:

ECAT is a new fund that IPO-ed in 2021. It basically came to market at the top and has slid down ever since. This CEF needs tech equities to perform and bond yields to stabilize in order to turn in positive numbers.
Premium / Discount to NAV
The fund is trading at a large discount to NAV given its lack of performance: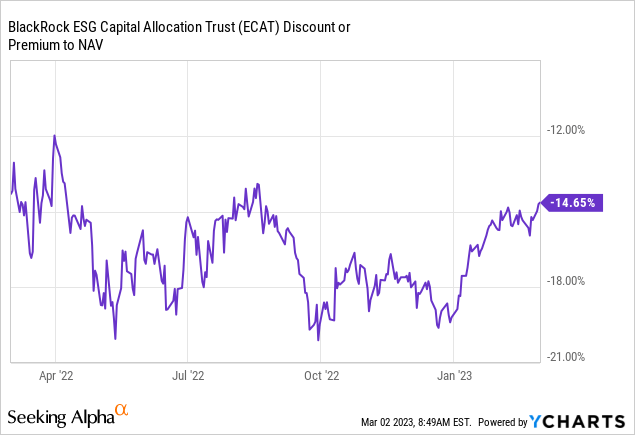 We can also notice from the above graph a high beta to market risk-on / risk-off conditions. As the market moved off its October lows, the fund's discount narrowed. Expect the vehicle to widen its discount again to -18% during the next leg down in the market.
Conclusion
BlackRock ESG Capital Allocation Trust is a new multi asset closed end fund from BlackRock. The vehicle IPO-ed at the top of the market in 2021 and has seen its NAV erode since inception. Given its lack of performance, the CEF has been a heavy user of ROC, with the latest payment date actually seeing 100% return of capital. The CEF has a flexible mandate that allows it to hold both equities and fixed income. Currently, the fund does not use leverage and has a 60% equity / 40% fixed income allocation. On the equity side, the vehicle is overweight Large Cap Growth names, while on the fixed income side, the fund is overweight investments grade names. The fund is up +15% since its October lows on the back of higher equity prices and tighter credit spreads. We believe this is about to change as we embark on the next leg down in this bear market. With rates higher for longer, we are going to see equities re-price the current environment, while investment grade bond spreads are not yet pricing in the impeding recession. The next move for this CEF is down, and we anticipate another -10% to -15% leg lower here, primarily driven by its first order risk factors, compounded with a -2% to -4% from discount to NAV widening. We rate this fund Sell right now.