Edgewise Therapeutics: Solid Data, Decent Cash, Great Management Profile (NASDAQ:EWTX)
Edgewise Therapeutics, Inc. (NASDAQ:EWTX) is a developer of small molecule therapies for musculoskeletal diseases. The pipeline looks like this: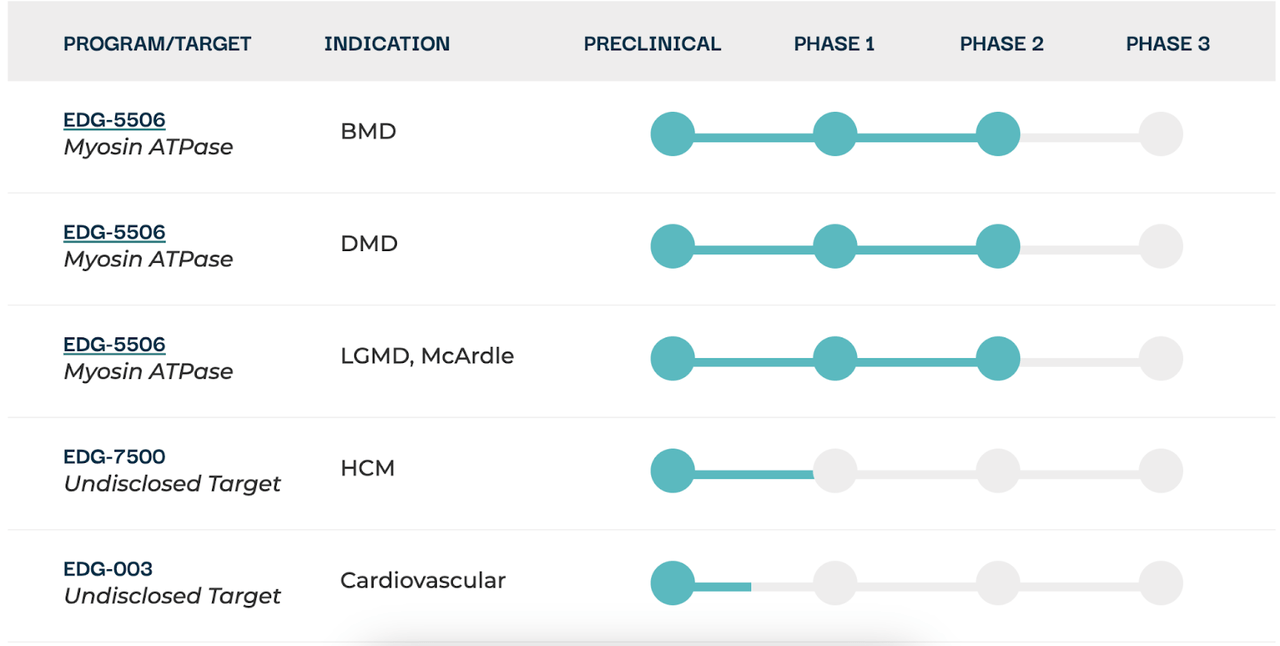 That's basically one molecule – EDG-5506 – in four indications:
DMD – Duchenne muscular dystrophy
BMD – Becker muscular dystrophy
HCM – Hypertrophic cardiomyopathy
LGMD – Limb-girdle muscular dystrophy.
The differences between DMD and BMD are in terms of severity, etiology, intensity of muscle damage, and patient population. DMD is a much more severe disease. There is a 12,000-15,000 patient population in the United States and approximately 25,000 in Europe. BMD, on the other hand, has 4000-5000 US patients. Another difference between DMD and BMD is in the absence of dystrophin. In DMD, it is completely absent, while in BMD, it is truncated or dysfunctional.
The company published phase 1 data from its BMD trial in October. A phase 2/3 study called CANYON has been started in BMD. A phase 2 dose ranging study in DMD called LYNX has also been started.
EGD-5506 in Dystrophinopathies
Dystrophin prevents muscles from damage when they contract in the natural course of life. This produces increased muscle injury biomarkers in the plasma, causes muscle to be replaced by fat, which leads to fibrosis. This thus causes reduced muscle mass. In a dystrophin lacking mouse model, the company has shown that treating the muscle one hour before testing shows that treatment with EDG-5506 leads to complete absence of muscle breakdown into crystalized, digested muscle fibers, as seen in muscles lacking dystrophin. EDG-5506 accomplishes this by targeting fast skeletal myosin. EDG-5506 is highly selective, and has no effect on cardiac, slow or smooth muscle myosin.
A phase 1 study was conducted in healthy volunteers and BMD patients. While safety and tolerability were primary endpoints, a few essential biomarker endpoints as well as efficacy endpoints were also present. The BMD patient population had extensive signs of muscle damage at baseline. The study showed no significant adverse events; all AEs were grade 1. Key biomarkers of muscle damage were seen to significantly decrease with treatment. An open label study was also conducted: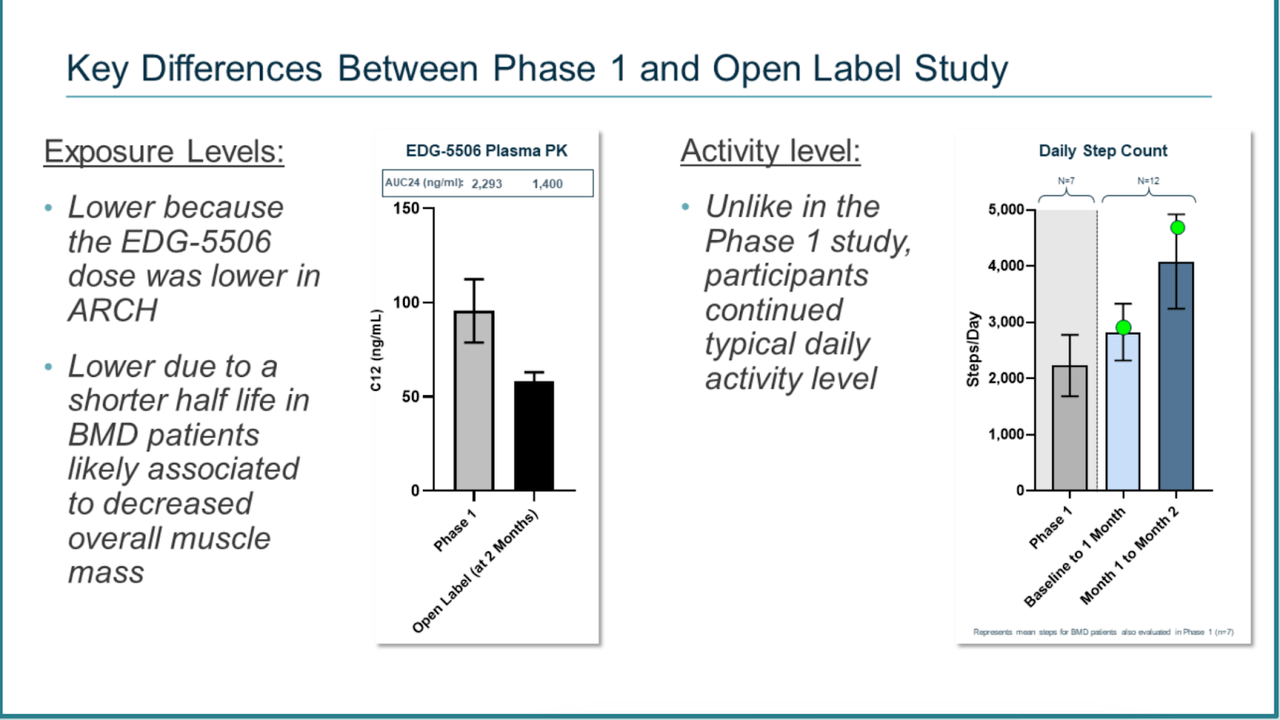 Here, too, there were significant improvements in key biomarker levels in plasma. Significant and durable improvements over 6 months were observed in NSAA and NSAD Integrated Measures of Function versus historical data.
In their 10-K, the company presents a discussion of current standards of care in these dystrophinopathies and where EDG-5506 has an edge. Broadly, these are not aimed at being curative, or have rejection problems in the case of AAV vector based therapies, or have doubts about durability for gene therapies.
Financials
EWTX has a market cap of $689mn and a cash reserve of $365mn. In September, the company raised $120mn in a secondary offering after launching a very successful IPO in May 2021. Research and development (R&D) expenses were $13.9 million for the third quarter 2022, while general and Administrative (G&A) expenses were $4.4 million. At that rate, the company has a cash runway of nearly 20 quarters. Of course, later stage trials will significantly reduce that runway.
From the 10-K:
We were co-founded in 2017 by our Chief Scientific Officer, Alan Russell, Ph.D., Peter Thompson, M.D., who is currently a Partner at OrbiMed and Badreddin Edris, Ph.D., who is currently the Chief Operating Officer at SpringWorks Therapeutics, Inc. through funding provided by OrbiMed. Dr. Russell has extensive experience in developing novel therapeutics for diseases involving skeletal muscle, having previously served as Vice President and Head of the Muscle Metabolism Discovery Performance Unit at GlaxoSmithKline from 2010 to 2017 and as Associate Director, Muscle Biology and Therapeutics at Cytokinetics from 2002 to 2010, where he was the co-inventor of tirasemtiv and reldesemtiv, direct muscle sensitizers for Amyotrophic Lateral Sclerosis (ALS).
Kevin Koch, Ph.D. is the CEO. He is a co-founder of Array Biopharma and was also once the Senior Vice President of Drug Discovery, Chemical and Molecular Therapeutics at Biogen.
Also from the 10K re patents:
We own patents and patent applications that cover compositions of matter, methods of treating diseases such as DMD, BMD, LGMD and muscle spasticity disorders and combination therapies. As of January 21, 2022, we own a patent portfolio consisting of 10 patent families and in-license one patent family from OSIF. We own 2 issued U.S. patents, 4 pending U.S. patent applications, 5 pending PCT applications, and 41 pending foreign applications filed in 15 different countries and regions including Europe, Australia, Brazil, Canada, China, Eurasia, Israel, India, Japan, South Korea, Mexico, New Zealand, Singapore, South Africa, and Hong Kong. We own one issued U.S. patent that covers compositions of matter of EDG-5506 and methods of treatment using EDG-5506 that is expected to expire in 2039, excluding any patent term extensions
The company currently does not have any R&D partners.
Bottom Line
Edgewise Therapeutics, Inc. is a highly interesting and attractive company trading above the midpoint of its 52-week range. They have excellent cash balance, solid data and outstanding management. I think Edgewise Therapeutics, Inc. presents an opportunity.