Eurozone Core CPI without Energy And Services CPI Spikes To Record
What it looks like when inflation gets deeply entrenched in the broad economy, even as energy inflation backs off.
Inflation, once it takes off and gets entrenched in the economy, has a tendency to dish up nasty surprises. It did that in the US for January and for December, it did it in Japan, and it did it in a super-nasty way in the Eurozone for February, based on data released today by Eurostat.
In the 20 countries that use the euro, the annual rate of the core Consumer Price Index – excludes energy products, such as gasoline, diesel, electricity, natural gas piped to the home, heating oil, etc. – spiked to a record 7.7%.
This index and the index for services inflation have been repeatedly cited by ECB President Christine Lagarde and ECB governors as reason for continuing the rate hikes: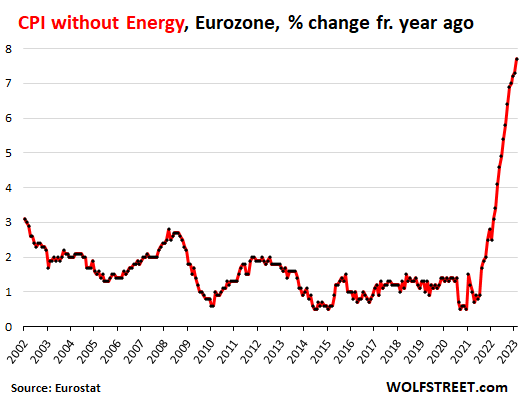 This measure of core Inflation (CPI without energy products) started rising in mid-2021. By February 2022, the index reached a record of 3.1% in the data going back to 2002. In a sign that inflation was getting entrenched in the economy beyond the spike in energy prices, the core index spiked from there on.
Services inflation spiked to a record annual rate of 4.8% in February. Services include healthcare, education, housing, insurance, financial and legal services, telecommunications, streaming, subscriptions, air fares and lodging, repairs, cleaning, haircuts, etc. Services are where the majority of consumer spending goes.
Services inflation is a sign of just how fundamentally deep inflation has seeped into the economy beyond volatile food and energy products, and beyond supply chain debacles and the like. Inflation is very difficult to control once it reaches services, many of which are essentials that consumers cannot dodge or substitute: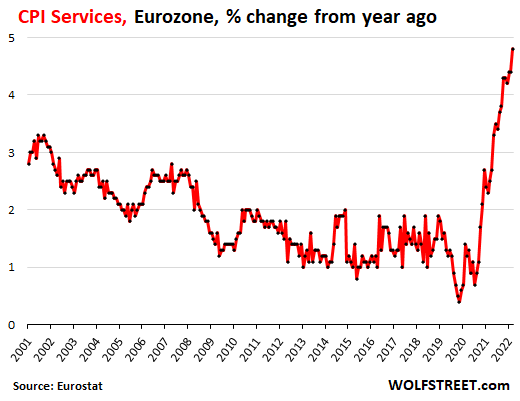 As the biggest cost component for many services are wages, and wages have been increasing in the Eurozone, and they have begun to feed into services inflation, to the point where Lagarde has mentioned the connection as a worrisome trend.
The overall CPI rate dipped just a hair to 8.5%, from 8.6% in January, but rose in Germany (9.3%), France (7.2%), Spain (6.1%), Netherlands (8.9%), Ireland (8.0%), Slovakia (15.5%), and Malta (7.0%).
The energy inflation rate, on a year-over-year basis slowed to an annual increase of 13.7% in February, down from 18.9% in January, as natural gas prices plunged from the ridiculous spike last summer, and prices of gasoline and other fuels dropped in recent months, though they're still far higher than they were a year ago.
Food inflation accelerated to a red-hot annual rate of 15.0% from 14.1% in January. Non-energy industrial goods inched up a hair to 6.8%.
Much like in the US and other parts of the world, overall CPI Inflation in the Eurozone began surging in early 2021, a year before Russia's invasion of Ukraine, after years of reckless money printing that went hog-wild during the pandemic, which enabled massive government deficit spending directly into the consumer economy.
In October 2021, months before Russia's invasion of Ukraine, the Eurozone inflation rate surpassed prior records. In January 2022, it hit the previously unthinkable shocker rate of 5.1%. Russia's war in Ukraine initially fueled commodities inflation, but in recent months, prices of energy commodities have come down sharply.
And all the while, inflation moved beyond commodities further and deeper into the economy.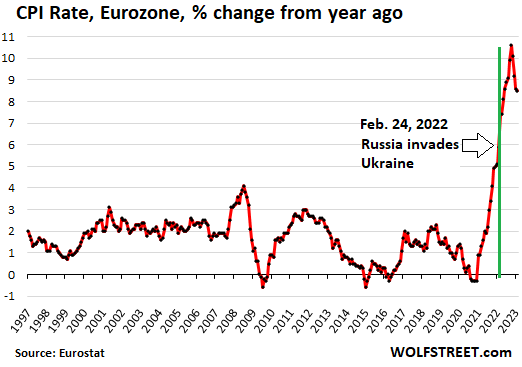 Inflation by Eurozone country.
CPI by Eurozone Country, Feb. 2022
1
Latvia
20.1%
2
Estonia
17.8%
3
Lithuania
17.2%
4
Slovakia
15.5%
5
Croatia
11.7%
6
Austria
11.0%
7
Italy
9.9%
8
Slovenia
9.4%
9
Germany
9.3%
10
Netherlands
8.9%
11
Portugal
8.6%
12
Ireland
8.0%
13
Finland
7.9%
14
France
7.2%
15
Malta
7.0%
16
Cyprus
6.7%
17
Greece
6.5%
18
Spain
6.1%
19
Belgium
5.5%
20
Luxembourg
4.8%
Editor's Note: The summary bullets for this article were chosen by Seeking Alpha editors.