Hyundai Motor Stock: Poised For A Better 2023 (OTCMKTS:HYMLF)
Hyundai Motor (OTCPK:HYMLF) ended the year with an impressive set of Q4 operating results all around, led by favorable volume and mix trends, as well as disciplined incentives. With operating margins also up to 8.7% and driving the full-year margin to 6.9%, management's FY23 operating margin guidance of 7% (the midpoint of the 6.5-7.5% range) seems well within reach. Also adding to the upside case is the improved shareholder return policy, which will see higher dividends (common and preferred) and potentially more repurchases.
Concerns about the uncertain macro environment and FX volatility are warranted but likely overdone at the current ~5x fwd P/E. With the company also following up the all-time high sales and profitability result in FY22 with strong early 2023 sales numbers, I suspect there remains ample room for upside revisions to the guidance. Plus, Hyundai's structural EV transformation remains on track; successful execution here presents re-rating optionality, given the valuation disparity between internal combustion engine (ICE) and electric vehicle (EV) manufacturers.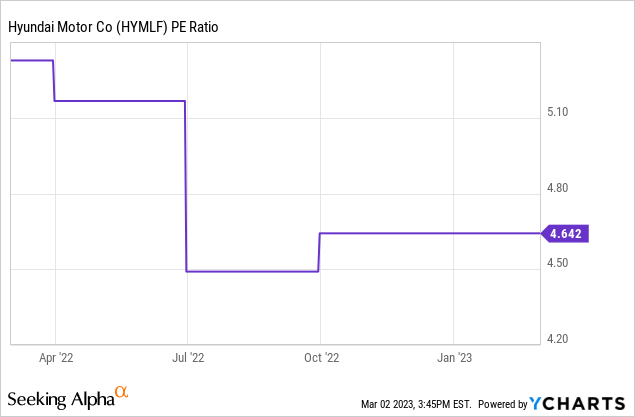 Early 2023 Volumes Running Ahead of Plan
Hyundai kicked off the year with impressive domestic wholesale growth of +12% YoY, coming in ahead of internal targets on the launch of the new Grandeur sedan and normalizing supply-side headwinds. By comparison, key peer Kia Motors (OTCPK:KIMTF) saw its domestic wholesale volumes up by a slower 5% YoY. While sales were down on an MoM basis, comparability was skewed by the fewer working days in January, along with the negligible EV contribution ahead of the government's planned subsidy announcement. As bigger subsidies are implemented in Korea for domestic EVs (subject to a price cap), along with additional incentives for charging, expect the EV business to pick up in the later months for the Korean manufacturers. On the other hand, the impact of EV price cuts triggered by Tesla (TSLA) will be worth monitoring in Q1 2023 as well. Given the strength of EV volumes in 2022, though, it seems more likely that the cuts are related to IRA tax incentives (subject to a <$55K price cap) rather than a drop-off in demand.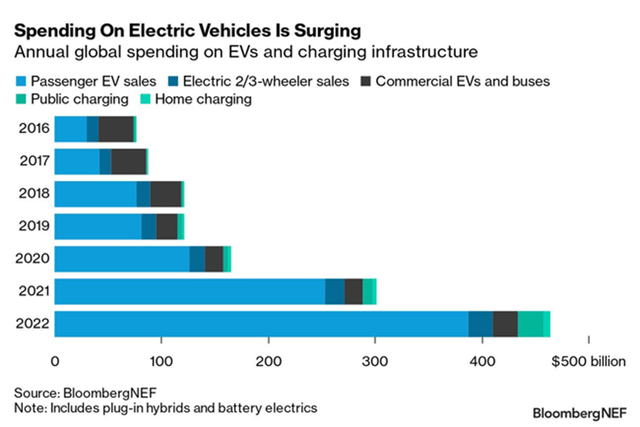 In line with the domestic performance, overseas wholesale volumes also rose +8% YoY for the month, as US and European sales remain solid. While Kia outperformed on the overseas side at +10% YoY, this was mainly due to a low January 2022 base, when the company's India production was yet to ramp up amid semiconductor shortages. With both companies also guiding to strong utilization at their domestic and overseas plants, the near-term setup is compelling. That said, risks from higher interest rates will be worth monitoring, particularly for premium Hyundai models like the Genesis.

FY23 Guidance Raised, but Ample Room Remains for Outperformance
The promising early 2023 numbers followed a surprisingly strong Q4 for Hyundai. While revenue was largely in line with expectations, the automotive operating margin result was a standout at 9.1% – a multi-year high. Digging deeper into the margins, a large chunk of the improvement was down to chip supply normalization, which allowed for a production recovery. Also contributing was a more favorable mix shift toward higher-margin SUVs and a positive FX tailwind from the KRW depreciation during the period. This more than offset headwinds from the halt of its Russian plant operation. While some of these tailwinds are transitory rather than structural, a continued chip-driven supply-side recovery bodes well for plant utilization and, by extension, operating leverage down the line.

On the back of the Q4 strength, the FY23 wholesale volume guidance now stands at 4.3m (+9.6% YoY), including EV sales of 330k (+54% YoY), as production is expected to improve further. While the sales growth might seem optimistic in light of the macro uncertainties, Hyundai's low inventory levels and high order backlog gives me confidence in underwriting a high-single-digits % YoY volume growth scenario. The upcoming product launches this year will be key, particularly on the EV side – the company is set to debut the IONIQ 6 (targeted to contribute over half of the ~1m/year EV sales target by FY25), as well as the electrified Kona SUV. More EV volumes should go a long way toward getting the EV operations to finally turn a profit. With the operating margin guidance bar also relatively low at 6.5-7.5% (vs.>9% in Q4), there is ample room for upward revisions from here.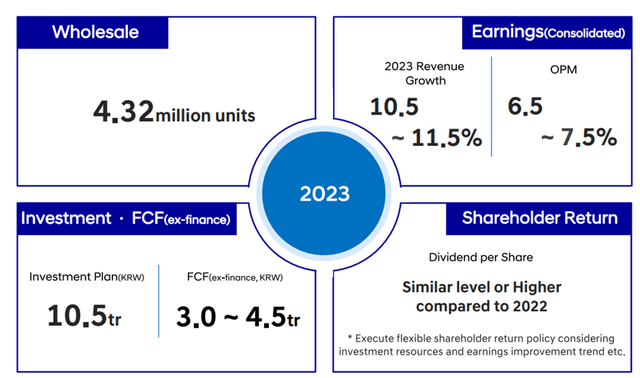 Encouraging Signs on the Capital Return Front
In addition to the Q4 fundamentals, Hyundai's updated shareholder return plan of increasing (or maintaining) the dividend per share was a major positive, coming off the higher-than-expected FY22 dividend base of KRW7,000/share (including interims). To recap, the FY22 DPS was up by 40% YoY, in line with its net profit growth, and was supplemented with a treasury cancellation amounting to ~1% of total shares. While this equates to a ~29% dividend payout, the updated dividend policy calls for a step up to a 30-50% payout ratio, presenting a significant upside to the current yield. Extrapolating the current dividend/share into FY23 implies a 'floor' of ~4% for the common stock and >8% for the preferred.
With management in the process of further improving its capital return policies as well, expect more upside here, likely via buybacks. Also adding to the appeal of owning the stock are renewed efforts to enhance its ESG credentials – more ESG flows could catalyze a re-rating down the line.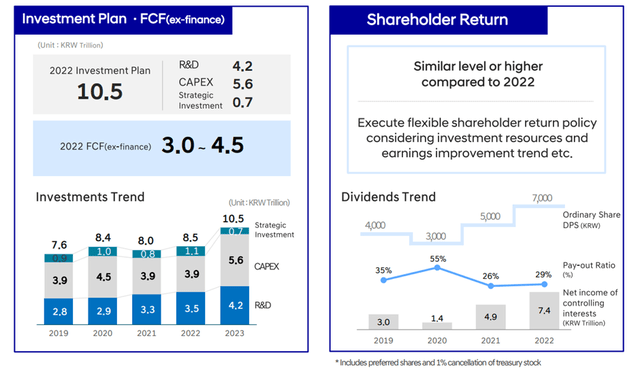 Poised for a Better 2023
Hyundai outpaced expectations in FY22 with particularly strong Q4 financials against the macro headwinds. Management's FY23 operating margin guidance of 6.5-7.5% isn't all that demanding either, given the ~7% FY22 margin. And with early 2023 volumes already showing promising signs, expect more upside to earnings and, by extension, shareholder returns. Beyond the near-term pricing and mix-driven strength, Hyundai's electrification efforts have also been progressing well. Further success in its EV product launches, as well as on the battery side, should help to close the wide valuation gap to leading EV players. Net, the ~5x fwd earnings valuation seems too cheap relative to the fundamentals, and long-term-oriented investors should be well-rewarded here.
Editor's Note: This article discusses one or more securities that do not trade on a major U.S. exchange. Please be aware of the risks associated with these stocks.