Keros Therapeutics: Market Rewarding KER-050 Trial Momentum (KROS)
Investment Summary
As we continue to build our allocations to novel developments in complex disease segments, we performed a deep dive of the recent momentum Keros Therapeutics, Inc (NASDAQ:KROS). The company is building momentum around its two main candidates, KER-050 and KER-047. Here I'll present our in-depth findings underpinning our buy thesis.
As a quick overview, KER-050 is an engineered ligand trap, and KROS has clinical trials underway investigating its management of cytopenia [low blood cell counts], including anaemia and thrombocytopenia, in patients with myelodysplastic syndromes ("MDS") and myelofibrosis ("MF"). For reference, MDS and MF are different types of cancers. Referring to the KER-050 ligand trap, it is constructed using a modified activin receptor type IIA. This is a component of the transforming growth factor beta ("TGF-β") receptor, that is fused with the fragment crystallizable ("Fc") region on the human antibody.
Additionally, KER-047 has been designed as a specific and potent ALK2 inhibitor [also a TGF-β receptor]. The target of KER-047 is functional iron deficiency caused by elevated ALK2 signalling, with iron-refractory iron deficiency anaemia ("IRIDA") being the initial target.
Note: Before continuing, investors must consider there are multiple risks that could nullify this thesis. In particular, failed study data on KROS' investigational compounds would result in a large selloff. Not to forget, the stock could reprice lower based on its lack of revenues and earnings, should the market's risk appetite shift to factors of quality. Our price targets are derived from market generated data and could be wrong as well. Investors should recognize these risks before proceeding.
KER-050 gaining substantial traction
At the 64th American Society of Haematology Annual Meeting and Exposition, KROS presented further data on its KER-050 compound:
Data from its ongoing Phase 2 clinical trial of KER-050 in MDS
Initial Phase 2 data from its trials of KER-050 in MF patients, and
Phase 2 data investigating KER-047 in IRIDA patients.
We are particularly focused on data from the Phase 2 clinical trials for KER-050. The first is examining its effectiveness in patients with various risk levels of MDS. The trial has two parts. Part 1, focusing on determining the appropriate dosing, through a dose escalation process. The patient cohort in this part were divided equally between those with and without ring sideroblasts [commonly seen in MDS]. Each were given KER-050 every 28 days for up to 4 cycles at dosages ranging from 0.75-5.0 mg/kg. In part 2, the confirmed dose was 3.75 mg/kg with the possibility of increasing or decreasing the range based on individual titration rules.
After completing part 1, eligible patients were given the opportunity to escalate to the recommended dose and receive long-term treatment with KER-050 for up to 20 additional cycles. At the data cut-off, 51.7% [n=15] of the evaluable patients achieved an overall erythroid response, defined as, either a significant increase in haemoglobin levels, or a reduction in transfused red blood cells, or a period of transfusion independence for at least 8 weeks. The key point to extrapolate, is that these results support that KER-050 could present a differentiated mechanism to promote haematopoiesis [the process of creating blood and bone marrow cells].
More data was extrapolated after an exploratory investigation of biomarkers of iron overload ("IO") was also presented, incorporating data from 31 subjects who underwent up to 4 cycles of KER-050 treatment in part 1 of the trial. Out of these, 58.1% [n=18] were classified as having heavily transfused β-thalassemia ("HTB"). Baseline assessments revealed that transfusion-dependent patients displayed a greater degree of ineffective haematopoiesis as compared to non-transfused ("NT") patients. This was evidenced by the reduced levels of haemoglobin, reticulocytes and soluble transferrin receptor ("STFR").
Furthermore, lower levels of transferrin and elevated levels of serum ferritin -especially among HTB patients – indicate more severe IO in transfusion-dependent patients in comparison to NT patients.
Evaluations performed as of the data cut-off date disclosed the following key observations:
With KER-050 treatment, STFR levels increased significantly, particularly in HTB patients, while ferritin levels decreased.
Among patients who achieved Hematological Improvement-erythroid (HI-E) or Transfusion Independence (TI), decreases in serum ferritin were generally observed. Such decreases were more prominent among patients with baseline ferritin values exceeding 500 ng/mL, suggesting the potential for KER-050 to mitigate IO in subjects most impacted by the condition.
A correlation was established between reductions in transfusion burden, as determined by the number of RBCs transfused over eight weeks, and reductions in serum ferritin, particularly in patients who achieved TI.
Importantly, results from the trial, and the exploratory analysis, support the hypothesis that KER-050 holds promise for enhancing haematopoiesis, reducing transfusion burden, and mitigating IO, particularly in subjects who receive frequent RBC transfusions.
KROS market generated data
Technicals are quintessential in evaluating clinical stage biotech's to understand what's already in the price. The stock has rallied for the bulk of H2 FY22′ to date. A sharp cross of the 50DMA and 250DMA has seen the stock ride the 50DMA as support to the current week. The rally lost some momentum in January but has reclaimed support at the key levels shown.
Exhibit 1. KROS price evolution [weekly bars, log scale]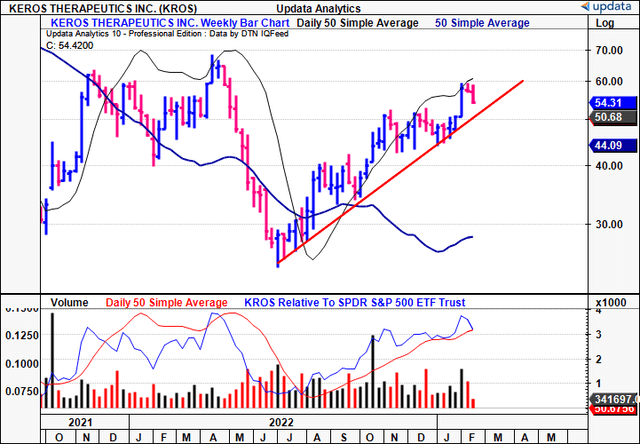 On the daily cloud chart, looking to the coming weeks, we are still bullish above the cloud, even with the cooling of the trend. We look to support forming at $54 by end of February. We are constructive on this chart.
Exhibit 2. Bullish above the cloud on daily chart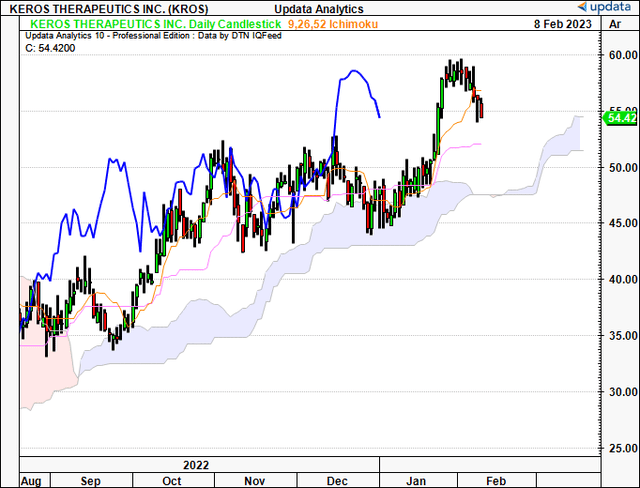 Consequently, we have upsides to $80 on our point and figure studies. This is on a 1×3 box reversal and filters out the unnecessary volatility in between large price swings. We are looking to this as an initial objective.
Exhibit 3. Upside price targets to $80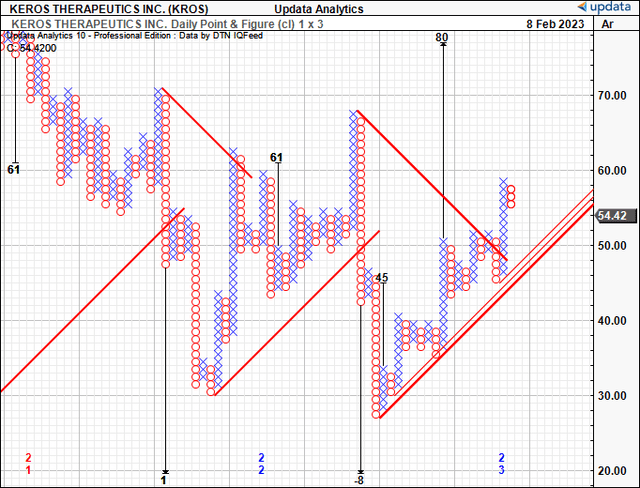 In short
Data is promising for KROS' KER-050 compound and we've been attracted to the market's response on its recent presentations and study readouts. Investors are rewarding the company on its novel hypotheses and we are eyeing potential upsides to $80. Net-net, rate buy.