Kimball International (KBAL) Stock: Still A Decent Prospect
The furniture market may not seem to be the most appealing to many investors. After all, it seems to be a highly commoditized market with low margins and intense competition. Having said that, there are some companies in the space that do seem to offer some upside potential. One of them, in my opinion, is Kimball International (NASDAQ:KBAL), a firm that's dedicated to the production and sale of commercial furnishings. Management describes the company as an omnichannel provider that caters largely to workplaces, healthcare facilities, and the hospitality markets. Over the past couple of months, shares of the company have underperformed the broader market. This is interesting though, because, by most counts, the fundamental condition of the company is showing signs of improvement. I would definitely not go so far as to call this a great business that will go on to make you a tremendous amount of money. But I do think that the fundamental condition of the company is strong enough and the trajectory it's on is appealing enough, not to mention that KBAL stock is cheap enough, to warrant a soft 'buy' rating on at this time.
Mixed but favorable results
Back in November of 2022, I wrote an article about Kimball International wherein I revisited the company and concluded, based on the recent financial performance of the business leading up to that point, and based on how shares were priced, that it no longer made sense to consider it a 'hold'. Instead, I felt as though things had turned in the company's favor enough to warrant a slight upgrade to a 'buy', a rating that reflected my newfound belief that shares should generate upside that would exceed what the broader market should for the foreseeable future. Since then, the market has not really agreed with me. While the S&P 500 is up 4%, shares of Kimball International have seen downside of 1.6%.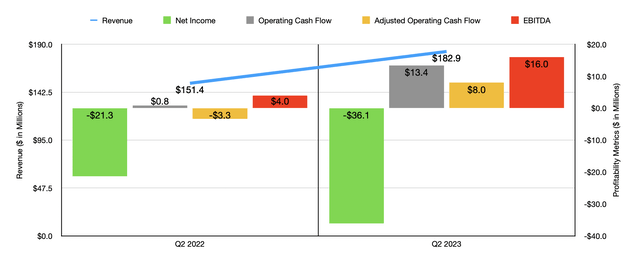 What's really interesting to note here is that this return disparity comes even at a time when, for the most part, Kimball International is doing quite well. Consider financial results that were just reported the other day that covers the second quarter of its 2023 fiscal year. Revenue during that quarter came in at $182.9 million. That's 20.8% higher than the $151.4 million reported one year earlier. This increase came from strength across the board. For instance, under the hospitality category, the company reported revenue growth of 64% year over year, with sales surging from $16.9 million to $27.7 million. The health category reported a 17% increase from $26.6 million to $31 million. And finally, the workplace category saw revenue jump 15% from $107.9 million to $124.3 million. The hospitality category benefited mostly from a rise in volume, why are the other two categories largely benefited from price increases.
On the bottom line, the picture was a bit more complicated. The company's net loss, for instance, actually widened, going from $21.3 million in the second quarter of 2022 to $36.1 million in the second quarter for the 2023 fiscal year. Interestingly, this occurred even as the gross profit margin for the company shot up from 30.7% to 36.2%. When you dig deeper, you find that the problem was a contingent earnout gain reported in the second quarter of the company's 2022 fiscal year. This came out to $22.5 million. Without it, the company's operating loss would have improved from $40.6 million to $29 million. On top of benefiting from the rise in sales, the company benefited tremendously from the aforementioned price increases, as well as from other factors like cost-cutting initiatives that the company has been focusing its efforts on. Other profitability metrics for the company went in the exact opposite direction. For instance, operating cash flow went from only $0.7 million to $13.4 million. If we adjust for changes in working capital, it would have gone from negative $3.3 million to $8 million. And finally, EBITDA went from $4 million to $16 million.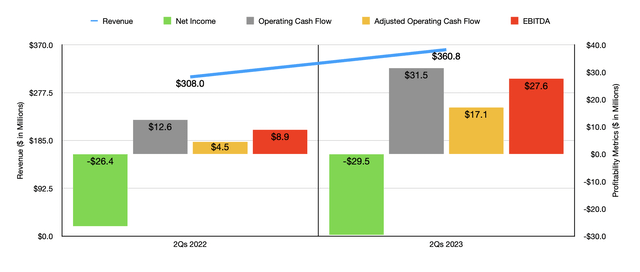 The strong showing that the company reported in the second quarter was helpful in boosting results for the first half of the 2023 fiscal year as a whole. Sales of $360.8 million outpaced the $308 million reported one year earlier. The company's bottom line is still worse, having gone from a loss of $26.4 million to a loss of $29.5 million. On the other hand, operating cash flow has shot up from $12.6 million to $31.5 million, while the adjusted figure for this expanded from $4.5 million to $17.1 million. And finally, EBITDA for the business expanded from $8.9 million to $27.6 million.
When it comes to the picture moving forward, the data has been somewhat mixed. For instance, the company did see its backlog worsen as of late. As of the end of the latest quarter, this metric came in at $144.8 million. This is down from the $196.9 million reported the same time one year earlier. Management attributed this to the decision of customers to delay orders because of concerns about a potential recession. On the other hand, the company still anticipates revenue for the 2023 fiscal year of between $720 million and $740 million. At the midpoint, that would translate to a year-over-year increase of roughly 10%. On the bottom line, the firm anticipates EBITDA of between $48 million and $52 million. At the midpoint here, it would translate to a year-over-year increase of 47%. If we assume that other profitability metrics should rise at the same rate that EBITDA is forecasted to, then we should anticipate adjusted operating cash flow of $47.9 million.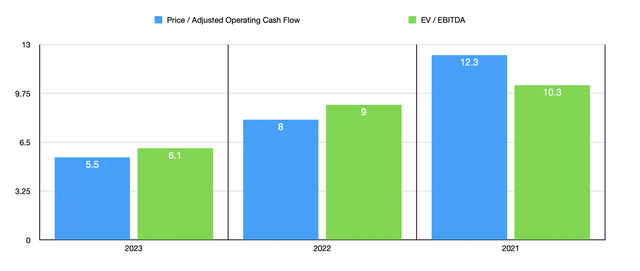 Based on the data provided, Kimball International is trading at a forward price to adjusted operating cash flow multiple of 5.5 and at a forward EV to EBITDA multiple of 6.1. By comparison, if we use the data from the 2022 fiscal year, these multiples would be a bit higher at 8 and 9, respectively. But even if we see a return to the levels of profitability seen in 2021, the picture may not be all that bad. In that case, these multiples would be 12.3 and 10.3, respectively. As part of my analysis, I also compared the enterprise to five similar firms. On a price to operating cash flow basis, these companies ranged from a low of 5.8 to a high of 334.5. Only one of the five companies was cheaper than Kimball International. On the other hand, if we use the EV to EBITDA approach, the range would be from 3.6 to 9.5. In this case, four of the five companies are cheaper than our prospect.
| | | |
| --- | --- | --- |
| Company | Price / Operating Cash Flow | EV / EBITDA |
| Kimball International | 8.0 | 9.0 |
| NL Industries (NL) | 17.8 | 3.6 |
| Interface (TILE) | 18.1 | 6.6 |
| Virco Manufacturing Corporation (VIRC) | 334.5 | 7.0 |
| ACCO Brands (ACCO) | 5.8 | 9.5 |
| HNI Corporation (HNI) | 17.5 | 6.6 |
Takeaway
From the data I see available today, I will say that Kimball International is getting better. The company is benefiting from price increases and robust demand. I do think investors should be wise to keep a close eye on the backlog data moving forward. But so far, management seems optimistic when it comes to sales and profits for the year. Relative to similar firms, the company looks cheap from an operating cash flow perspective but a bit pricey when it comes to EBITDA. This does create some uncertainty when it comes to valuing the firm. But on an absolute basis, shares do look cheap enough and the trajectory of the company is positive enough, to warrant it a soft 'buy' rating right now.
Editor's Note: This article covers one or more microcap stocks. Please be aware of the risks associated with these stocks.