Limoneira Company: A Change In Sentiment Is Warranted (NASDAQ:LMNR)
As time progresses and new data comes in, it's important to be flexible in your thinking about which companies are attractive prospects and which ones aren't. One firm that I was previously quite bearish on but am now starting to see in a different light is Limoneira Company (NASDAQ:LMNR), an enterprise that focuses on the growth of citrus products, avocados, and more. In addition to seeing sales continue to climb modestly, the company is also reporting some improvements on its bottom line. A significant asset sale that just took place should also prove beneficial for shareholders. I definitely don't think that the company has made enough progress to be rated a 'buy', but I do think that a slight upgrade from the 'sell' I assigned it previously to a 'hold' makes sense now.
Big changes
In late June of last year, I wrote an article discussing the investment worthiness of Limoneira. Over the prior few years, the company had done well to grow its top line. Even so, profits and cash flows were somewhat problematic. On that front, management had not demonstrated any real improvements and it was difficult to see a scenario where shares would be fairly valued, left alone undervalued. Given these concerns, I had no problem rating the company a 'sell', a rating that reflected my belief at the time that shares should underperform the broader market moving forward. Since then, the market has not exactly agreed with me. While the S&P 500 is up 1.8% since the publication of that article, shares of Limoneira have generated upside for investors of 6.7%.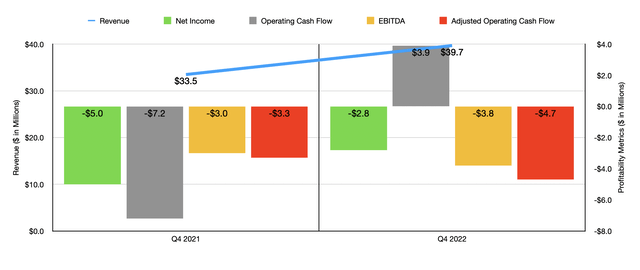 Some of this improvement may be due to improved fundamentals. Consider revenue. During the final quarter of the company's 2022 fiscal year, sales came in at $39.7 million. That's comfortably higher than the $33.5 million in revenue the company generated only one year earlier. This increase, totaling about 18%, was driven almost entirely by the agribusiness operations of the firm. $13.1 million worth of fresh lemon sales were reported by management. That compared to the $7.8 million reported for the same time one year earlier. More than 100% of this increase came from a growth in the number of cartoons of fresh lemons sold. This jumped from 390,000 in the final quarter of 2021 to 680,000 in the final quarter of 2022. This was offset to some degree by a drop in the average price per carton from $20 down to $19.33. For full transparency, management said that the reason why growth was so high year over year was because logistical delays impacted the number of cartons sold in the final quarter of 2021. There were, of course, other contributors to this sales increase. Revenue associated with specialty citrus and other crops, for instance, expanded by $2.3 million year over year, while revenue associated with avocado shipments also improved.
The improvement in the company's top line was helpful in pushing up its bottom line as well. The company went from generating a net loss of $5 million in the final quarter of 2021 to generating a net loss of only $2.8 million the same time of the 2022 fiscal year. Operating cash flow also improved, going from negative $7.2 million to positive $3.9 million. Though on the other hand, if we adjust for changes in working capital, we would have seen it dip from negative $3.3 million to negative $4.7 million. A similar change can be seen when looking at EBITDA. This dropped from negative $3 million in the final quarter of 2021 to negative $3.8 million in the final quarter of 2022.

The final quarter of 2022 was not the only time in which the company reported some improvement. 2022 as a whole marked a time of continued revenue growth for the company, with sales of $184.6 million beating out the $166 million reported for the 2021 fiscal year. The company's net loss narrowed from $3.9 million to $0.7 million. Operating cash flow popped up from $9.6 million to $14.8 million, while the adjusted reading for this grew from $6.3 million to $9.5 million. And finally, EBITDA for the business expanded from $9.9 million to $11.9 million.
Before we value the company, it is worth mentioning that, at the end of January of this year, management announced that it closed the sale of its Northern Properties in exchange for $100 million. This takes the company a large portion of the way toward selling off certain assets For a combined $150 million so that the company can instead focus on an asset-light business model. So far, roughly $130 million of that $150 million target has now been realized. We won't have a better idea of the exact impact this move will have. But we do know that, in addition to the cash received, the company is also locked down a one-year farm management agreement for it to provide farming services related to the property that it sold. It also entered into a grower packaging and marketing agreement with the acquirer so that the firm can provide it with packaging, marketing, and selling services over the next five years.
This maneuver, combined with its Harvest at Limoneira initiative (a master-planned community of residential and commercial properties the company controls), both muddy the waters to some degree. If we assume that the company will mostly pay down its debt using the $99 million in net proceeds it received, the pretax savings on interest expense should be just over $5 million. The company is also forecasting at least $5 million in EBITDA in 2023 from its Harvest at Limoneira initiative. Factoring these into the equation and applying a 21% tax rate to reflect current corporate tax rates, we get cash flow numbers that are a bit higher than what we would have gotten for 2021 and 2022 on their own.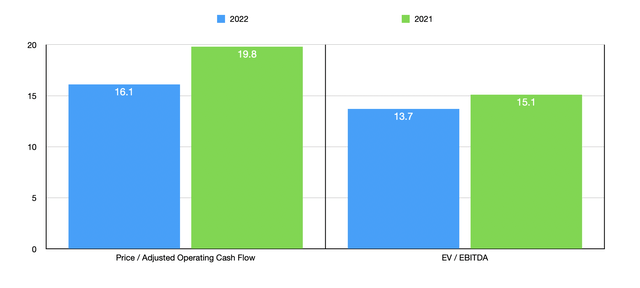 In the chart above, you can see exactly how these adjusted numbers make the company look from a valuation perspective. It's also important to note that if management uses all of this debt for debt reduction, it should be able to bring net debt down to only a few million dollars. That would further de-risk the business for shareholders as well. But I digress. using these adjusted numbers, the firm seems to be trading at a price to adjusted operating cash flow multiple of 16.1 and at an EV to EBITDA multiple of 13.7. These numbers stack up nicely against the results from the 2021 fiscal year, with multiples of 19.8 and 15.1, respectively. As part of my analysis, I also compared the company to five similar businesses. Morning praise the operating cash flow basis, these companies ranged from a low of 12.4 to a high of 44.9. Two of the five firms were cheaper than our prospect. Meanwhile, using the EV to EBITDA approach, we get a range of between 8 and 15.8. In this case, four of the five companies were cheaper than our target.
| | | |
| --- | --- | --- |
| Company | Price / Operating Cash Flow | EV / EBITDA |
| Limoneira Company (Pro Forma) | 16.1 | 13.7 |
| Alico (ALCO) | 30.4 | 15.8 |
| Darling Ingredients (DAR) | 12.4 | 10.5 |
| Ingredion (INGR) | 44.9 | 9.2 |
| Archer-Daniels-Midland Company (ADM) | 13.2 | 8.0 |
| Fresh Del Monte Produce (FDP) | 18.0 | 10.6 |
Takeaway
By no measure would I consider Limoneira to be a great company. It is an interesting firm with a unique business model. Bottom line results, however, have proven to be problematic in recent years, even as sales continue to grow. Fortunately, the transactions the company has engaged in should help to clear that up to some degree. Market conditions are also obviously improving, even as pricing works against the firm. All combined, this makes me feel as though a 'hold' rating is now more appropriate for the company than the 'sell' rating I assigned it previously.