My Dividend Growth Income – February 2023 Update
It is really tough to follow up a month like last month where I catapulted my future dividend income by over 25%. But the most powerful force in compounding is consistency, and I would say I have successfully completed another month of consistent dividend growth. In total I added $71.65 to my forward dividend income, with big contributions from dividend increases. Starting with this update, I will be adding charts of my dividend growth and total dividends received since inception. It's great to see this much growth in just 8 months of tracking, seeing 53.70% growth in my forward dividend income while also collecting a total of $2,767 in dividends during that time period. For additional metrics and breakdowns of my portfolio, feel free to take a look at a separate article I posted last month.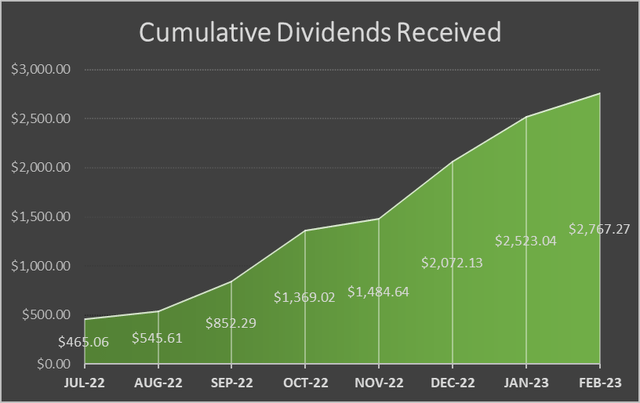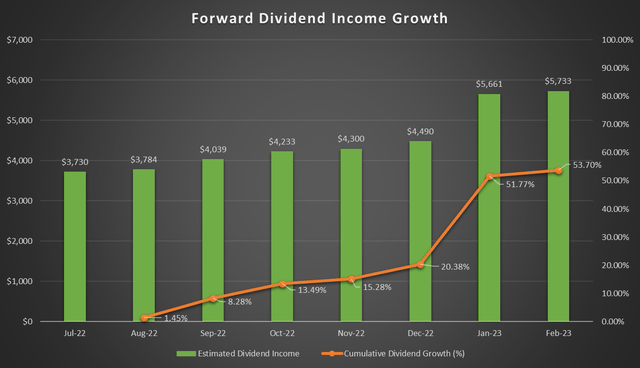 Background
The initiation of tracking my DGI income on Seeking Alpha can be found here. My dividend income is tracked across all of my portfolios (taxable accounts and IRAs, not 401ks). A large portion of the target $100,000 will be produced within retirement accounts and thus not easily accessible during early retirement; however, I will aim to maintain a 33% proportion of dividend income in my taxable account. With this level of dividend income and adhering to the 4% rule on the overall taxable account size, I will be able to reasonably consider a change in career into a more part-time role or pursue other methods of income until I am able to access retirement funds. Meanwhile, my retirement accounts will continue to build and grow until I'm ready to begin taking distributions to fund my retirement.
Forward Income Added
During the month of January I added $71.65 in forward income, now making my total forward income $5,733. I received a less than average amount of dividends this month, $244.23, as February is a slower month for me based on the distribution cycles of my current holdings.
My breakdown of income added via new purchases, dividend reinvestments, and dividend rate increases does not include forward income added via re-allocation of funds that already existed within my portfolio (i.e. the money from the sale of one security invested into another). I will only be breaking down the effect of "new" capital entering the accounts in this section. Also, I would like to reiterate that increased income and tracking of funds from my recurring 401(K) contributions are not included in these articles as the fund options available to me do not paint a clear picture on income and distributions.
For my weekly $150 purchases I accumulated shares of Essential Properties Trust (EPRT), Ally Financial (ALLY), and Microsoft (MSFT). Additionally, I continued my weekly $25 purchase of General Motors (GM) throughout the month. Let's first look at the forward dividends added via new purchases:
2.438 shares of GM adding $0.88 in forward income
8.898 shares of EPRT adding $9.79 in forward income
6.32 shares of ALLY adding $7.58 in forward income
0.769 shares of MSFT adding $2.09 in forward income
February is a weak month for my portfolio in terms of dividends received, so as a result my dividend reinvestments from this past month were not as high as normal. However, this month does mark the first time I implemented a new strategy of selecting reinvesting my dividends. I used the dividends I received from MPLX to purchase shares of Union Pacific (UNP). I find UNP to be at an attractive entry point for a position I plan to hold for decades.
0.298 shares of CVS (CVS) reinvested adding $0.72 in forward income
0.21 shares of American Tower Corp. (AMT) reinvested adding $1.31 in forward income
0.148 shares of Carrier Global (CARR) reinvested adding $0.11 in forward income
1.275 shares of Ally reinvested adding $1.53 in forward income
0.279 shares of Realty Income (O) reinvested adding $0.85 in forward income
0.147 shares of Starbucks (SBUX) reinvested adding $0.31 in forward income
0.437 shares of Union Pacific purchased using dividend proceeds from MPLX LP adding $2.27 in forward income
February is an excellent month for me in terms of dividend increases. During the month, a total of 5 companies announced dividend increases. Several of these holdings had a significant presence in my portfolio and provided me substantial increases in my forward income. The long awaited Medical Properties Trust (MPW) dividend announcement came during the month and brought relief to investors as they will not be making a cut to the dividend. I would love to see the company continue increasing its financial health over the next 9-12 months and then resume dividend growth.
Corning (GLW) announced a 3.7% increase to the dividend, adding $4.21 to my future income. This was a disappointing increase from a company with a streak of double-digit increases. While I am disappointed, I understand the demand drop from end markets such as China in the past quarter and expect demand to rebound and larger increases to follow in the coming years.
Cogent Communications (CCOI) announced a 1.1% increase to the dividend, adding $3.09 in future income. I love to see this company continue to increase the dividend every quarter, a streak that now total 43 straight quarters. Future dividend growth rates will clearly slow as the company grows its payout ratios but for now the high yield and healthy dividend growth is about as great as it gets.
Analog Devices (ADI) announced a huge 13% increase, adding $19.28 to my future income. This is one of my favorite stocks to own, they continue to prove their dedication to shareholders and take advantage of their massive cash flows to deliver excellent returns.
Home Depot (HD) announced a 10% increase, adding $12.19 to my future income. HD continued its streak of double digit increases, I'm not sure how much longer that streak will continue but I am more than happy to see it extended another year.
Realty Income (O) announced a 2.4% increase to the monthly dividend, adding $5.42 in forward income. This has truly been a steady compounder and serving its purpose exactly how I intended.
Below we can see the amount of income added this month via new purchases, dividend reinvestments, and dividend increases for February. The lion's share of forward income growth is attributable to dividend increases, a development that I love to see. Since the beginning of 2023, more forward income (nearly double) has been added via dividend reinvestments and dividend increases than new purchases even though I have put over $1,650 of fresh capital to work in that timeframe!
| | | | |
| --- | --- | --- | --- |
| | Forward Income Added – Feb. | Total Income Added in 2023 | Percentage of Total Income Added |
| New Purchases | $20.34 | $51.39 | 33.74% |
| Dividend Reinvestment | $7.11 | $36.07 | 23.68% |
| Dividend Increase | $44.20 | $64.85 | 42.58% |
| Total | $71.65 | $152.31 | 100.00% |
I will also be adding another set of data points to this section as well starting with this month. I will be adding charts that look at the number of transactions and the number of days in which they took place. I believe both of these metrics are important in highlighting the compounding effect. Transaction is defined as either a new purchase, a dividend reinvestment, or announced dividend increase.
By maintaining a high number of transactions and maximizing the number of market days in which a transaction takes place, I will be able to capture the undeniable benefit of dollar cost averaging.
Number of Transactions
New Purchases -Feb.
14
New Purchases -2023
37
Dividend Increases – Feb.
5
Dividend Increases – 2023
7
Dividend Reinvestments – Feb.
7
Dividend Reinvestments – 2023
16
Total
26
Total
60
| | | | |
| --- | --- | --- | --- |
| Number of Days w/ Transactions – Feb. | 12 | Number of Days w/ Transactions – 2023 | 24 |
Portfolio
Another month, another step closer to financial freedom. There are not too many shakeups this month for my portfolio as a whole. The major item I took away from this past month was that Microsoft and ADI had a strong month and grew in portfolio weighting, narrowing the gap to Visa.
| | | |
| --- | --- | --- |
| Symbol | Percentage of Portfolio | Est. Annual Income |
| SCHD | 18.86% | $1,261.05 |
| V | 6.12% | $78.46 |
| ADI | 5.65% | $165.83 |
| MSFT | 5.63% | $96.25 |
| AMT | 4.08% | $201.56 |
| VICI | 3.86% | $281.54 |
| CCOI | 3.19% | $285.80 |
| MPW | 3.11% | $549.38 |
| EPRT | 3.10% | $207.70 |
| O | 3.09% | $230.93 |
| UNP | 3.06% | $120.45 |
| HD | 3.04% | $134.14 |
| ALLY | 2.82% | $176.38 |
| LMT | 2.68% | $106.30 |
| MPLX | 2.54% | $356.27 |
| CMCSA | 2.53% | $123.90 |
| FRG | 2.45% | $345.54 |
| AVGO | 2.38% | $115.51 |
| WSO | 2.37% | $119.61 |
| CVS | 2.32% | $106.00 |
| GLW | 2.28% | $117.88 |
| UNH | 2.22% | $48.22 |
| DLR | 2.20% | $161.29 |
| BBY | 1.97% | $130.97 |
| SBUX | 1.91% | $62.11 |
| BOC | 1.71% | N/A |
| AMZN | 1.69% | N/A |
| FNF | 1.66% | $117.39 |
| CARR | 1.04% | $26.77 |
| GM | 0.40% | $5.87 |
Looking Forward
I will continue my weekly investments and make a slight change to the companies I will be purchasing. For March, I will be adding to AMT, CCOI, and EPRT. I believe AMT is trading at attractive levels and is one of my highest conviction picks so I will take the opportunity to load up.
I am looking forward to a strong month in dividends received next month as SCHD begins to flex its muscles in my portfolio. I am hoping to witness a personal record in monthly dividends, but I will have to wait to see.
Summary
I added nearly $72 in forward income, a 1.27% increase month-over month. This translates to an estimated forward dividend income of $5,733. I love to see that dividend increases and reinvestments are driving the majority of overall dividend growth versus the effects of new capital. I am closing in on a major milestone of $6,000 per year of dividends, this converts to $500 per month in dividend income. I hope to hit this big number in the next few months, a goal that is extremely achievable with my consistent strategy.