Neogenomics: At A Key Inflection Point In Growth Route (NASDAQ:NEO)
Investment Summary
The investment case for NeoGenomics, Inc. (NASDAQ:NEO) has become increasingly attractive as we work through the first quarter of FY23. Unlike in my previous coverage on NEO [see, in chronological order: here, here, here and here] the company has embarked on a new strategic vision and begun to convert on a number of its growth initiatives. Following its Q4 and FY22 numbers, the company is now certainly at an inflection point of its growth route. Despite this, consistent with my previous publication, it's currently difficult to ascertain what value the company is generating for equity holders, with negative returns on capital that miss the hurdle rate, and gross margins that remain under pressure with the cost-inflation still plaguing supply chains. Net-net, I continue to rate NEO a hold, but encourage investors to remain constructive on this name in search of a potential breakout.
Analytics on NEO Q4, full-year numbers
It was a period of reasonable growth in both Q4 and FY22 total for NEO that came in ahead on consensus. In particular, the company booked quarterly revenue growth of 10.3% YoY to $139mm, adding another 800bps sequentially from Q3. It pulled this down to gross profit of $62mm and non-GAAP EBITDA of negative $1mm. Comparing to its FY22 print, turnover came in at a 500bps YoY growth to $510mm, on a gross margin of 41% and adj. EBITDA of negative $48mm. Importantly, I'd note that NEO pulled this down to adj. EPS of negative $0.06, a marked improvement of the negative $0.14 last year, as it continues to move up in the quality spectrum with respect to its bottom-line fundamentals. It recognized these numbers on a solid growth to 625,000 in patients served, underscored by upsides in both core segments. However, it should be recognized that NEO continues to realize free cash outflows on the stated revenue growth [Figure 2].
Speaking of the divisional highlights, I'd point investors' attention to the following data points:
Looking at the clinical service segment, the company booked 400bps YoY growth in revenue to $108mm, clipping $418mm for the full-year. Revenue upsides were clipped in every quarter across the year, suggesting the company is outperforming its historical averages in this division. Looking in greater detail, revenue per test increased 160bps YoY to $389, on a 230bps increase in volumes. This is a good sign in my estimation because the company is targeting a higher mix of its higher cost and larger panel tests, illustrating that uptake is still continuing in spite of the potentially higher costs. Regarding future growth of the segment, management also noted that "investments in the field resources that we made earlier in the year are beginning to pay off".
Switching to the pharmaceutical services division, the company saw most of its momentum in the back end of the year. It recognized 41% YoY growth to $30mm and booked $91mm in segment turnover for the year, a 14% growth rate. Relative to sequential growth in FY21, revenue upsides were exhibited in H2 of FY22, otherwise it could have been a flat year if this didn't occur. Growth was underlined by more favourable product mix, whilst management prioritized order delivery to fulfil the company's order book. In particular, the RaDaR unit was a star performer with a ~300% yearly growth schedule after the company made several data readouts at conferences throughout the year.
Fig. (2)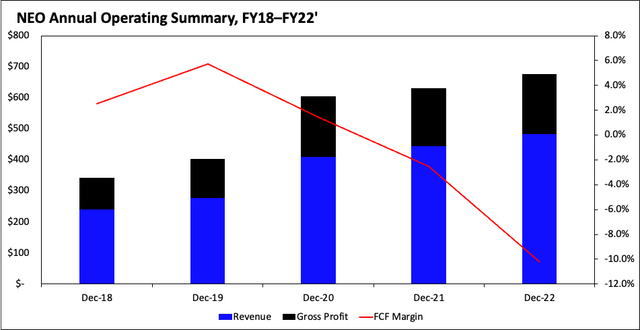 With respect to liquidity, the company left the year with $438mm in on-balance sheet cash and short-term investments. Moreover, days sales outstanding ("DSO") came down to ~79 days, confirmed by management on the earnings call, adding to the company's improving bottom-line fundamentals. The c.$440mm in available liquidity arguably provides a degree of optionality to continue expanding on its growth initiatives. Plus, the company looks well capitalized with sufficient runway to maintain its growth trajectory over the coming 2 years. However, looking closer at the balance sheet, the firm's asset base is comprised 30% of goodwill and 24% of intangibles, 54% in total. The goodwill figure is a particular takeout as it is difficult to quantify the potential return on this investment premium at the minute, given a negative 13.7% trailing ROE and negative 5.8% trailing return on capital.
Fig. (3)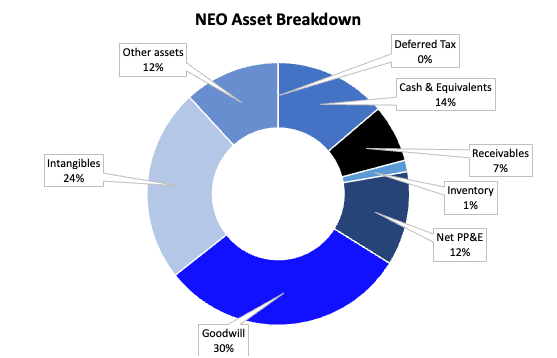 Growth levers for FY23 and beyond
The key takeout from the company's growth vision looking ahead is that it intends to carve out its overall business into 2 separate divisions:
Clinical Services
Advanced Diagnostics.
Looking to the former, management note that it will be structured to "maximize core business revenue growth and profitability by enhancing the client experience". It will include the company's oncology diagnostics and legacy business, along with its community pathology and oncology sales. Meanwhile, the latter division will be utilized to invest and develop technologies to drive NEO's market positioning. I presume this will directly prioritize the company's MultiOmyx, NGS MRD [RaDaR] units and management also confirmed it will have a large data capture focus. Here we'll find the pharma services segment of the portfolio, so it's not unreasonable for NEO to be innovating heavily within the new advanced diagnostics division. Further, each new division will have its own sales team, reporting to a single regional manager. I'll be looking to the capital efficiency of this move looking ahead, benchmarking the operating income, return on capital investment and revenue per rep for each in the periods to come.
Fig. (4)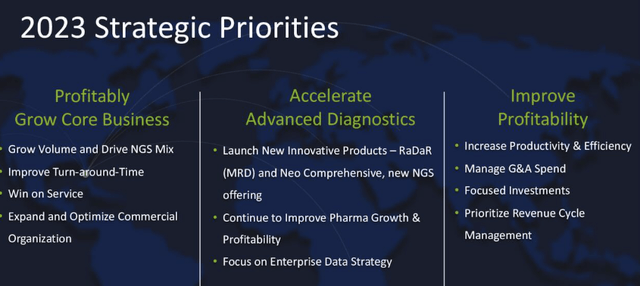 NEO also project a 7-9% growth rate for FY23, calling for $555mm at the top line at the upper bound. It sees this on adj. EBITDA of negative $27mm at the low point, and looks to be EBITDA positive by Q4 this year. From language on the call, management note it is "really focused…on this long-term sustainable growth". Subsequently, the investments it makes in the forming of the separate businesses will presumably be seen into the coming 2-3 years. However, there's a number of key things I'd suggest the company has to achieve in order to realize this:
Retention of clients – this has historically been a challenge for NEO, along with obtaining new accounts. Management did touch on this and suggested upcoming launches in its solid tumour side will address this.
Margin growth – gross to net margins are still pressurized, and I'd advocate to see some liftoff in gross margin, evidencing the success of its execution on the new strategy.
Profitability – NEO guides to be in the black at the EBITDA level by Q4 this year, but we'd need to see other measures of value creation at this point as well. Namely, some upside in post-tax earnings, and a return on the substantial allocation of capital it intends to distribute this year, plus on the investments it has made previously.
Collectively, conversion on these 3 points would attract a more positive rating, given the company is at such an inflection point.
Valuation and conclusion
After a robust quarter with respect to its top-line fundamentals, we've now got NEO priced at 4x forward EV/sales, and 2.2x book value. This is very pricey in my opinion, on both fronts, for two main reasons:
It is difficult to see NEO grow sales by 4x over a reasonable horizon period [typically, 5-years]. Hence, paying 4x sales is an unattractive premium for a stipulated 9% YoY growth rate in FY23.
The company isn't profitable, and equity value has been under pressure and declining sequentially since June FY21′, with the company issuing new stock each quarter throughout FY22.
Subsequently, without the return on invested capital to go buy, it is unlikely that equity investors will be rewarded with residual cash flows, nor has NEO yet demonstrated it can invest at outsized rates of return with NOPAT still in the red. Hence, whilst the robust FY22 performance is welcomed, I'd need to see NEO really shift up in the quality spectrum in order for to align with my core investment tenets. Nevertheless, the quant system has it rated as a strong buy, and this certainly balances the risk/reward calculus, thus supporting a hold rating. I'd encourage investors to pay close attention to NEO, being trigger ready if the stock makes a solid breakout. For the time being, I'll be doing the same, but from the sidelines.
Fig. (5)

Net-net, NEO is at a major inflection point in its growth route. After a number of strategic moves, notwithstanding its plans to divide into 2 core divisions, there's propensity for the company to generate strong top-line growth and achieve profitability in FY23, in-line with its objectives. However, valuations are unsupportive of a buy rating, further, the company has a way's to go before it evidences it is creating long-term value for shareholders. In saying that, FY23 could be the year for this, and I'd encourage investors to keep on top of NEO observing the price action and corresponding fundamental data. In the meantime, I rate the stock a hold.