Open Text Seeks Growth Amid Slowdown And Heavy Debt Load (NASDAQ:OTEX)
A Quick Take On Open Text
Open Text Corporation (NASDAQ:OTEX) reported its FQ2 2023 financial results on February 2, 2023, beating revenue and EPS estimates.
The firm offers a range of digital transformation software capabilities to organizations worldwide.
I don't favor slow-growth, debt-heavy companies like OTEX, especially in a high-cost-of-capital environment like the present.
Accordingly, my outlook on Open Text Corporation for the near term is on Hold.
Open Text Overview
Waterloo, Canada-based Open Text was founded to provide a range of services related to information management, including strategic planning, domain expertise, and customer service solutions.
The firm is headed by CEO and Chief Technology Officer Mark Barranechea, who has been with the firm since 2012 and was previously president and CEO of SGI and Rackable Systems.
The company's primary offerings include:
Information management

Content cloud

Business network cloud

Security cloud

Experience cloud

Developer cloud

AI & Analytics

Process automation.
The firm acquires customers through its in-house direct sales, marketing and business development efforts as well as through strategic partners and solution extension partners.
Open Text's Market & Competition
According to a 2022 market research report by Grand View Research, the global market for information management was estimated at $89.3 billion in 2022 and is forecast to reach $223 billion by 2030.
This represents a forecast CAGR of 12.1% from 2023 to 2030.
The main drivers for this expected growth are growing information security requirements, the need for ongoing risk management and the rising volume of data.
Also, the chart below shows the historical and projected future growth trajectory of the U.S. enterprise data management market: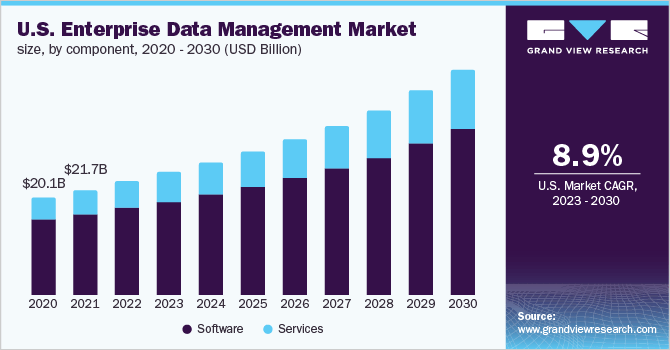 Major competitive or other industry participants include:
International Business Corp.

Oracle Corp.

SAP SE

Cloudera, Inc.

Amazon Web Services, Inc.

Teradata

MindTree Ltd.

Broadcom (Symantec)

Informatica

Micro Focus.
Open Text's products also serve a number of other markets.
Open Text's Recent Financial Performance
Total revenue by quarter has followed the trajectory shown below: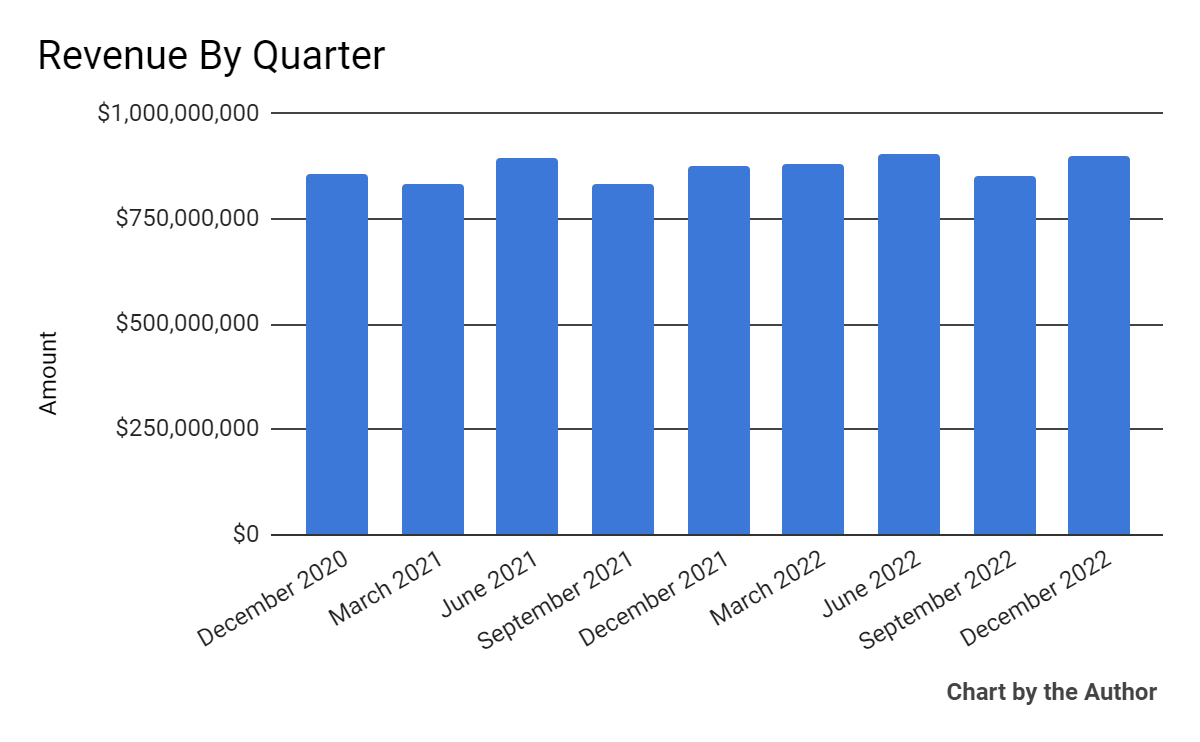 Gross profit margin by quarter has remained essentially flat: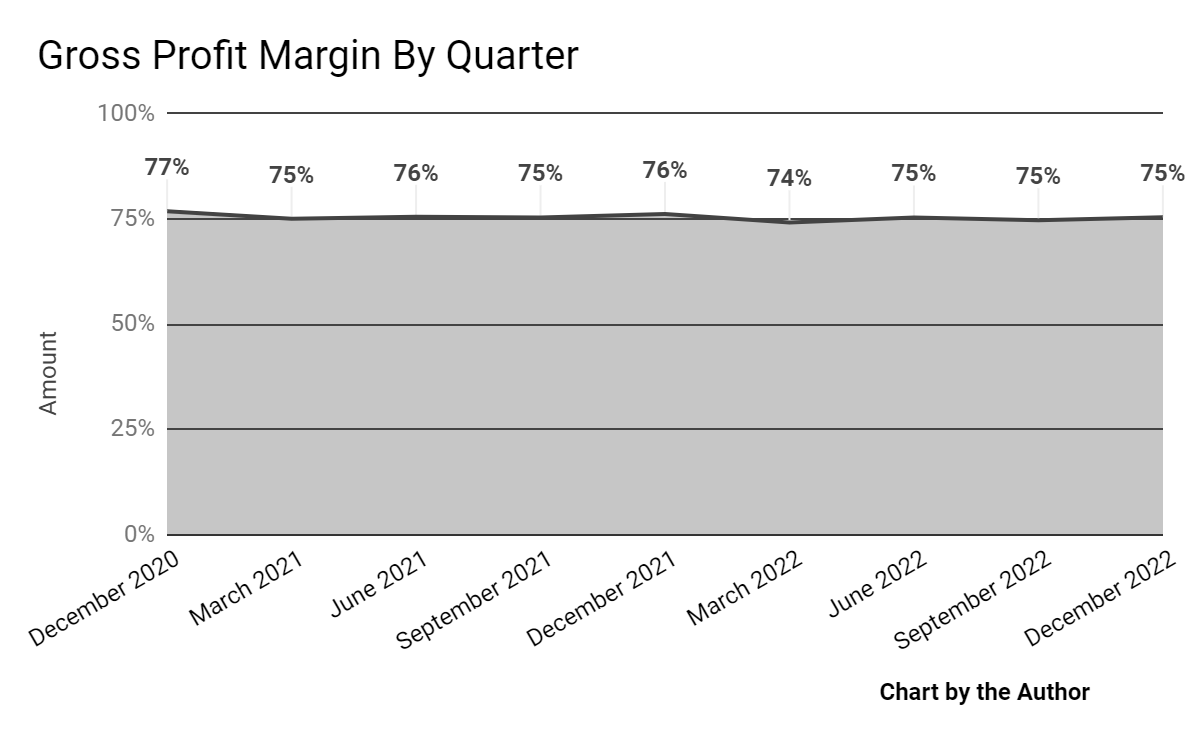 Selling, G&A expenses as a percentage of total revenue by quarter have trended lower in the last few quarters: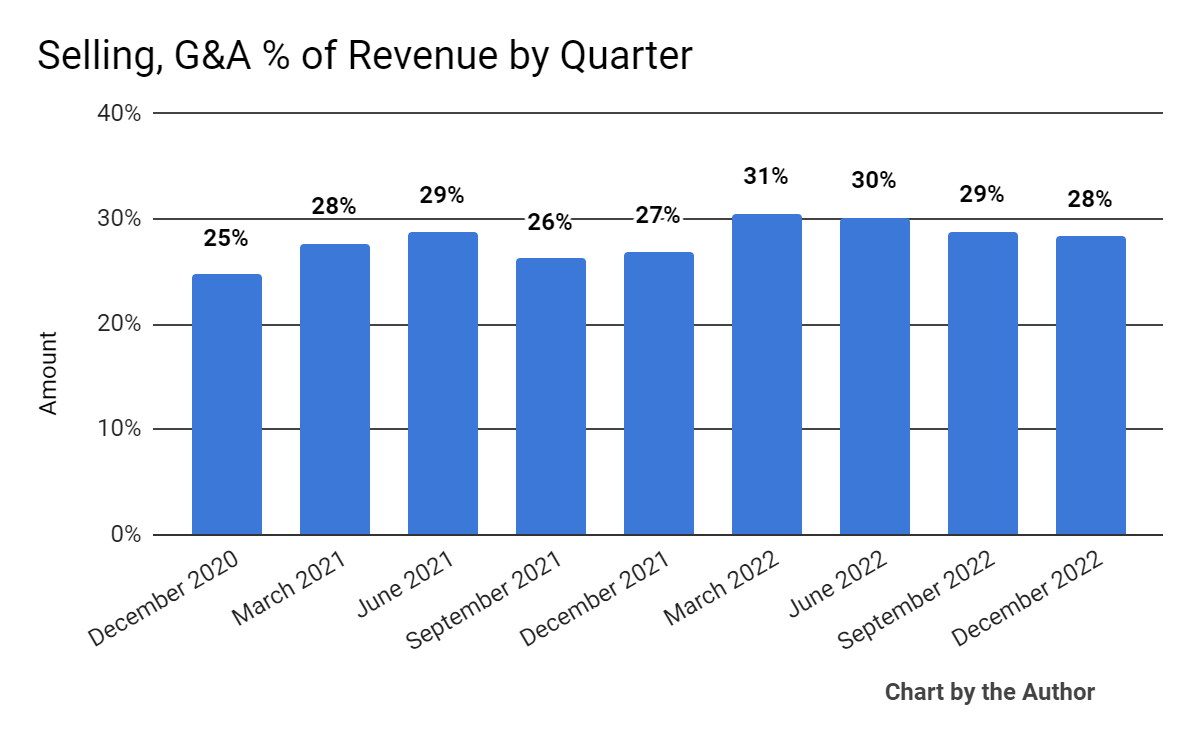 Operating income by quarter has fluctuated within a range: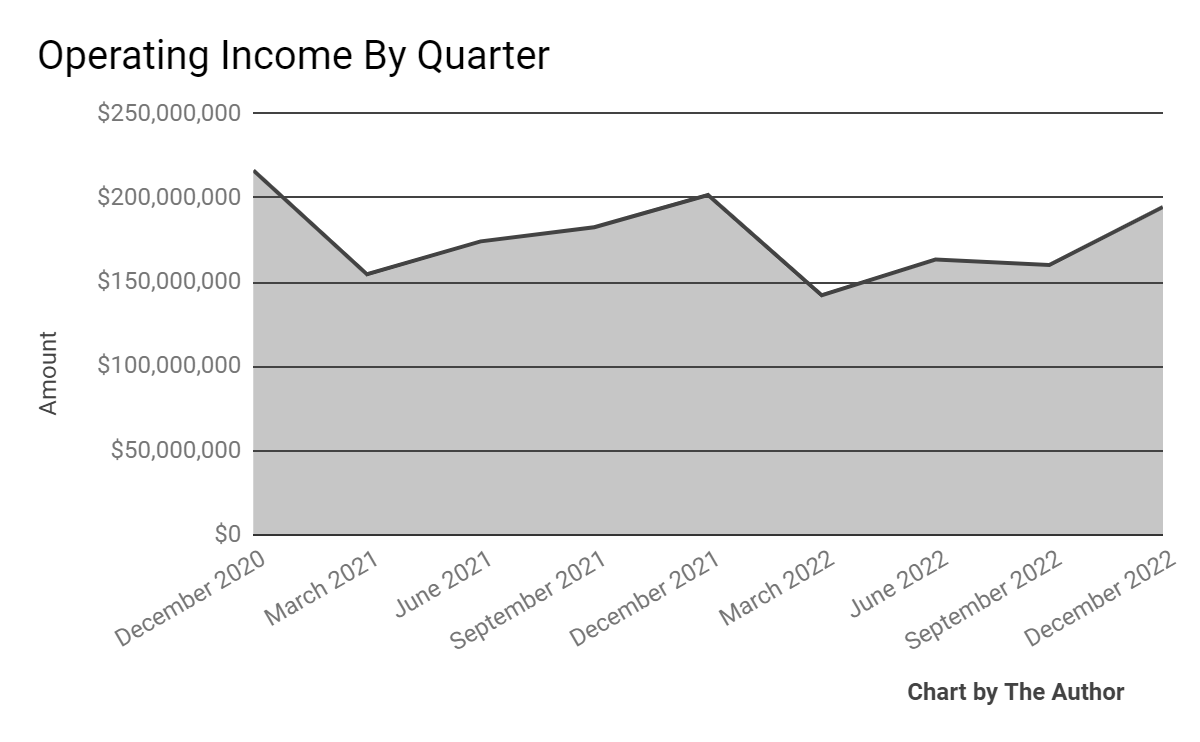 Earnings per share (Diluted) have varied as shown below: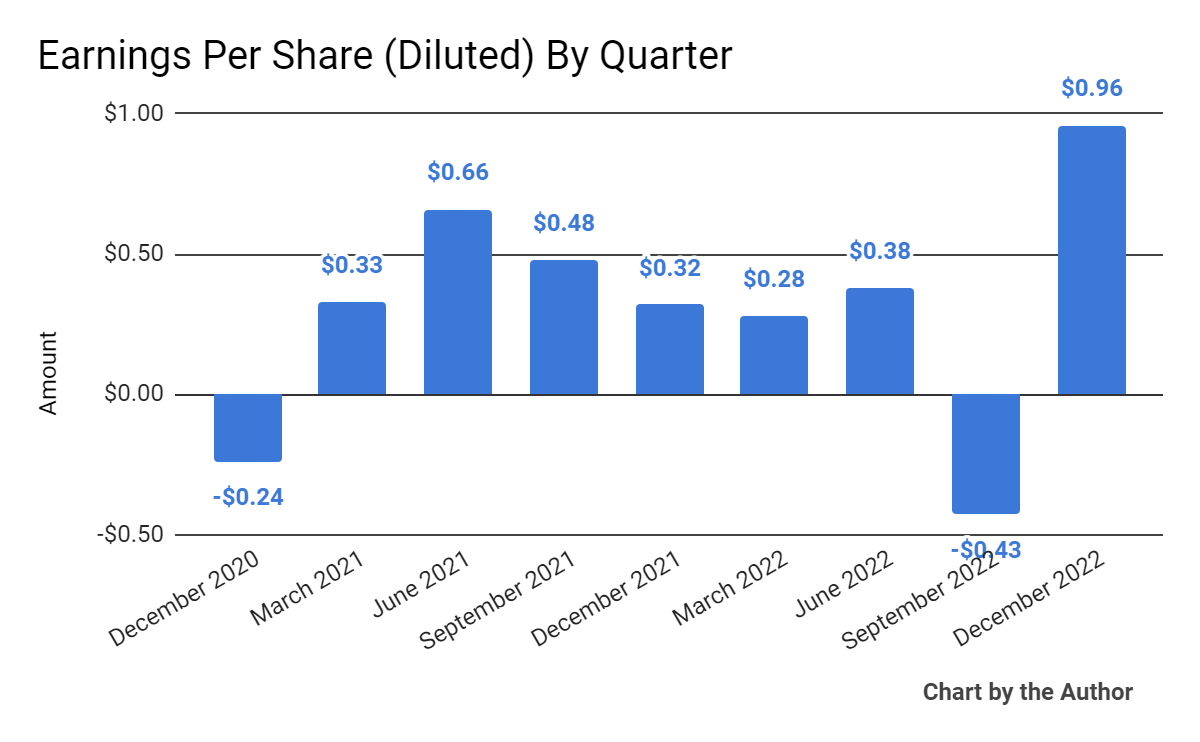 (All data in the above charts is GAAP.)
In the past 12 months, OTEX's stock price has fallen 21.8% vs. that of the Nasdaq 100 Index' drop of 16.4%, as the chart below indicates: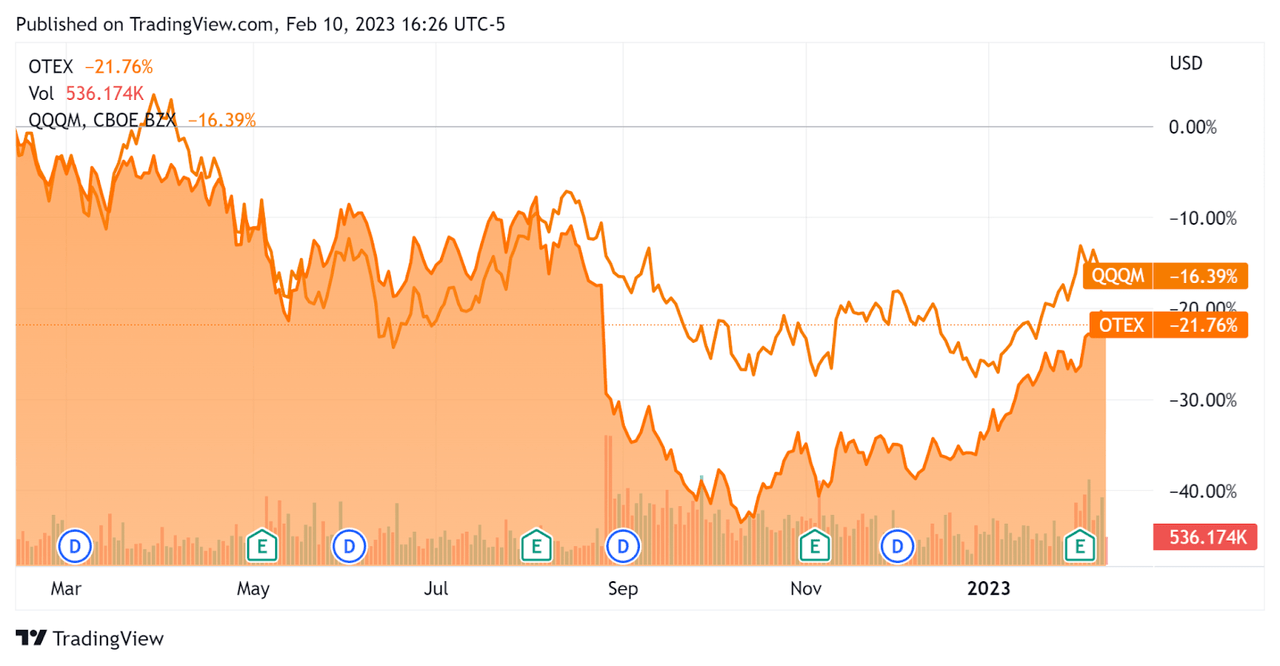 Valuation And Other Metrics For Open Text
Below is a table of relevant capitalization and valuation figures for the company:
| | |
| --- | --- |
| Measure [TTM] | Amount |
| Enterprise Value / Sales | 3.4 |
| Enterprise Value / EBITDA | 12.3 |
| Price / Sales | 2.7 |
| Revenue Growth Rate | 2.9% |
| Net Income Margin | 9.0% |
| GAAP EBITDA % | 27.5% |
| Market Capitalization | $9,284,090,900 |
| Enterprise Value | $11,912,045,600 |
| Operating Cash Flow | $902,625,980 |
| Earnings Per Share (Fully Diluted) | $1.19 |
(Source – Seeking Alpha.)
The Rule of 40 is a software industry rule of thumb that says that as long as the combined revenue growth rate and EBITDA percentage rate equal or exceed 40%, the firm is on an acceptable growth/EBITDA trajectory.
Open Text Corporation's most recent GAAP Rule of 40 calculation was 30.4% as of FQ2 2023, so the firm has produced middling performance in this regard, per the table below:
| | |
| --- | --- |
| Rule of 40 – GAAP | Calculation |
| Recent Rev. Growth % | 2.9% |
| GAAP EBITDA % | 27.5% |
| Total | 30.4% |
(Source – Seeking Alpha.)
Commentary On Open Text
In its last earnings call (Source – Seeking Alpha), covering FQ2 2023's results, Open Text Corporation management highlighted the potential for growth from the new combined business due to its recent transformative acquisition of Micro Focus.
Management sees six key markets it focuses on to assist businesses in their digital transformation efforts.
However, Moody's downgraded OTEX's debt rating to Ba2 due to the mature and highly competitive software segments the two companies operate in.
As to its financial results, FQ2 revenue rose 7.8% on a constraint currency basis, but only 2.4% on an as-reported basis due to forex headwinds from a strong U.S. dollar.
Management did not disclose any company retention rate metrics.
The firm's Rule of 40 result has been moderate, with a weak revenue growth result improved upon by a stronger operating result contributing to a middling figure for this metric.
However, SG&A as a percentage of revenue has been trending higher while operating income has been uneven.
To that end, management intends to remove $400 million of combined company costs over the next 18 months… and previously announced an 8% headcount reduction for fiscal 2023 or about 2,000 employees.
For the balance sheet, the firm finished the quarter with $2.8 billion in cash, equivalents and short-term investments and $5.2 billion in long-term debt.
Over the trailing twelve months, free cash flow was $778.3 million, of which capital expenditures accounted for $124.3 million. The company paid $93.2 million in stock-based compensation in the last four quarters.
Looking ahead, Open Text Corporation management provided revenue guidance, but no organic numbers, so there is no real comparison on that basis.
Regarding valuation, the market is valuing OTEX stock at a 12.3x Enterprise Value / EBITDA multiple and a 3.4x EV/Revenue multiple.
The primary risk to Open Text Corporation's outlook is a continued elevated interest rate environment costing the firm dearly on its heavy debt load combined with a macroeconomic downshift slowing sales cycles and further hampering its growth plans.
Management plans to pay down debt at the rate of $150 million per quarter for eight quarters to get the company under 3x leverage.
I generally don't favor slow-growth, debt-heavy companies like Open Text Corporation, especially so in a high-cost-of-capital environment like the present.
Accordingly, my outlook on Open Text Corporation for the near term is on Hold.