Patterson-UTI Energy's Services Are In Good Demand (NASDAQ:PTEN)
Contract driller Patterson-UTI Energy (NASDAQ:PTEN), is classically dependent on US drilling activity, so is a volatile second derivative of oil (and natural gas) prices. PTEN operates in all major basins, but its largest emphasis comes from the prolific west Texas-eastern New Mexico Permian.
Less gas drilling and less drilling by public companies has been countered by good support from the forward curve for oil prices, more drilling by private companies, and the basic underlying technological fact that horizontal wells decline very quickly. Even for companies looking to just maintain (not grow) existing production volumes from horizontal shale wells, continued drilling capex is necessary. So, day rates continue to increase-including by 10% alone in 4Q22–given this healthy demand.
Patterson-UTI has a 2.2% dividend that is too small to recommend to dividend-hunters. I recommend the company's stock to those looking for capital appreciation in the oilfield services sector who are comfortable with the sector's volatility. I own PTEN stock myself.
Macro
The Russia-Ukraine war has upended energy trade-particularly energy exports from Russia-and prioritized to energy supply security.
However, US federal energy policy has been to prefer renewables and block the production and use of thermal fuels-coal, natural gas, oil–with a variety of regulations. Oddly, some permit limits have just been extended to mining the minerals needed for renewables.
However, thermal fuel demand continues worldwide and in the US due to its affordability, energy concentration, flexibility, and transportability. Thus, the effect of limiting domestic supply is to increase demand for imports and to increase prices.
Fourth Quarter and Full Year 2022 Results and Guidance
In 4Q22 Patterson-UTI reported net income of $100 million, or $0.46/share. This compares to net income of $61.5 million or $0.28/share for the prior quarter, 3Q22.
Net income for full year 2022 was $155 million, or $0.70/share. This compares quite favorably, obviously, to the 2021 full year loss of -$655 million, or -$3.36/share.
Adjusted EBITDA, which subtracts the tax loss benefit and adds back interest and impairments, was $692 million for 2022. By operating segment this divides as:
*contract drilling $478 million
*pressure pumping $232 million
*directional drilling $31 million
*other operations $35 million
*corporate -$85 million.
Daily rates continue higher. According to PTEN CEO Andy Hendricks, in 4Q22 average daily rig revenue in the US increased by more than 10% to $31,830/day and adjusted average daily rig margin increased by $2,970 to $13,450/day. With 131 rigs operating, this is a margin of $1.76 million/day.
Indeed, in the company's 4Q investor call on February 9, 2023, PTEN CEO Andy Hendricks said,
"we remain optimistic that we are in a multiyear up-cycle. Tier 1 super-spec rigs and premium pressure pumping equipment are effectively sold out . . . and high utilization continues to support current pricing levels. We anticipate a significant increase in earnings and cash flow during 2023 as we continue to reprice drilling rig contracts higher to current leading edge rates."
Also in the same investor call, according to CFO Andy Smith,
"At December 31, 2022, we had term contracts for drilling rigs in the U.S., providing for approximately $830 million of future dayrate drilling revenue, up from approximately $710 million at the end of the third quarter. . . In pressure pumping, for the first quarter, we are experiencing more weather disruptions than normal, and therefore, expect pressure pumping revenues to be approximately $280 million, with an adjusted gross margin of $72 million. We expect that revenues and adjusted gross margin will improve in the second quarter with fewer weather disruptions."
Operations and Strategy
The number of Patterson-UTI rigs operating tends to follow the oil price but with a lag and not proportionately, reflecting public producers' recent focus on return of capital to shareholders ahead of expanding drilling.
The company reports it had 131 rigs operating in 4Q22, up from 113 rigs operating in January 2022.
Of the company's 185 rigs, about a third or 60, are operating in West Texas. Per the company's rig locator and rig summary about 55 rigs are classed as "available." The remainder are in other key US oil and gas fields, from Appalachia (natural gas) to the MidContinent and Haynesville.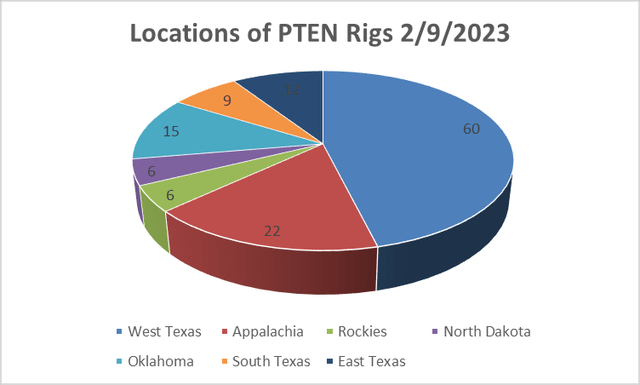 Executives forecast 2023 capital expenditures to be $550 million. The company will continue to target a return of 50% of free cash flow to shareholders through a combination of dividends and share buybacks.
Oil and Gas Prices
The primary driver of PTEN's activity is the oil price, although the company is obviously subject to the level of activity producers choose to undertake. Many public companies have prioritized return of capital to shareholders over increased rates of drilling.
Natural gas prices have been falling so gas drilling activity is subsiding also.
The February 9, 2023, closing West Texas Intermediate (WTI) futures oil price (March 2023 delivery) was $78.06/barrel. The Henry Hub natural gas futures price, also for March 2023 delivery, was $2.43/MMBTU.
The Energy Information Administration (EIA) forecasts higher oil production in 2023: 12.4 million BPD annual average, compared to current production of 12.3 million BPD for the week ending February 3, 2023.
WTI oil price, $/bbl: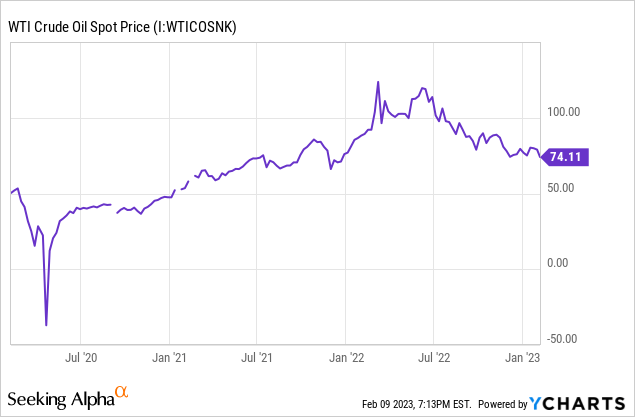 And the Henry Hub spot gas price, $/MMBTU: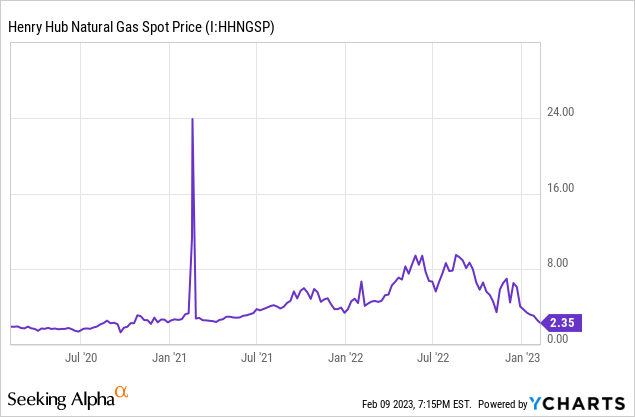 The EIA's Short Term Energy Outlook (STEO) 5-95 confidence interval for WTI prices at year-end 2024 ranges between $30/bbl and $165/bbl and the expected price path declines from the current level to $70/bbl.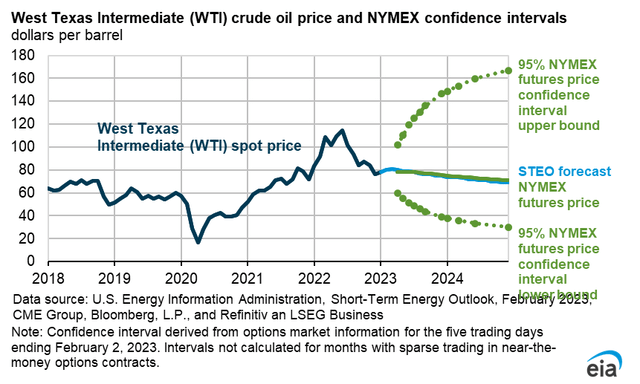 Competitors
Patterson-UTI is headquartered in Houston, Texas. Its three service segments are: a) contract drilling, b) pressure pumping, and c) directional drilling.
US competitors include Baker Hughes (BKR), Halliburton (HAL), Helmerich & Payne (HP), Liberty Oilfield Services (LBRT), Nabors Industries (NBR), and ProPetro (PUMP). Schlumberger (SLB), which exchanged its US business for an ownership interest in Liberty, is a global competitor.
Governance
At February 1, 2023, Institutional Shareholder Services ranked Patterson-UTI's overall governance as 1, with sub-scores of audit (1), board (2), shareholder rights (3), and compensation (1). In this ranking a 1 indicates lower governance risk and a 10 indicates higher governance risk, so the overall rating is excellent.
Shorts were 7.8% of float at January 13, 2023.
Insiders held 2.1% of shares.
At September 29, 2022, the five large institutional stockholders, some of which represent index fund investments that match the overall market, were BlackRock (18.6%), Vanguard (11.8%), Macquarie Group (6.4%), Dimensional Fund Advisors (4.4%), and State Street (3.9%).
BlackRock, Macquarie, and State Street are signatories to the Net Zero Asset Managers Initiative, a group that, as of December 31, 2022, manages $59 trillion (down from $66 trillion in November 2022) in assets worldwide and which–despite less energy supply due to reduced Russian exports to Europe–limits hydrocarbon investment via its commitment to achieve net zero alignment by 2050 or sooner.
Vanguard has withdrawn from the group.
Financial and Stock Highlights
With a February 9, 2023, closing stock price of $14.39/share, market capitalization is $3.1 billion, up about 10% from $2.8 billion a year ago.
Trailing twelve months' EPS is $0.72 for a current price/earnings ratio of 20.0. The average of analysts' 2023 EPS estimate is $2.25 for a forward P/E ratio of 6.4.
The 52-week price range is $10.29-$20.53 per share, so the closing price of $14.39/share is 70% of the one-year high and 62% of the one-year target of $23.32/share.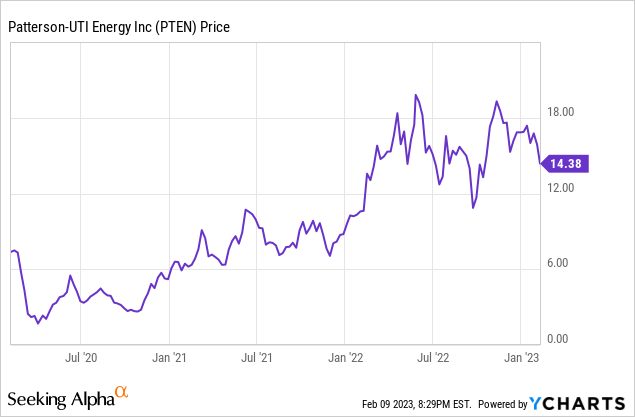 In the last year the company has doubled its dividend to $0.32/share, for a 2.2% yield.
Mean analyst rating is a 2.1, or "buy," from twenty-eight analysts.
At September 30, 2022, from the most recent 10-Q filing, PTEN had $1.41 billion in liabilities, including $879 million of long-term debt. ($836 million at December 31, 2022.) The long-term debt comprises $525 million of 3.95% senior notes that have a 2028 maturity date and $350 million of 5.15% senior notes that have a 2029 maturity date. With $3.04 billion in assets the liability-to-asset ratio is 46%. Given that PTEN is a contract driller it is no surprise the bulk of its assets – $2.28 billion – is in property and equipment.
The ratio of enterprise value to EBITDA is 6.2, or below the maximum of 10.0, suggesting a bargain.
Positive and Negative Risks
Patterson-UTI is exposed to cost increases due to inflation as well as shortages of experienced professionals and operators.
Its activity now is a function of oil prices (since gas prices have fallen and so there is less gas drilling) as well as the intensity of drilling at any given price level.
A positive risk not often mentioned is that the horizontal wells most companies contract for decline very quickly. Companies that seek to hold their production level must therefore do more drilling than they would for production from vertical wells.
Another positive risk is that companies of all different sizes can contract for the drilling of onshore non-conventional wells. This contrasts with the large commitments of hundreds of millions or even billions of dollars required for offshore wells.
Oil and gas drilling is currently discouraged through a variety of (let's call them) novel and unsupported regulatory proposals from a hydrocarbon-unfriendly federal (and some states') government. Actions from a variety of agencies have ranged from canceling permits to preferring renewable energy with tax credits to burdening project analyses with unmeasurable upstream and downstream emissions.
Indeed, a feature of the just-passed IRA is a stiff tax on excess methane emissions from natural gas and petroleum facilities beginning January 1, 2024.
Recommendations for Patterson-UTI
Contract drillers are the sharp end of the spear-either needed much or little depending on prices, something of which investors should be mindful since it can contribute to extreme business and stock price volatility.
Nonetheless, Patterson-UTI has an excellent governance score. It worked itself out of the dire straits the entire oilfield service sector found itself in between 2019 through early 2022.
The company offers a reasonable debt level and rigs at rising day rates in an environment of solid future oil prices (creating additional demand for drilling services).
It has bargain forward-price earnings and EV/EBITDA ratios. PTEN is also investor-friendly with its target of returning 50% of free cash flow to shareholders through dividends and share buybacks.
I do not recommend Patterson-UTI to dividend hunters. However, I do recommend it to investors seeking capital appreciation in oilfield service stocks who are comfortable with the sector's volatility.