PayPal Q4 Earnings Preview: Focused On Cost Cutting (NASDAQ:PYPL)
Investment Thesis
PayPal's (NASDAQ:PYPL) Q4 earnings report is going to signal to investors that PayPal is serious about cost-cutting.
Particularly after we've seen how much investors have rallied behind beaten names that announce a plan to cut back on expenses. One name that jumps to mind here is Meta (META), but there are others too.
For PYPL, the picture is mixed. On the one hand, PYPL's growth rates are slowing. Furthermore, PYPL is set to enter 2023 with far lower growth rates than PYPL's Analyst Day in 2021 guided for.
On the other hand, I make the case that this is "known news" and amply factored into the share price.
Assuming that PYPL can build back its rapport with investors and that it's resolute on increasing its profitability in 2023 by increasing its EPS somewhere higher than 15% CAGR then this stock is poised to perform strongly in the next 12 months.
Looking Ahead, What's Next?
There's no doubt that the market has become extremely bullish in the last few days.
It seems to me that the stocks that were absolutely killed in the first wave of the bear market that started in February 2021, have been the names that are now rebounding first.
And the names that managed to survive unscathed throughout 2021 are now seeing some weakness in their recent performances.
With that in mind, recall that PYPL was one of the names that got hit severely from the summer of 2021 to the summer of 2022.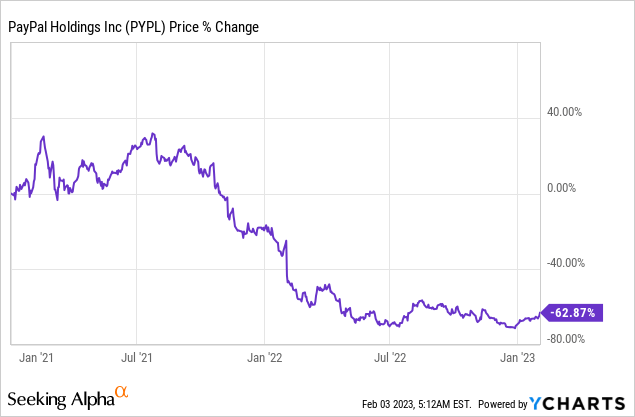 Put another way, I believe that PYPL's stock has already taken its medicine and repriced lower to factor in much of the bad news that investors were anticipating.
And this leads to discussing PYPL's near-term prospects.
PayPal's Revenue Growth Rates, Leave Much to be Desired

It's now "known news" that PYPL's growth rates are not going to match with investors' hopes.
Yes, the exit from eBay's (EBAY) business is no longer creating a headwind in 2023. But it's more than this. I seriously fail to see PYPL returning to 20% CAGR business any time soon.
I fail to see this and you fail to see this. And that means this is already a known factor and priced into the stock. That's the bad news.
The good news is that PYPL is now resolute on cutting back its excess fat from its cost structure. This will not be an easy task. But it's something that management has already embraced and started to enact.
PYPL Stock Valuation – 18x Forward Earnings
Before we go much further, allow me to highlight the following estimates from analysts.

What you see here is that analysts are all becoming extremely bearish on PYPL's prospects. Too bearish, if you will.
Here's my argument, it doesn't really matter what analysts are projecting. What matters is the direction that analysts are facing. What's more, analysts' estimates appear to be coinciding with the increase in days to cover short ratio.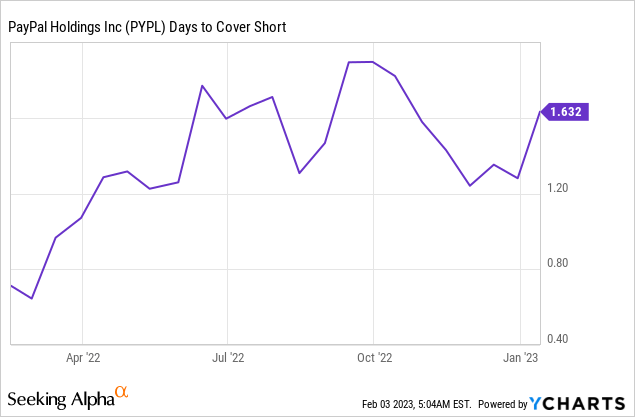 But I want to make my stance clear, it's not that I believe that PYPL will benefit from a short squeeze. That's not what I'm driving towards. My contention is simply what sort of bad news isn't already priced into the stock?
Analysts are bearish, investors are increasingly short this name, what other bad news needs to surface for investors to get further negative on this name?
In sum, I believe that paying approximately 18x forward earnings for PayPal is an attractive valuation. In sum, the risk-reward here is now very compelling.
The Bottom Line
I need to be absolutely clear about something.

I've been bullish on this name for months. And for months I've been wrong. In fact, since I turned bullish on this name, the stock has trended lower. So, even though I'm bullish on PYPL now as we head into its Q4 earnings next week, there's no reason to believe that "this time it's different".
The best I can do is seek out high-quality businesses that are cheaply valued and stick with my process.
That said, compared with other pockets of the market that since summer 2022 have been meaningfully sold off, I have to say that being in PayPal for several months hasn't been such a bad place to be. Good luck next week.