PCN: Love The Momentum, But Don't Love The Premium (NYSE:PCN)
Main Thesis & Background
The purpose of this article is to evaluate the PIMCO Corporate&Income Strategy Fund (NYSE:PCN) as an investment option. This is a closed-end fund with a primary objective "to seek high current income, with a secondary objective of capital preservation and appreciation."
It has been a while since I recommended PCN for purchase, but I did so back in September. I saw a good chance of a positive bounce – and that outlook did come to fruition. The fund has seen a gain in over 15% in just four and a half months: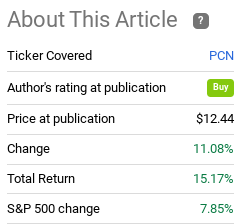 This is certainly a great move by PCN and vindicates my prior outlook. Looking ahead for 2023, it would be easy to ride this momentum higher and keep on buying PCN.
But I have concerns with this approach, to the point where I think a rating downgrade to "hold" is prudent. High yield, and other risk-on sectors, are clearly benefiting from the macro-environment. But can that last? My hunch is no given some upcoming headwinds: Russian escalation in Ukraine, debt ceiling drama in Congress, and a slowing economy domestically. While these are not reasons to flee the market all together, PCN's premium is back at a level that tells me prudence should win the day. Ultimately, those enjoying success with the fund may find it advantageous to hang on, but the "hold" rating also suggests being very selective with any new positions for now.
What's Driving The Gains? High Yield Well Supported
Let's take a minute to get a sense for why PCN has been clocking such large gains. This is critical to understanding what the chances are that profits keep on rolling in. In the case of PCN, much of this performance is driven by developments in the high yield credit sector. That is because this sector represents almost 39% of total fund assets in total: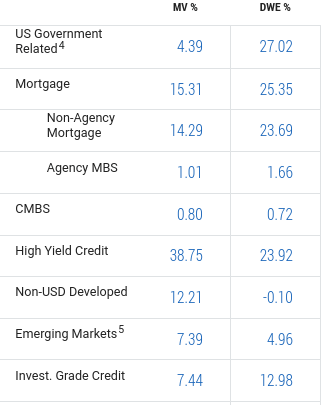 This exposure has been consistent for a while and the good news is it is supporting the fund's share price. After a very volatile (and largely unprofitable 2022) for the high yield sector, fortunes have changed dramatically. The good news is that this momentum in the sector has underlying support. Corporate earnings were relatively strong in 2022 despite headline news. For high yield issuers, a boost in earnings power has left the average company much less leveraged than in the past few years: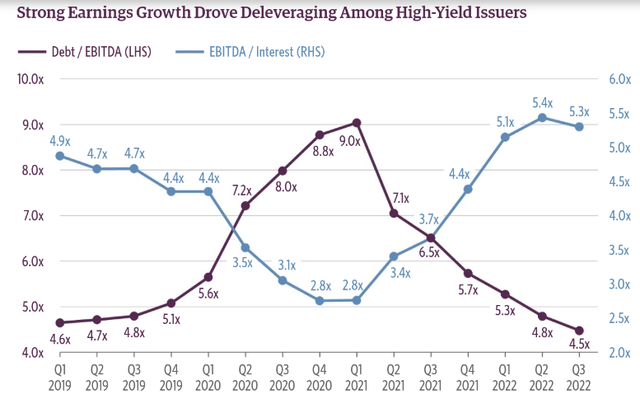 What this graphic is showing is that debt as a percentage of earnings has declined. Further, earnings on-hand make up a factor of 5X interest expenses, meaning these companies have plenty of cash through earnings to make good on their obligations.
Of course, these are just averages. There are ugly ducklings (and plenty of them) in the high yield market that are struggling right now. Distressed debt and loans has been on the upswing, despite the improvement in average figures. This is where active management can play a crucial role – relying on their skill and expertise to select the right securities that are yielding attractive amounts but are not at high risk of delinquency or default.
Dollar Has Eased, A Tailwind For Non-USD Debt
A second bullish point has been the easing of the U.S. dollar. This may seem counterintuitive, but a lower dollar can help foreign (non-US) debt because it puts less strain on non-US issuers (whether government or corporate). This is relevant for PCN because as the breakdown in the prior paragraph shows, this CEF has roughly one-fifth of its debt originating in either emerging markets or non-US developed markets.
And the drop in the dollar has been relatively steep – especially considering the Fed has continued on its rate hike path. While the dollar is by no means "cheap" on a historical perspective, it is well off its high for the year: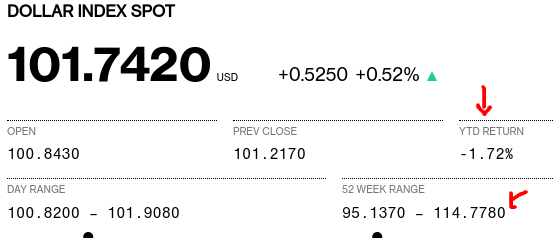 Personally, I see this continuing to support non-US debt and PCN by extension. The Fed recently reaffirmed a commitment to fighting inflation, but took less hawkish action by only raising its benchmark rate by .25 basis points earlier this week. That is the smallest increase we have seen in over a year.
If the Fed has neared (or already reached) the end of its rate hike cycle, then the dollar will certainly find it difficult to rally and that bodes well for both high yield credit and non-USD credit. PCN owns a host of each of these asset classes, and I suspect that fixed-income as a whole will perform fairly well going forward after what was a disastrous 2022.
Premium Is A Major Issue For Me
Now that we have touched on some key elements for PCN's impressive short-term return, I will shift to a discussion on risk. After all, I just laid out some fairly bullish perspective, yet I said at the onset that I was downgrading my rating to "hold". Readers are surely wondering why.
Key to this outlook shift is the fund's valuation. Simply – it's too expensive. When I recommended the fund in September the premium sat over 7%. This was somewhat rich but not completely unreasonable. The problem is today's level sits at a very frothy 15.5%, as shown below:

My followers know my stance on premiums so I will keep it succinct. A 15% premium is very hard to justify, especially in a riskier sector that could get rattled if economic conditions worsen. Funds like PCN will keep roaring higher if risk-on sentiment remains in place and the macro-outlook improves. In those scenarios many investors throw valuations to the wind – so that could very well be the case for the rest of Q1. But I'm not willing to put my own money at risk to find out if that scenario does materialize. Thus, this justified my "hold" rating.
Defaults Will Probably Rise
I talked earlier about how the average high yield issuer is in a pretty strong financial position. This has supported the sector and the recent gains we have seen. However, despite the strength in balance sheets in much of the market, an increase in defaults is likely this year. This is because a recession is the probable outcome in the second half of 2023 in both the U.S. and Euro-zone. This will make selective buying especially critical, which I touched on above.
For a frame of reference, readers should recognize the current environment is probably not sustainable – especially if we factor a recession in. The fact is that current levels of defaults across the developed world are low by historical standards: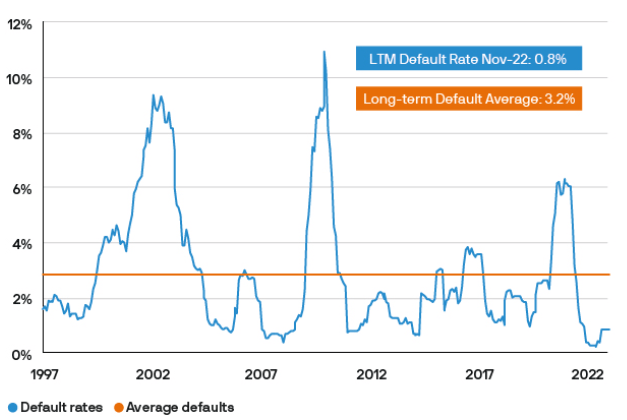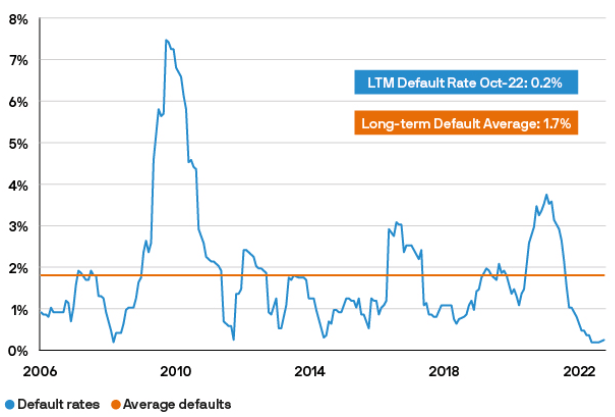 What I am getting at here is that despite high yield's poor performance in 2022 in terms of market price movements, defaults were very low. This is good in the sense that there is stability in many corners of this sector. The challenge is that it is unlikely this metric will improve if we have a difficult year ahead. The rate of default is already very low. With history as a guide, it stands to reason defaults are due to pick up. If that is the case it could provide the justification for a bit of a sell-off across the sector. That is why I am very cautious on paying rich premiums for high yield credit at the moment.
Final World: High Yield Credit Not That Scary
My last topic is to reiterate that high yield can have a place in many investor's portfolios. Do I think we have reached a time when caution makes sense? Yes I do. But I don't want to sound overly alarmist nor suggest that readers need to flee high yield or foreign assets en masse.
Part of this rationale for my sentiment here is that the high yield credit market is stronger than it was a few decades ago. This means that the foundation is stronger and the sector will hold up better than it has historically in times of stress (such as a recession). For perspective, consider the following graphic. It shows how the high yield sector is comprised mostly of BB and B-rated debt and a smaller percentage of CCC-rated than it used to be:

A conclusion I draw from this is why I am reluctant to place an outright "sell" on high yield debt. This is for the entire sector but also PCN by extension. There is risk to be had here, no doubt about that. But it is actually less risky since the Financial Crisis over a decade ago. These conditions are not permanent, so readers should monitor them carefully, but for now I am more confident recommending this sector than I used to be.
Bottom-Line
PCN has had a great run of late and investors are probably feeling that is long overdue! With momentum on its side, a reasonably strong earnings season, and the potential for the U.S. to avoid a recession this year, CEFs like PCN may seem ripe for the picking.
While there is merit to that argument, I would urge caution. Defaults are low in the high yield space in both the U.S. and Europe, but the amount of distressed debt has been on the rise. This means if a recession does hit, default rates have plenty of room to move higher. Further, while PCN can out-perform the average bond/credit fund through active management, we need to remember this is not a foolproof way to avoid further market drawdowns. Last year should be proof of that. When times get volatile, leverage and risk often do not mix. With the fund trading at a lofty premium, it strikes me as time to be selective with new buys. Therefore, I stand by my "hold" rating and encourage readers to approach the fund carefully going forward.