Praxis: Shaking The Dust Off Calcium Channel Blockers For Essential Tremor (NASDAQ:PRAX)
Introduction
Praxis Precision Medicines (NASDAQ:PRAX) is dedicated to creating remedies for central nervous system ailments. The biopharmaceutical company is currently working on PRAX-944 (also known as ulixacaltamide), which is a potent and selective small molecule T-type Ca2+ channel blocker. PRAX-944 is being developed as a potential therapy for essential tremor [ET]. Essential tremor is a neurological disorder characterized by involuntary shaking or trembling of different body parts, most commonly the hands. PRAX-944 has shown promising results in preclinical studies, and its efficacy and safety are currently being evaluated in a phase 2 clinical trial.
The following article will review PRAX-944 ET prospects ahead of topline Phase 2 data.
Financials
Before we dive in, let's look at Praxis' latest financial report. As of December 31, 2022, Praxis had $100.5 million in cash, cash equivalents, and marketable securities, down from $275.9 million the previous year, primarily due to $185.0 million in cash used in operations during 2022. The company's cash on hand is expected to fund operations until the first quarter of 2024. Research and development expenses increased by $34.7 million in 2022, mainly due to expenses related to the Cerebrum and Solidus platforms. General and administrative expenses increased by $12.8 million in 2022, mainly due to personnel-related expenses and stock-based compensation. Praxis reported a net loss of $41.2 million for Q4 2022 and a net loss of $214.0 million for the year 2022, including stock-based compensation expenses.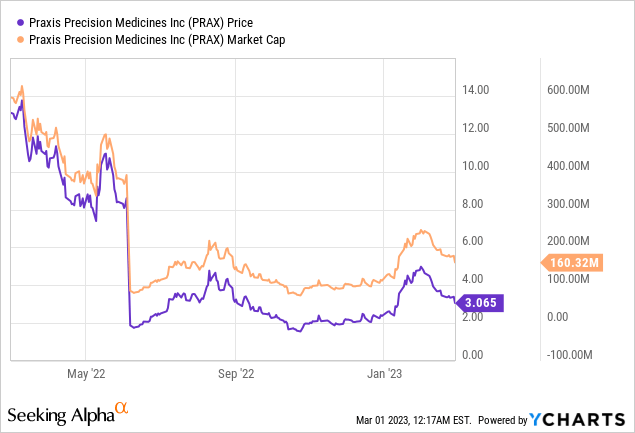 Essential Tremor Pathophysiology
Essential tremor [ET] is a neurological disorder causing involuntary, rhythmic shaking of body parts, mainly the hands, arms, and head. Its cause is not entirely known, but research indicates it may involve the cerebello-thalamo-cortical [CTC] circuit that coordinates movement. The CTC circuit consists of the cerebellum, thalamus, and motor cortex, communicating via interconnected pathways to plan, execute and control movement. Dysfunction in the CTC circuit results in tremors by abnormal oscillations in neuronal activity. Studies suggest reduced cerebellum activity and increased thalamus activity may contribute to ET. Recent research proposes T-type calcium channels [TTCC], expressed in the cerebellum and thalamus, may be involved in ET. These channels regulate neuronal excitability and blocking them has shown to improve motor symptoms in animal models of movement disorders. Therefore, targeting these pathways may present a promising strategy for developing ET treatments.
ET Prevalence and Current Treatments
ET is a prevalent movement disorder, which impacts around 4% of adults over 40 years old. The disorder's root cause is still unidentified, and currently, there is no cure available. The standard treatments for ET comprise using beta-blockers, anticonvulsants, and benzodiazepines off-label. However, these treatments are often inadequate (with a 50% first-line failure rate) or lead to undesirable side effects (one-third of responders discontinue treatment due to side effects).
Treatment Options
Care Setting
Criteria for Treatment
Initial Pharmacotherapy
Second-line Therapies
Refractory Tremor
Managed by Primary Care Clinicians
Most cases
Functional or Psychological Disability Caused by Tremor
Propranolol or Primidone
Gabapentin, Topiramate, and/or Benzodiazepines
Adaptive Devices, Deep Brain Stimulation, Thalamotomy, or Botulinum Toxin Injections
Referral to Neurologist
Diagnostic Uncertainty, Poor Response to Standard Pharmacotherapies, or Disabling Tremor
Potential Role of T-Type Ca2+ Channel Blockers
Calcium channel antagonists like nimodipine, verapamil, and flunarizine have been explored for their potential to reduce tremors in individuals with ET. However, the evidence supporting their effectiveness is limited and mixed. While nimodipine and verapamil primarily function as L-type calcium channel blockers, their efficacy in small studies has varied. Flunarizine, a non-selective calcium channel blocker that can also inhibit T-type calcium channels [TTCC], has shown the most promise for treating ET. Nonetheless, a clinical study found that it was associated with loss of efficacy and side effects, including movement disorders such as dystonia and parkinsonism. These side effects are thought to be a result of flunarizine's ability to block dopamine D2 receptors.
TTCC, which are voltage-gated calcium channels, are mainly found in neurons. They become activated when the neuronal cell membrane undergoes weak depolarization, allowing for calcium entry into excitable cells at the onset of action potential. In the case of ET and other neurologic disorders, the TTCC CaV3.1 subtype is upregulated or has increased activity, making it a prime target for therapeutic intervention. CaV3.1 is expressed in neurons throughout the central and peripheral nervous systems and has been linked to excessive rhythmicity associated with tremor, neuropathic pain, epilepsy, and Parkinson's disease. The inferior olive, a region of the brain, has been linked to tremor generation, and CaV3.1 is highly expressed in both the IO and cerebellum. Harmaline, a plant alkaloid that affects the cerebellum and IO, is utilized as an experimental model for evaluating the effectiveness of pharmacotherapies since it induces tremor in animals that is comparable to human ET's clinical manifestations.
Studies have explored the potential of zonisamide and topiramate, which exhibit nonspecific TTCC inhibitory activity, to treat ET. Zonisamide was found to objectively decrease tremors but did not lead to improvements in clinical ratings scales. Topiramate, on the other hand, showed significant improvements in tremor measurements, function, and disability. However, the use of these drugs has been limited due to intolerable side effects, especially in the case of topiramate.
CX-8998 Falls Short in Phase 2 ET Study Despite Showing Subjective Improvements; PRAX-944's High-Affinity Pan-T-Type Calcium Channel Antagonist May Hold Promise
In a phase 2 clinical trial for ET, CX-8998, a T-type calcium channel blocker, was investigated. While it did show improvement in specific subjective ET assessments, it did not reach the objective primary endpoint.
PRAX-944 is a high-affinity pan-T-type calcium channel antagonist, indicating that it can effectively block or inhibit calcium channels in cells belonging to the TTCC family, which are involved in various physiological processes such as muscle contraction, neurotransmitter release, and regulation of gene expression. The term "pan" implies that the antagonist can target multiple subtypes of TTCC, while "high-affinity" suggests that it has a strong binding affinity for these channels, meaning that it can effectively block their activity even at low concentrations.
In preclinical studies, 944 was found to have the following noteworthy effects: (1) it reduced tremors by modulating TTCC blockade within the CTC circuit, (2) it affected the activity and functional interaction between T-type Ca2+ channels and dopamine D2 receptors, without directly blocking the receptors, and (3) acted as a pore blocker on the CaV3.1 channel, disrupting their normal functions.
FYI: The composition of matter patent for PRAX-944 is set to expire in April 2029. This expiration date falls only a few years after theoretical approval for GT. However, if PRAX-944 is deemed a new chemical entity, it could receive up to five years of exclusivity. This potentially limits revenue estimates of 944 in GT and the stock market will surely account for this as it advances in clinical trials.
PRAX-944: Preliminary Phase 2a Open-Label Data
Praxis reported results from Part B of their Phase 2a study on the safety and effectiveness of PRAX-944 for treating ET. According to the study, patients treated with 944 showed significant improvements in their daily functioning, supported by a decrease in tremor amplitude. In the open-label period through Day 42, patients treated with 944 demonstrated an average improvement of 42% in the Modified Activities of Daily Living [ADL] score, which was statistically significant (n=11, nominal p<0.05). Following randomization, patients who continued with 944 (n=6) showed a clinically significant improvement compared to those who received a placebo (n=5). It is crucial to acknowledge that these findings may have confounding factors, including a small sample size and implicit bias due to the lack of blinding. Therefore, further studies are necessary to establish the long-term safety and effectiveness of 944 in treating ET.
Phase 2 Trial of PRAX-944 in ET
The phase 2 clinical trial of PRAX-944 in ET is a multi-center, randomized, double-blinded, placebo-controlled, dose-range-finding study. The trial is designed to evaluate the efficacy, tolerability, and safety of 944 in ~130 patients aged 18 years or older who have a diagnosis of ET and have had symptoms for at least 3 years. The primary endpoint measures the change from baseline to Day 56 on the modified Activities of Daily Living [ADL] scale, which is a composite sum of items 1 to 11 of The Essential Tremor Rating Assessment Scale – Activities of Daily Living [TETRAS-ADL] subscale and items 6 and 7 on the TETRAS-PS (performance score).
The study powering is based on a sample size of 33 evaluable participants per regimen, which provides 80% power to detect a 0.6 effect size between pooled ulixacaltamide and placebo groups, or a placebo-adjusted difference of 3.6 points in mADL at Day 56 (SD=6).
Praxis estimates topline Phase 2 results later this month.
Primary Endpoint Composite
Let's take a closer look at the primary endpoint composite Praxis is utilizing in their Phase 2 clinical trial:
Items 1 to 11 of the TETRAS-ADL subscale assess the impact of tremors on specific activities of daily living. Here is a list of the items:
Speaking
Feeding with a spoon
Drinking from a glass
Hygiene
Dressing
Pouring
Carrying food trays, plates or similar items
Using keys
Writing
Working
Overall disability with most affected task
For each item, the patient is asked to rate the difficulty of performing the activity due to their tremors on a 4-point Likert scale ranging from 0 (slightly abnormal) to 3 (severely abnormal).
Items 6 and 7 on the TETRAS-PS are assessments of tremor severity in the upper extremities by measuring handwriting and spiral tasks.
Challenges in Developing Therapies for Essential Tremor: CX-8998 Phase 2 Study Results
The failure of CX-8998 in a Phase 2 study for essential tremor highlights the difficulty in developing effective therapies for this condition.
In the study with 39 participants taking CX-8998 and 44 taking placebo, the video evaluation of the performance subscale of TETRAS did not reveal a significant difference. However, the same subscale evaluated by investigators showed a significant improvement with CX-8998 compared to placebo (p value = 0.017). CX-8998 also improved TETRAS-ADL (p value = 0.049), but not Kinesia ONE (p value = 0.421).
Challenges in Assessing Tremor Severity: Objective vs. Subjective Measurement Methods
Assessing tremor severity is challenging due to subjective rating scales. The study of CX-8998 used two different assessment methods: video-rated TETRAS and investigator-rated TETRAS. Video-rated TETRAS provides objective assessment through blinded observation of patient videos, while investigator-rated TETRAS relies on subjective observations during the patient's visit and may be influenced by personal bias. These differing methods may have resulted in different outcomes, with CX-8998 potentially having a greater effect on the investigator-rated TETRAS scale. This discrepancy could explain why CX-8998 failed to improve the video-rated TETRAS scale but appeared to improve the investigator-rated scale.
CX-8998 Improves Daily Activities but not Tremor Severity
Furthermore, CX-8998 showed improvement in TETRAS-ADL, which evaluates the impact of tremors on daily activities, but not in Kinesia ONE, which is a device-based measure of tremor severity. This could suggest that the drug may be more effective in reducing tremor-related functional disability than in reducing tremor severity itself.
Jazz Pharmaceuticals (JAZZ) acquired CX-8998 and renamed it JZP385. In their own phase 2 trial, Jazz is wisely using a more subjective primary endpoint that is essentially the same as PRAX-944's primary endpoint.
PRAX-944 Phase 2 Data: Reasons for Optimism & Doubt
Reasons for Optimism:
Recent studies have indicated that T-type calcium channels may have a role to play in the pathophysiology of ET. Despite CX-8998's failure to meet its primary endpoint in a Phase 2 ET trial, its positive effects on other endpoints cannot be disregarded. PRAX-944 is a potent and specific T-type calcium channel inhibitor that may reduce neuronal excitability and enhance motor symptoms in individuals with ET.
PRAX-944 has a high-affinity for T-type calcium channels, meaning that it can effectively block their activity even at low concentrations. This suggests that PRAX-944 may be more potent than other T-type calcium channel blockers that have been investigated for their effectiveness in reducing tremors in ET patients.
PRAX-944 has shown promising results in preclinical studies, demonstrating efficacy in reducing tremors in animal models of movement disorders.
The observed side effects of PRAX-944 in both healthy and affected individuals are comparable to those of CX-8998, with headache, constipation, and dizziness being the most common. It's worth noting that Phase 2 top line data only assesses patients for up to two months, so serious safety concerns typically associated with Ca2+ blockers for ET are unlikely to manifest.
There is currently no cure for ET, and current treatments for the disorder are often ineffective or have undesirable side effects. PRAX-944 could potentially offer a new treatment option for ET patients.
Reasons for Doubt:
Although PRAX-944 has shown promising results in preclinical studies, there is limited clinical data available for the drug. The phase 2 clinical trial is still ongoing, and the results have not been released yet. It is possible that the drug may not demonstrate efficacy in reducing tremors in ET patients in the clinical trial.
ET is a disorder that involves multiple brain regions and pathways, and its exact pathophysiology is not yet fully understood. While the targeting of T-type calcium channels holds promise for developing new ET treatments, the heterogeneity of the disorder may limit the effectiveness of PRAX-944 in all ET patients.
Potential safety concerns arise with the use of T-type calcium channel blockers for reducing tremors in ET patients, primarily due to their off-target effects on other physiological processes such as dopamine receptors, which could cause the development of movement disorders and other undesirable side effects.
Assessing the Probability of Success for PRAX-944 in Phase 2 ET Study: An Analysis and Investment Recommendation
After analyzing the data, it appears that there is a low-to-moderate probability (35-45%) of a positive outcome for PRAX-944 in this Phase 2 ET study (statistical significance on primary endpoint, positive trends on secondaries, and no safety signals). While PRAX-944's mechanism of action theoretically gives it an advantage in treating ET, prior studies have shown that achieving both significance and a tolerable safety profile in ET is notoriously difficult, so caution is warranted.
To gain more insight into PRAX-944, I looked at CX-8998's prior Phase 2 data. Praxis is using a modified version of the TETRAS-ADL subscale and items 6 and 7 on the TETRAS-PS as their primary endpoint, which is a smart approach as this is where CX-8998 demonstrated the most relevant improvement in the past. Adopting this approach, which is centered on subjective quality of life measures, enhances the probability of achieving clinical success and obtaining regulatory approval.

Confounder: TETRAS ADL (pictured above) has 12 items with scores up to 48, while Praxis' Modified ADL set has 14 items with scores up to 42. The first set of measures has a higher maximum score (48 vs. 42), which could also make it easier for a drug to achieve statistical significance. On the flip side, more items in a tool offer more opportunities for a significant effect, making the second set potentially easier to achieve statistical significance. Furthermore, the second set includes two items not in the first set (handwriting and spirals), potentially improving sensitivity and increasing chances of detecting a significant effect of the drug.
In the event of Phase 2 success (a clinically significant effect and a safe drug), shares of Praxis could reasonably triple (after an extended period of time following data) given the significant unmet need for ET. Conversely, in the event of failure, shares may experience an immediate 30%+ decline, which could be further exacerbated by a poorly priced share raise to commence operation (recall, the company has no more than a year of cash runway).
Currently, Praxis only makes sense for portfolios that use a "barbell strategy" (described best by philosopher and investor, Nassim Taleb), which involves investing 90% in safe options like treasury bills or general market ETFs, and 10% in highly-volatile, risky stocks. Therefore, my "Buy" recommendation assumes the utilization of PRAX within a barbell portfolio. It might, however, be prudent for the average investor to wait for Phase 2 data before investing.