Researchers map ancient tribal villages of Los Angeles
For millions of Los Angeles-area motorists, the Whittier Narrows Recreation Area flashes by in an instant — a tattered oasis of wetlands, sycamore and oak that punctuates the monotonous sprawl of industrial parks, cinder-block sound walls and residential cul-de-sacs along the 60 Freeway and Rosemead Boulevard.
But to Andrew Salas, chairman of the Gabrieleño-Kizh tribe, this area still echoes with the voices of his ancestors, who called it Shevaanga.
"What Beverly Hills is to Los Angeles, Shevaanga was to the true first people of the Los Angeles Basin," Salas said.
Few area residents would ever guess that another culture thrived here for thousands of years amid a landscape of oak and walnut woodlands riven with waterways teeming with steelhead trout and prowled by wolves and grizzly bears.
But now, Shevaanga is among hundreds of sites drawing new attention in the "Mapping Los Angeles Landscape History" project.
The effort seeks to illustrate major settlements and the roads that connected them — a 2,500-mile network of paths that stretched across the Los Angles Basin and beyond and were used used to transport acorns, walnuts, pine nuts, elderberries, tar for waterproofing plank ships, shells worked into beads, and salt minerals used to preserve fish.
The project is the result of an unlikely partnership of three tribes — Chumash, Tataviam, and Kizh-Gabrieleño — as well as geographers, historians, biologists, and computer scientists from USC, UCLA and Cal State's Northridge, Los Angeles and Long Beach campuses.
Undergraduate students from Accelcraft Institute of Geoinformatics and Telangana University, in India, also helped to extract the elevations of over 15 million individual points located on historical topographic maps.
"Our goal is to help people better understand the whole of history in Los Angeles' backyard," said Phil Ethington, professor of history, political science, and spatial sciences at USC. Indeed, one of the villages, Yaangna, occupied an area that now hosts Union Station, in downtown Los Angeles.
"We show how Los Angeles is rooted in an ancient metropolis of trading centers and seafaring communities governed by royal families and surrounded by forests and grasslands carefully managed to magnify the abundance of natural resources," he said.
Aggressive and impactful reporting on climate change, the environment, health and science.
The three-year project, funded by the John Randolph Haynes and Dora Haynes Foundation, investigated six villages that once flourished here. The effort relied on oral histories of local tribes, remote sensing equipment aboard satellites, U.S. Geological Survey topographic maps, century-old aerial photographs, historical archives, museum collections and law centers.
"We had to dig deep for evidence of the great society buried under our modern empire of terraced and graded slopes, rivers sheathed in concrete, industrial development, freeways and sprawl," said Travis Longcore, a professor at UCLA's Institute of the Environment and Sustainability.
"We believe this project will serve as a vital resource for regional and local planning efforts involving sustainability, restoring habitat with native vegetation, and adapting to climate change," he said.
The result is a unique collection of highly detailed three-dimensional digital maps charting prehistoric human interactions with the natural environment at Humaliwo (now Malibu), Siutcanga (Encino), Achoicomenga (San Fernando), Yaangna (Los Angeles), Shevaanga (Whittier Narrows), and Povuu'unga (Long Beach).
Project maps also compare Indigenous roads and pathways with contemporary highways, and depict the distribution of plants and trees important to Indigenous food systems and bird populations over the centuries.
One map reveals the locations of streams, wetlands, vernal pools and tidal flats that were buried or drastically altered to accommodate urban development.
When Europeans arrived, however, they took over tribal lands as well as the roadways and other significant contributions of the Indigenous founders of the region.
Ventura Boulevard, the 101 Freeway through the San Fernando Valley, and the 110 Freeway between Los Angeles and Long Beach were built on ancient roadways, the researchers said.
For Matt Vestuto, chairman of the Barbareno/Ventureno Band of Mission Indians, the mapping project offers hope for a long overdue reappraisal of Native American history, one that, as he put it, "doesn't start out depicting our people as California mission slaves."
Walking across the site of a prehistoric seaport at Malibu Lagoon that connected mainland tribes with the Channel Islands, Vestuto smiled recently and said, "Our lifeways and economies were flexible and stable for centuries.
"Almost overnight, we were disenfranchised from the landscape — but our people are still here," he said. "Now, the challenge is to restore the environment, and rebuild our nations."
Salas, 55, has also helped to fight for the memory of his ancestors. He and fellow tribe members regard the Whittier Narrows settlement area with reverence.
In 2010, tribal members led by Salas and his father, spiritual leader Ernest Perez Salas Teutimez, now deceased, helped defeat a plan to build a 14,000-square-foot San Gabriel River Discovery Center and a parking lot for law-enforcement vehicles in the area.
During a blessing ceremony held in a glade of sycamores at the time, Salas' father said, "This is our last frontier close to home. We want to keep it just the way it is so that we never forget the lessons hidden under every leaf and rock."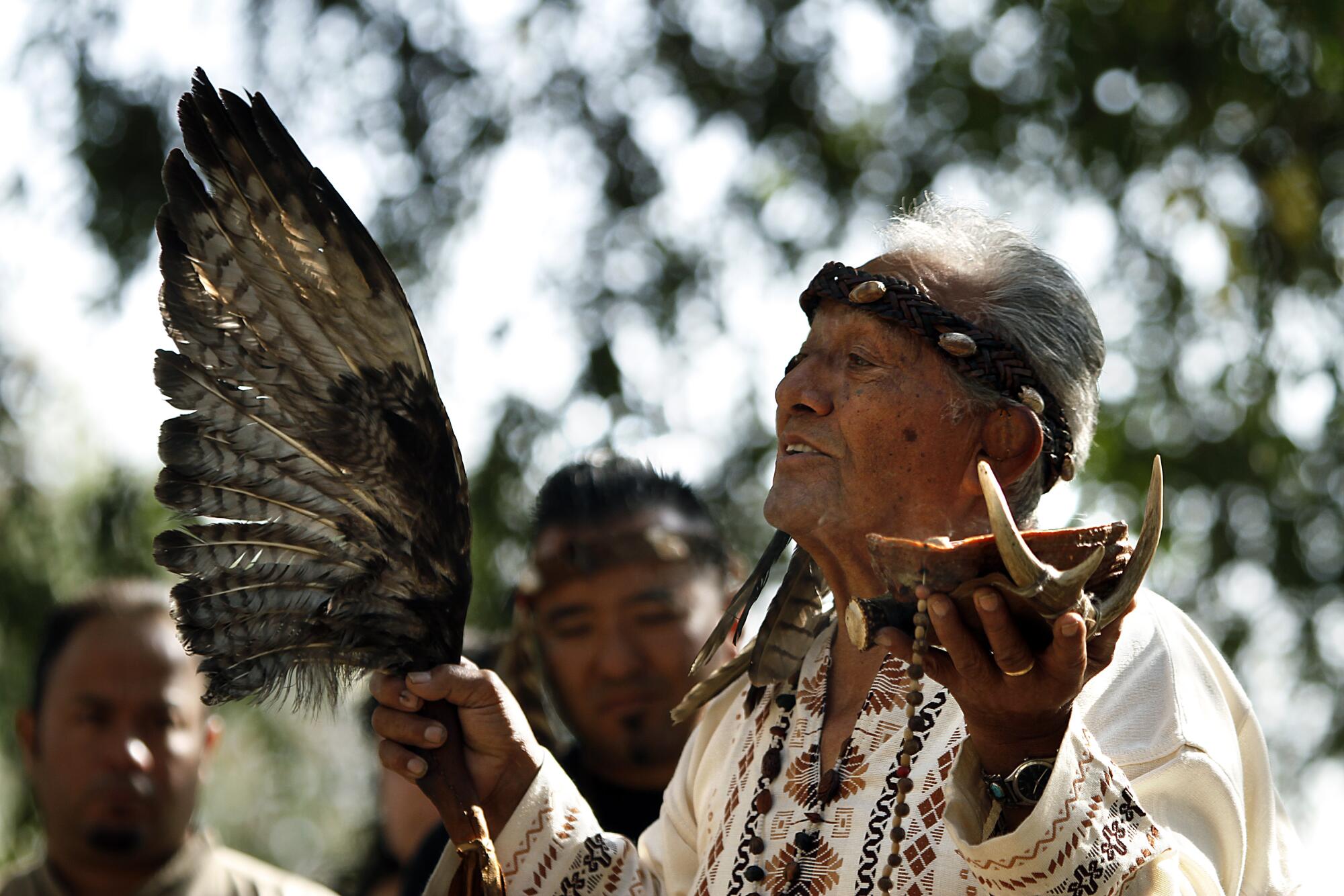 On a recent morning, Salas brushed dirt away from a palm-sized rock grinding tool that he found protruding from a sandbank. "It's a granite 'mano,'" he said, "used to grind grain and seeds."
As Salas was telling the story of the mano, Matthew Teutimez, a tribal biologist, was taking stock of nearby native vegetation that supported Indigenous populations for centuries: elderberries, mudwort, jimson weed, spearmint, walnut trees, grape vines, and sage.
"They're remnants of a time when the lives of our ancestors were entwined with the area's rich biodiversity and sacred places such as hilltops and caves, where they talked to the creator," Teutimez, 47, said.
A turning point came in 1769, with the arrival of Spain's first colonizing expedition. A commander under Spanish military officer Gaspar de Portolá recounted the initially peaceful support and guidance offered by Indigenous peoples.
"The natives came to nearly every place where our men camped … presented us fish, hare, nuts, pine nuts, acorns, and other seeds prepared after their fashion," he wrote. "It was never necessary for us to use our weapons for any purpose other than to obtain some game, which was generally bears."
This initial amity was very short-lived: The prosperous and generous Native American tribes of Southern California were conquered by Spanish settlers, then enslaved by imperious theologians to launch a mission-building campaign that stretched from San Diego to San Francisco.
After the missions, the tribes came to be known as Gabrieleños, a name that conjures up the start of an era of terror and massacres for Native Americans who had existed here since time immemorial.
The California Gold Rush of 1849 inspired a flood of immigrants and federal support for local Indian-killing campaigns. California's Native American population plunged from 150,000 to 30,000 in the mid-1800s, according to Benjamin Madley, a UCLA historian and author of "American Genocide: The United States and the California Indian Catastrophe, 1846-1873."
Less than a century later, Southern California was mushrooming into a metropolis amid showers of welder's sparks, clanking jackhammers, lumbering earthmovers, and flashy new cultural and commercial landmarks rearing skyward.
The Native Californian population has rebounded to about 150,000, many of whom belong to the state's 110 federally recognized tribes. Those groups are able to determine their own destiny, and in many cases, that destiny has involved lucrative gambling palaces.
The Gabrieleño tribes, however, are among roughly two dozen unrecognized and landless tribes in California that have initiated petitions for federal recognition by the Department of Interior's Bureau of Indian Affairs.
The stakes are high. A federally recognized tribe has sovereignty, does not pay taxes and is exempt from following state or county legal ordinances. It is entitled to full service from local law enforcement authorities and fire departments, hospitals, and road and flood control systems.
It is also eligible for federal assistance from legal programs created to help reclaim lands lost over the decades through tax sales, fraud and violence, and with healthcare, education and protection of sacred sites.
Few of those petitions are likely to succeed, experts say, because they usually cost hundreds of thousands of dollars, require extensive documentation and research by anthropologists, historians and tribal members and can take a decade or more.
But for Salas and Teutimez, Whittier Narrows remains a potent symbol, geographically and politically, of historic injustice — and an ideal place for a rebirth of the Gabrieleño Nation.
"We filed our application for federal recognition in 2010," Salas said. "I truly believe that it's going to happen in my lifetime."