'Shell shocked' Kevin McCarthy will not run for House speaker again following removal
Former House Speaker Kevin McCarthy will not run again for House speaker, he told reporters on Tuesday evening following a narrow vote to remove him from the role earlier in the day.
"I may have lost the vote today, but as I walk out of this chamber, I feel fortunate to serve the American people. I leave the speakership with a sense of pride and accomplishment, and yes, optimism," McCarthy said. "I believe I can continue to fight — maybe in a different manner. I will not run for speaker again. I'll have the conference pick somebody else."
Eight Republican lawmakers joined every present House Democrat in a vote to oust McCarthy from the top job.
Taking a shot at them, McCarthy said: "Unfortunately, 4% of our conference can join all the Democrats and dictate who could be the Republican speaker in this House."
WHO IS PATRICK MCHENRY, THE SPEAKER PRO TEMPORE OF THE HOUSE FOLLOWING MCCARTHY'S OUSTER?
McCarthy made the announcement to Republicans in a closed-door conference meeting on Tuesday night. The meeting was uncharacteristically brief; GOP conference meetings normally last an hour or more, but this time, stunned lawmakers came out of the room within minutes.
Speaking with Fox News Digital after a GOP conference meeting following McCarthy's ouster, Rep. Ralph Norman, R-S.C., described the now-former speaker as "shell shocked" who appeared "down, as anyone would be."
"This too shall pass. There will be somebody that steps up, and it's a tremendous opportunity," Norman said.
Rep. Greg Murphy, R-N.C., told Fox the plan was to have a candidate forum on Tuesday and a vote on who would succeed McCarthy on Wednesday.
The motion to vacate McCarthy was triggered by Rep. Matt Gaetz, R-Fla., who introduced it on Monday night. 
McCarthy said Gaetz's move was "personal" and suggested it was done in retaliation for an ongoing Ethics Committee investigation into his conduct.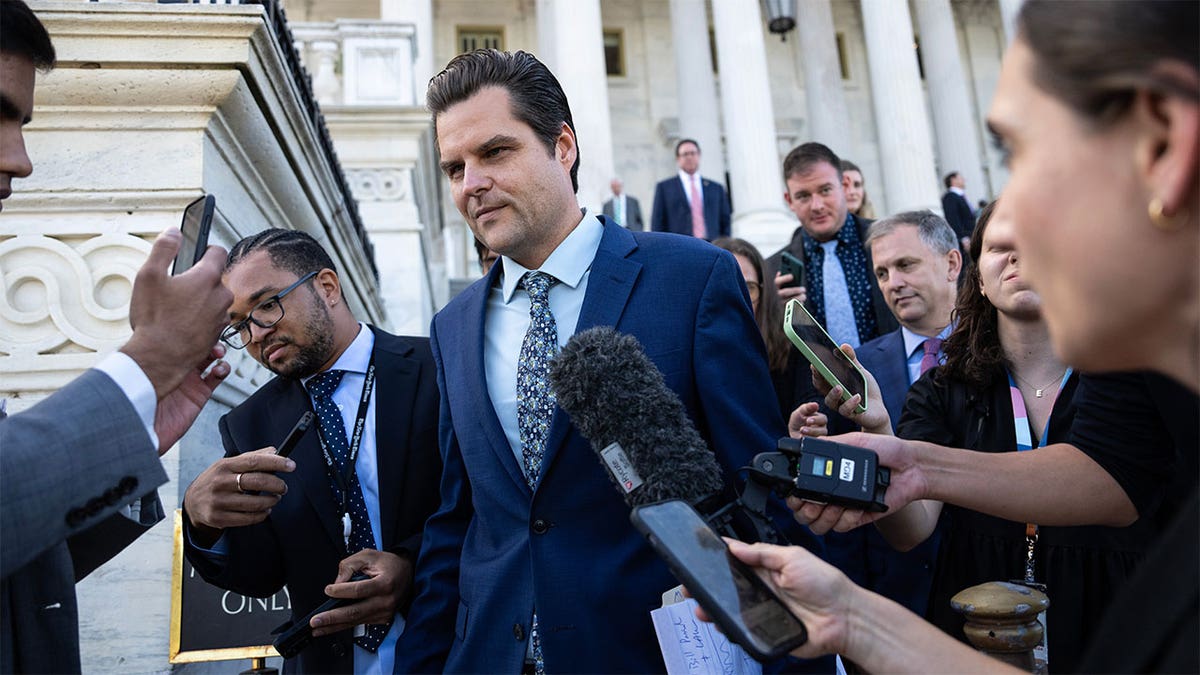 "You all know Matt Gaetz. You know it was personal… It all was about getting attention from you," McCarthy said to the press. "I mean, we're getting email fundraisers from him as he's doing it… I've seen the text. It was all about his ethics, but that's all right."
It follows weeks of disarray within the House GOP conference over how to proceed with funding the government.
CLICK HERE TO GET THE FOX NEWS APP
McCarthy angered hardliners over the weekend when he passed a short-term spending bill known as a continuing resolution (CR) to keep the government open for 45 days in order to avert a government shutdown and give lawmakers more time to cobble together 12 individual spending bills.
Ninety House Republicans voted against the CR on Saturday, arguing that it was a "clean" extension of the previous Democrat-held Congress' policies. But the speaker's previous attempts to put a CR on the table that would cut spending for its short duration were upended by several of those same conservatives who were opposed to any such measure on principle.