Shopify Stock Q4 Earnings Preview: What To Watch For (NYSE:SHOP)
Shopify Inc. (NYSE:SHOP) reports earnings on the 15th February, and based on the recent run up in share price, expectations are high. The company is trying to build an operating system for businesses, and as part of this effort is expanding its reach offline and investing in areas like logistics, payments, capital and advertising. This is currently a drag on the firm's profitability, but will likely make Shopify a far larger and more defensible company in the future. In this Shopify earnings preview, I will review the company's strategy and expectations for the company going forward.
Shopify is still facing post-pandemic headwinds in addition to a moderation in consumer spending. A rapid buildout of the company's product portfolio is helping to offset this though. Shopify Markets was launched early in 2022, and helps merchants to globalize their business. So far, more than 175,000 merchants globally have used Markets to help launch their international businesses. Shopify Markets Pro was launched in September, and is a cross-border solution built on top of markets. It combines the features of Markets with additional capabilities like the Translate and Adapt app to reduce the complexity of international expansion. The ability to easily create localized buyer experiences along with assistance navigating the complexities of cross-border operations should aid merchants significantly.
Shopify also launched Shopify Tax in 2022 to make dealing with taxes easier for merchants. With companies like Shopify pursuing platform strategies, investors should expect adjacent categories to be subsumed. Previously successful products are therefore at risk of becoming mere features of a platform.
Shopify's partner strategy is also maturing as they try to build relationships with larger merchants and expand their presence internationally. During the third quarter Shopify signed partnership agreements with Ernst & Young and KPMG, adding to their existing relationship with Deloitte. EY are initially training 500 technical professionals on Shopify across their EY Wavespace network.
Hydrogen and Oxygen are additional solutions being introduced to support larger merchants. Hydrogen is a front-end web development framework that provides larger retailers with in-house creators the tools they need to rapidly develop customized storefronts. Oxygen is a hosting platform for Shopify storefronts.
Logistics
While the Internet lowered barriers to entry in retail, logistics remains a significant hurdle and Shopify want to change this with the Shopify Fulfillment Network. Logistics can act as a glass ceiling for small businesses, as most 3PL companies have large minimums and the economics are not favorable for merchants.
This is a differentiated strategy relative to Amazon.com, Inc. (AMZN) though, as Shopify are taking an asset light approach. Amazon is trying to develop a logistics network that delivers as quickly and as cheaply as possible. Shopify cannot compete with this and really is not trying to. Shopify believe if they can provide reasonably fast delivery with transparency and reliability, it will be sufficient for most customers.
Shopify are developing an end-to-end logistics platform through a combination of partnerships and vertical integration. This will enable merchants to dynamically route inventory across channels.
A merchant's supply chain generally must cover:
Freight – Flexport partnership
Distribution – Deliverr acquisition
Fulfillment – SFN.
Flexport leverages software to create efficiency and works with most shipping container companies to get orders from the factory to the port. The number of containers Shopify shipped with Flexport increased 3x over the second quarter. Early data is demonstrating 20% faster service from origin ports with reduced cost per pallet.
Shopify's acquisition of Deliverr closed in July and progress is being made on the integration of Deliverr with SFN. Deliverr provides what Shopify refer to as balancing, anticipating where orders need to be transported in order to be efficiently distributed to the end customer. Balancing covers transportation from a port to the fulfillment center. Machine learning is used to figure out how inventory should be distributed geographically across warehouses in order to manage inventory and last mile transportation costs. The combined volume of Deliverr and SFN allows Shopify to consolidate volume, streamline operations and expand their carrier relationships. The unified network will also allow Shopify to operate a small number of multi-purpose regional hubs (cross-docking, multichannel distribution, inventory balancing and some local fulfillment), reducing complexity in the rest of their logistics network. Deliverr also brought 40 partner nodes that act as smaller warehouses in other geographic areas and sort centers.
On the fulfillment side, Shopify is working with 3PL companies to utilize their excess warehouse space. In support of this, Shopify built Fulfillment Management Software and acquired 6 River Systems, enabling the efficient distribution of inventory across third party warehouses. 6 River Systems is focused on the warehouse side of the logistics equation (storage, pick, pack and ship). Shopify continue to partner with 3PLs across the U.S. to enable local fulfillment, leveraging their proprietary warehouse management software.
Shopify also introduced Shop Promise in the third quarter. This is a consuming facing badge that indicates buyers can expect fast and reliable delivery. Shop Promise has so far shown a 9% boost to buyer conversion. Long-term, this is likely to be a fairly value neutral feature for merchants, but it should help accelerate merchant adoption of Shopify logistics.
Audiences
Shopify Audiences is another growing part of the business that is strengthening Shopify's competitive position. Audiences helps merchants to target high-intent customers with advertising, which improves conversion rates and return on ad spend. Helping merchants to control customer acquisition costs in a privacy focused age is likely to become a bigger part of Shopify's business going forward.
Audiences provides a hashed list of high intent buyers for the products that merchants would like to market. Lists are developed from Shopify data using machine learning. These lists can be exported to digital advertising platforms like Facebook (META) and Instagram, and helps to offset some of the loss of signal caused by Apple's (AAPL) ATT initiative.
Price Increases
Shopify recently increased prices for their basic, mid-range, and advanced services by around 33%. This comes after prices having remained largely unchanged for the last 12 years. This move was viewed positively by markets, with Shopify's stock price increasingly sharply on the day of announcement. While it will increase revenue and margins and its impact on churn should be modest, it is also likely an indication that Shopify's core business is maturing and that they are beginning to shift from a growth to a harvest mindset.
Buy with Amazon Prime
Buy with Amazon Prime is potentially an important battlefront for Shopify. There have been rumors that Shopify are going to introduce an integration, but so far nothing has come to fruition. The outcome of negotiations between Amazon and Shopify could be indicative of the balance of power between the two and how much of a threat Amazon considers Shopify.
According to a survey, 40% of Shopify merchants also sell on Amazon. Of those, 15% are already using Buy with Prime. 74% of survey respondents state that they would consider using Buy with Prime. This indicates fairly broad-based demand for the feature, which could threaten SFN adoption and GPV growth.
Buy with Prime offers fast and free delivery with a checkout experience shoppers are familiar with, and reportedly increases shopper conversion by an average of 25%. This offering essentially allows merchants to benefit from Amazon's brand, advertising and logistics.
BigCommerce Holdings (BIGC) recently introduced an integration for Amazon's Buy with Prime, which it claims is the first such integration by an ecommerce service provider. Their Buy with Prime app enables merchants to offer Buy with Prime on their BigCommerce storefront.
Shopify Stock – The Bear Case
The Shopify bear case appears to be largely based on the belief that Shopify has a problem with customer retention and that as a result they will never be particularly profitable. While there is data supporting high churn rates, this data needs to be placed in context in order to understand why it is not as negative as it seems.
The Globe and Mail recently found that only 34% of Shopify's customers last a full year on the platform. This also compares unfavorably to other platforms, like WooCommerce, although this may just be due to Shopify growing faster during the pandemic.
Similar results were presented in a quite impressive analysis here. This article missed the forest for the trees though, because it focused on unweighted churn and didn't consider that churn is primarily the result of small businesses failing, rather than due to a Shopify specific issue. For example, over 20% of small businesses are expected to fail in their first year, and this figure is likely higher for online businesses where the barriers to entry are lower.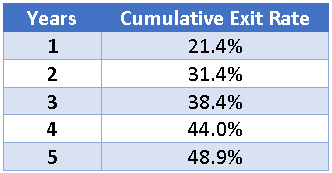 While new merchants on Shopify are very likely to churn in their first few years, those that begin to scale a successful business are likely to remain on the platform for a long time. This is borne out by growth in merchant solutions relative to subscriptions. Successful businesses stick with the platform, leading to higher merchant revenue over time. Dollar-based gross retention rate likely looks very different to an unweighted churn rate across all customers.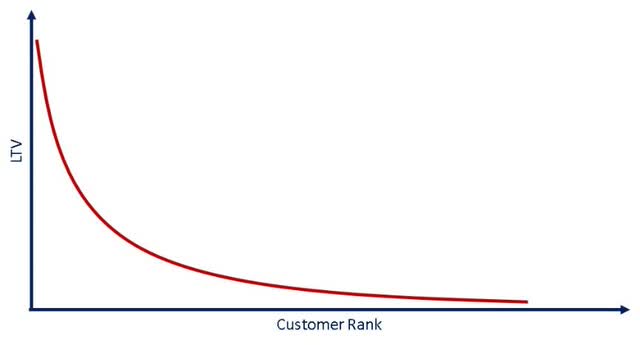 If Shopify had a problem with gross dollar retention it would also be apparent in their financial performance. Shopify's financials have never indicted a problem with retaining revenue or generating efficient growth. Margins have always been quite good given Shopify's scale and growth rate, and the amount spent on sales and marketing has generally been modest given the company's growth rate.
Shopify Financial Analysis
Shopify has had a difficult 12 months due to the shift of consumer spending from online to offline as economies have normalized post-pandemic. Total GMV was up 11% YoY in the third quarter, which is slightly higher than the 9% growth of US retail in the same period. Part of this growth is being driven by Shopify's expansion offline, with offline GMV growing by 35% YoY in the third quarter.
Increased GMV penetration of Shopify Payments, Shopify Capital and Shopify Markets, greater revenue contribution from partners as well as contribution from Deliverr also contributed to growth. This was the first quarter of results with Deliverr included, and based on Shopify's statements, Deliverr contributed approximately 38 million USD in the third quarter. Payments penetration of GMV was 54% versus 49% in Q3 of 2021.
Management expect GMV growth to outpace the broader retail market in the fourth quarter. Gross profit dollar growth is expected to trail revenue growth due to greater contribution from Merchant Solutions and the impact of Deliverr. Operating expense growth YoY in Q4 will sequentially decelerate from Q3 (19%). This implies that operating expenses will grow less than revenue, leading to operating leverage.
The fourth quarter consensus for Shopify is $1.65 billion USD revenue and earnings per share of -0.02. This would represent growth of approximately 20% YoY, a slight step down from the 21% growth reported in the previous quarter. This may be a tough ask given the strength of the fourth quarter in 2021. Growth in retail sales ex autos in the U.S. was down from 10% in the third quarter to 6.8% in the fourth, and Amazon's fourth quarter results likely won't give investors comfort either.
UBS are expecting that ecommerce sales will remain weak going forward, with a 0.5% decline anticipated in 2023 and a 0.3% decline forecast in 2024. This is based primarily on macro headwinds which are anticipated to become apparent starting in the second quarter.
With the addition of Deliverr and the expansion of new solutions, Shopify should report growth close to consensus, but a large beat seems unlikely.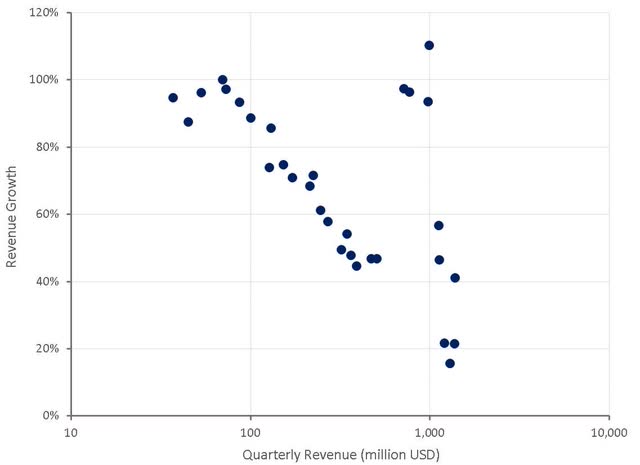 Job openings mentioning Shopify in the job requirements declined steadily throughout much of 2022. This could indicate that upstream demand for Shopify's services is continuing to soften.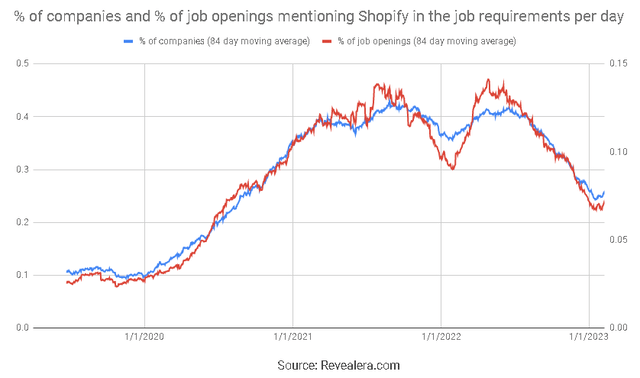 Search interest for Shopify pricing began to rebound in 2022, which could indicate that most of the post-COVID hangover is now behind Shopify. This data stands in contrast to hiring data though.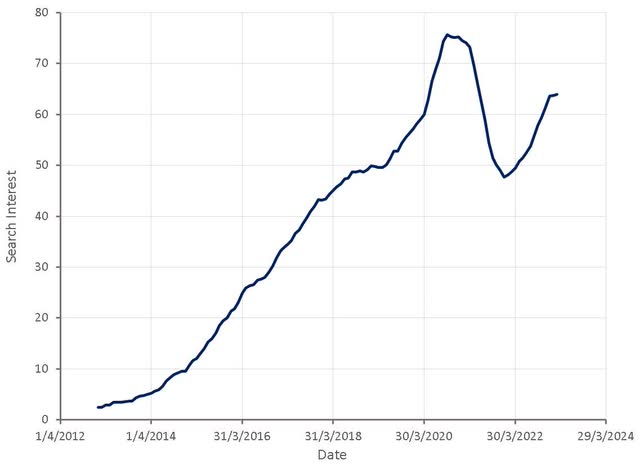 Gross margins continue to decline, driven by growth of Merchant Solutions, lower margins in Shopify Payments due to merchant and card mix shifts and industry-wide network cost increases, the impact of Deliverr and increased investments in cloud infrastructure.
This is a structural feature of Shopify's strategy though. They are now optimizing for gross dollar profit growth by expanding into lower margin businesses. For example, fulfillment and logistics are expected to have margins closer to the payments margin profile.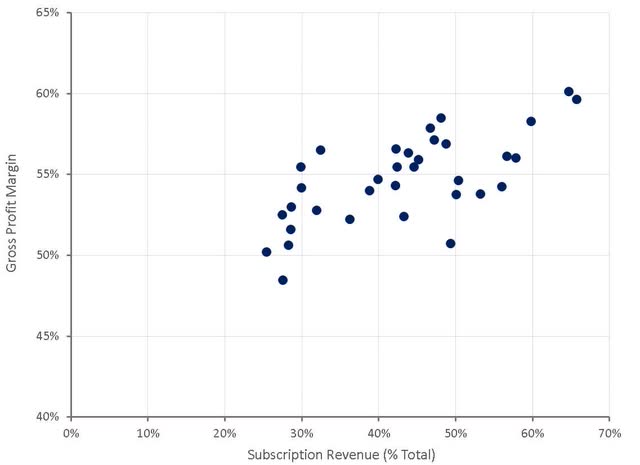 Shopify's operating expenses have increased dramatically in the aftermath of COVID, and while there are SBC (stock-based compensation) effects that are likely to normalize, there are also concerning trends. R&D costs are related to the expansion of their platform, which should be expected, but the burden of sales and marketing expenses has been rising since 2017, and could indicate growing competition and larger customer acquisition costs.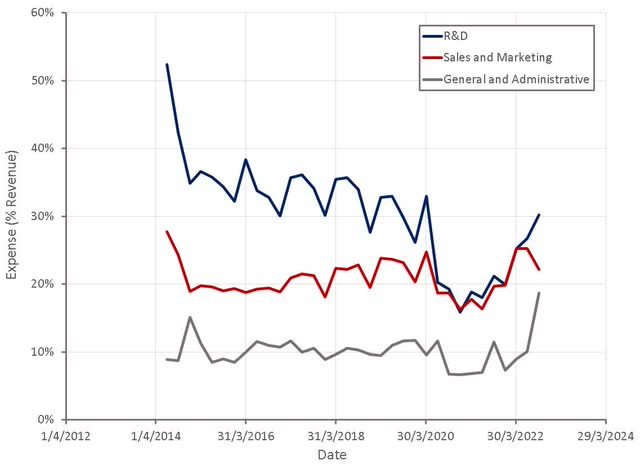 Shopify appeared to be hiring aggressively in the third and fourth quarter, which will contribute to operating expenses, but should be expected given the expansion of their platform. The fall in openings at the start of 2023 could indicate that the fourth quarter fell short of management's expectations.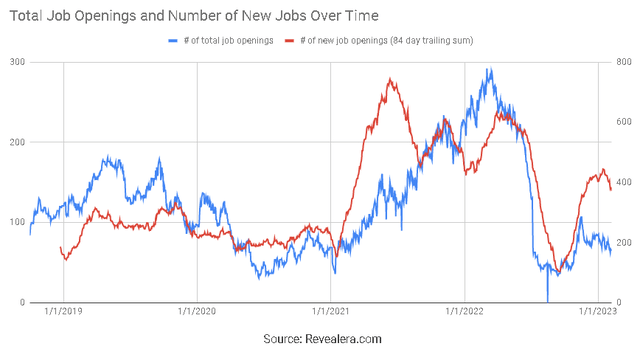 In the past, Shopify has been an efficient business that has generated high growth rates with minimal losses. As the business has scaled and the product portfolio expanded, this situation has begun to change. Lower gross margins and rising customer acquisition costs are creating a business with structurally lower profit margins.
Once Shopify is fully past the post-COVID period and macro headwinds abate, underlying profit margins should improve from their current level. While it is still early to say for sure, once Shopify's business expansion is complete, operating profit margins in the 15-20% range seem reasonable.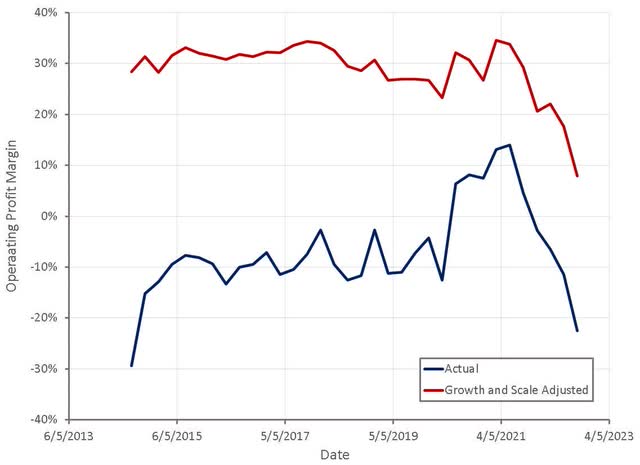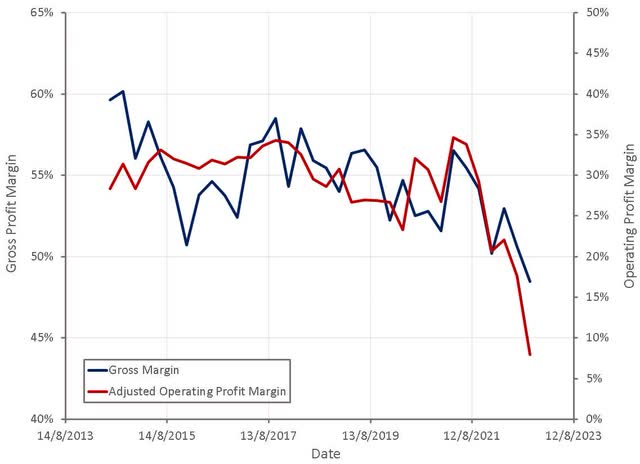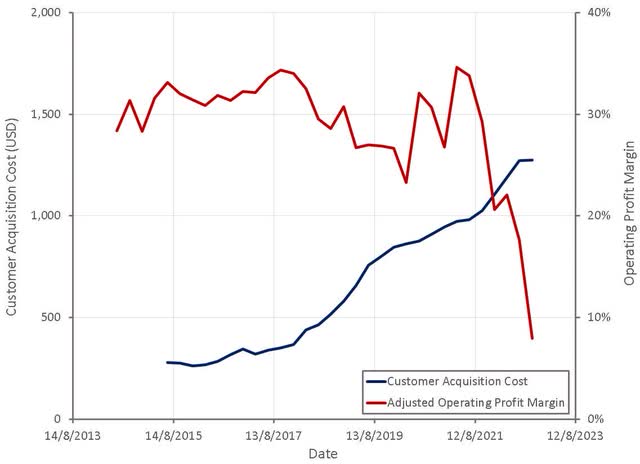 SHOP Stock Valuation
Shopify's stock is beginning to look expensive based on their potential growth and profitability. Investors should keep in mind that over the past few years Shopify has become quite a large organization. Their platform is now powering 10% of all e-commerce in the U.S., and in some countries, even more than that. At some stage in the not too distant future, this level of market penetration will begin to cap growth.
In addition, Shopify continues to expand outside of their core subscription business into areas with far lower margins. While this increases their total addressable market, or TAM, and improves the company's competitive position, it is also resulting in lower margins. Investors should, therefore, be wary about paying high multiples for Shopify, as it is in a very different situation to 2015-2019.