Snap Q4 Earnings: The Company Has To Make Tough Choices (NYSE:SNAP)
Investment Thesis
Snap (NYSE:SNAP) results came in mostly as expected. There were no significant surprises. Even though investors were mighty hopeful, with the stock jumping more than 20% since the start of 2023.
Perhaps the main surprise could be that Snap believed its best use of capital in the quarter was to repurchase $500 million worth of stock.
Nevertheless, looking ahead, Snap is now past the seasonally strong Q4, and the outlook of Q1 doesn't inspire much confidence, with EBITDA likely to fall 50% y/y in Q1 2023.
I continue to believe that this stock is best avoided. At least for now.
What's Happening Right Now?
In the interest of full disclosure, I turned bearish on this name back in April 2022 and have been bearish since.

Given that in the past week unprofitable tech was going to the moon, once again, I wondered if I made a terrible call going into this earnings report bearish.
After all, it was fairly obvious that Snap's underlying prospects were not going to shine particularly bright in this report. In fact, most of its figures came in as expected, but the market appears surprised. And the stock is down substantially premarket.
The problem here appears to be that brand advertising is not willing to spend on Snap. This is what Snap's co-founder and CEO said on the call,
[…] in general, it seems like our partners are just managing their spend very cautiously so that they can react quickly to any changes in the environment.
Is lackluster customer spend a pervasive problem within all advertising platforms? Meaning will Meta (META) and The Trade Desk (TTD) also be affected? Or is this something idiosyncratic to Snap? It's early to know how systemic this is.
But given that Snap reports before the others, it will take the majority of the negative surprise on its share price, taking the sting out of the surprise for its peers that will follow this company result.
Revenue Growth Rates Slow Down

As noted in the introduction, Snap's share price had been soaring in January, alongside other bubble stocks. Investors' risk appetite has been high.
And yet, when the results came out, which were not all that different from the expectations, the stock still fell sharply after hours. And here's why.
Profitability Profile Remains an Issue
Consider the table that follows and see if you recognize a pattern.

At every single metric of profitability, Snap is reporting worse performance than a year ago. Significantly worse.
The only figure that shows any improvement is its total shares outstanding. And there are two reasons for this. In the first case, Snap repurchased $500 million worth of stock.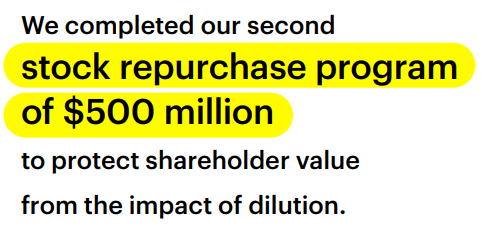 With the company clearly facing significant issues, I question whether this is truly the best use of shareholder cash?
And the second element is that since Snap's share price has fallen substantially in the past year, management's stock-based awards and the convertible notes are now out of the money.
In fact, some legacy stock-based compensation is as high as $70 per share. With the stock now trading in the single digits, this is a reminder of how far down we've come with Snap.
Needless to say, if Snap wants to retain executive talent and improve corporate morale, it will need to incentivize its c-suit with more compensation. And preferably, not more stock, as the c-suit will most likely prefer cash — although this is mere conjecture on my part.
SNAP Stock Valuation — It's Cheap, But Can Always Get Cheaper
Investing is difficult because values are relative. It's not about figuring out what the absolute intrinsic value of the company is today, but what potential earnings investors are pricing in the future.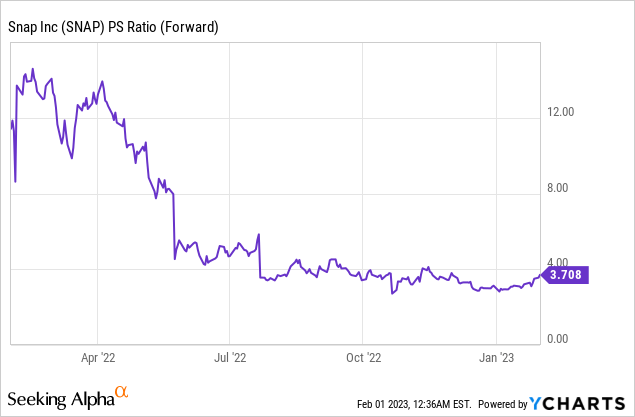 Accordingly, it's not helpful to declare that Snap's multiple has fully compressed. Yes, the stock is clearly a lot cheaper than it was.
But unless Snap can get investors to believe in its vision that in the near-term its opportunity to grow strong free cash flow is on the horizon, investors will not wish to get involved.
The Bottom Line
The advertising space continues to struggle. The only question that remains is how much of this is particular to Snap and how much is it a broad-based dynamic?
Put another way, when the environment improves, will Snap find a way to improve its performance? Or are Snap's glory days now a distant memory?
Snap proclaims that Q1 is going to see its revenue growth rates report negative mid-single digits growth rates. For now, I believe that investors should stay clear until Snap can show investors that it can snap back.