Titan International (TWI) Stock: Undervalued, Strong Financials
Titan International (NYSE:TWI) manufactures and sells tires, wheels, and undercarriage products for off-highway vehicles in Europe, North America, the Middle East, and internationally. It operates in agricultural and consumer segments. They provide rims, wheels, and undercarriage products for various agricultural equipment, including planters, skidders, and tractors. They also provide rims and wheels for off-the-road earthmoving, military, and forestry equipment, including aerial lifts, graders and levelers, self-propelled shovel loaders, load transporters, backhoe loaders, lattice cranes, and hydraulic excavators. TWI recently announced its Q4 FY22 and FY22 results. In FY22, they saw substantial increases in both net income and sales. I'll review their financial results and discuss their potential for growth in FY23 in this report. They have a lot of room for development, and they might give their shareholders a healthy return in FY23. I, therefore, rate TWI stock as a buy.
Financial Analysis
TWI recently announced FY22 and Q4 FY22 results. The net sales for FY22 were $2.1 billion, a rise of 21.8% compared to FY21. In my view, the main reason for the increase was superior performance across all three categories. While the earthmoving/construction segment's revenue grew by 16.4% in FY22 compared to FY21, the agricultural sector's revenue increased by 25.5% in FY22. I believe the recovery in the construction markets was the cause of the increase in earthmoving/construction (EMC) segment sales. Compared to FY21, the consumer segment's revenue grew by 23.5% in FY22. The net income for FY22 was $179.1 million, a rise of 259% compared to FY21. I think that improved cost management and higher product prices across all segments were the primary causes of the increase.

The net sales for Q4 FY22 were $509.7 million, a rise of 4.5% compared to Q4 FY21. I think the main cause of the increase was the market's return to normalized supply and demand levels following intense inflationary pressure, which benefited the EMC sector the most. In Q4 FY22, EMC segment sales increased by 6.8% compared to Q4 FY21. The net income for Q4 FY22 was $42.9 million, a rise of 52% compared to Q4 FY21. I believe the main reason behind the rise was the increase in income tax benefits and higher pricing strategy. In addition, I think that an increase in raw material and freight expenses resulted in higher product prices, which raised sales and income. As a result, the company managed to post strong annual results despite inflation and a number of economic challenges, which is quite remarkable. With the market getting back on track, I believe they could experience another prosperous fiscal year.
Technical Analysis
TWI is trading at the level of $13. Looking at the weekly time frame, we can see that it has formed a huge red candle with a huge wick. It recovered fairly well when it reached the $11.5 mark. The stock has formed a strong support zone at $11.5. It has made a massive red candle with a wick, showing that the stock is under buying pressure. I believe this is the right time to purchase the stock because it is close to a strong support zone and displays bullish characteristics. The stock has recovered fairly well from the support zone, so I believe it can hit $17 in the upcoming months.
Should One Invest In TWI?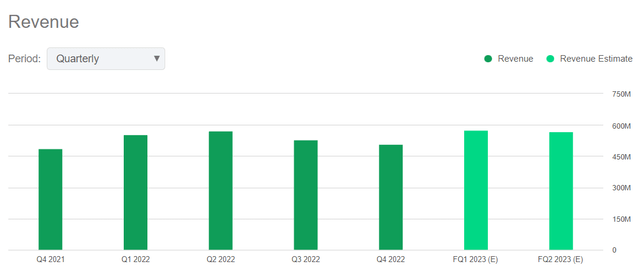 The revenue estimate for Q1 FY23 is $574.4 million, which is 12.7% higher than the Q4 FY22 revenue. I believe that in FY23, demand for maize and soybeans will increase even further and that both supply and demand are now sufficiently stable to support the grain market. With all these elements, I am confident that farmers' incomes will continue to be strong. I believe that farmers may buy new tires and equipment as a result, which could boost the company's sales and income in FY23. Additionally, their small agricultural equipment inventory levels have rebounded to pre-covid levels, which is a positive sign. Considering all the variables, I am confident they will meet their income goals for FY23.
Now talking about its valuation. The first valuation metric which I will use to judge its valuation is the P/E ratio. The P/E ratio determines a company's worth by dividing its stock price by its profits. They have a P/E (FWD) ratio of 6.18x compared to the sector ratio of 17.64x. This shows that they are undervalued compared to their peers. The second ratio is the EV / Sales, a financial ratio that calculates the price required to acquire a business at its sales value. They have an EV / Sales (FWD) ratio of 0.5x compared to the sector ratio of 1.74x. After looking at both ratios, I believe they are undervalued and have great growth potential.
Risk
To get its goods to the final consumers, it employs a variety of logistical services and modes of transportation, including containers. The rate of global commerce and economic expansion heavily influences the overall demand for containers. Due to the demand for and shortage of containers, they are subject to substantial price fluctuations in international transportation costs as well as uncertainty regarding shipping delays. There is no assurance that it will be able to continue passing on some shipping and delivery-related costs to its customers in the future, which could lead to declining margins and it could have an adverse effect on its balance sheet.
Bottom Line
TWI posted solid annual results with increased sales and net income, and the management has provided optimistic FY23 revenue guidance, which is a positive sign. They look fundamentally strong, and in my opinion, they are undervalued compared to industry standards. In addition, the stock is close to the support zone providing an investment opportunity. I believe they have significant growth potential and might provide handsome returns to their shareholders, so after analyzing all the factors, I give TWI a buy rating.