VanEck Vectors Egypt ETF: Accumulating On Weaker Macro Data
Opportunity Overview
Egypt is one of the most intriguing smaller emerging markets, and it is often overlooked by emerging market investors. Egypt was on my radar, particularly in June 2020, and this also looks like a good time to buy. After a brief run from its 2020 low, the market has entered another bottoming-out phase, and this looks like a good time to accumulate. However, heightened macroeconomic risks could lead to more short-term selling pressure.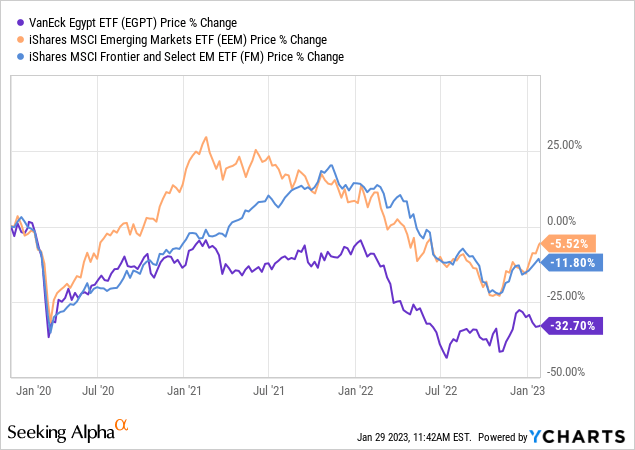 Egypt still trades at a considerable discount to MSCI Emerging Markets, and the economy has some tailwinds supporting it, mainly including the return of tourism growth. However, concerns regarding higher inflation, public debt, and the currency have led to a pullback in the equity markets. 2023 is a good time to accumulate if you are long-term bullish on Egypt. I am comfortable accumulating the VanEck Vectors Egypt ETF (NYSEARCA:EGPT) between $15 and $20/share this year.
Growth Outlook
Growth will likely decline to 4.5% in FY2022-2023 according to the World Bank. Key drivers of growth moving forward will include the following:
Gas exports: Egypt exported 8 million tonnes of natural gas in 2022, which was a 171% increase from 2021. This $8.4 billion in exports accounted for nearly 16% of the country's $53.8 billion in exports (up from $45bn in the previous year).
Tourism: Egypt's economy is heavily dependent on tourism, and the rebound of the global tourism industry can help to support the economy in subsequent years. Tourist arrivals may rise above the highs prior to the country's political revolution in 2011.
Construction: Egypt's construction industry had moderate single digital growth in 2021 and grew by around 12% in 2022.
Manufacturing: Manufacturing is beginning to pick back up, after contracting during FY2019-2020.
SMEs: Banks are beginning to increasingly offer products to SMEs. SMEs are a key driver of economic growth in Egypt.
Tourism Boom
Egypt's tourism industry was making a strong comeback during 2018-2019, and the economy would certainly have been in a different place if this trend continued into the 2020s.
Egypt Tourist Arrivals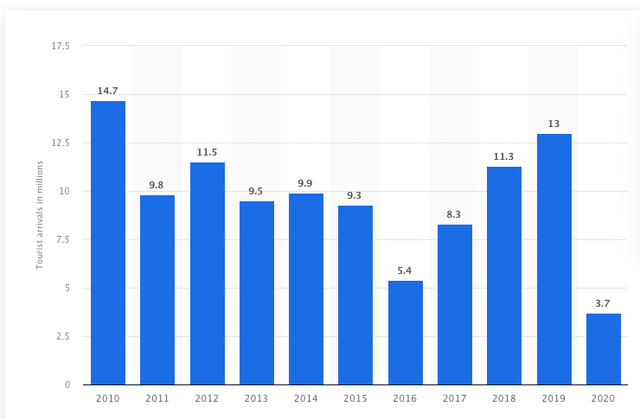 However, it looks like tourism arrivals are finally beginning to pick back up again. In 2023, Egypt welcomed the first Chinese tourist group since Covid 19, and other countries may begin to increasingly visit, especially during this summer. Egypt was able to attract circa 13 million tourists last year and is poised to attract more tourists in the coming years, as there were still Covid restrictions in 2022.
Egypt is currently targeting 30 million tourist arrivals by 2030, up from 3.7 million in 2020. This is not entirely out of question, given that destinations like Greece and Thailand each attract more than 30 million tourists/per year. Egypt currently has seven UNESCO world heritage sites, and geographically diverse attractions like coastal towns on the Red Sea, deserts, and Mt. Sinai. Many tourists were beginning to get over security risks in the country during 2010-2020, as the country has become much safer. Egypt will likely begin to attract more tourists in 2023-2024, which should boost the economy.
Inflation Risk Rising
Egypt's inflation rate rose to over 20% during December 2022, which is currently a multi-year high. The country's inflation rate was previously in the upper single digits during the first two months of 2022. Inflation is a huge risk for the rural population, as rising food and energy costs have put pressure on consumers.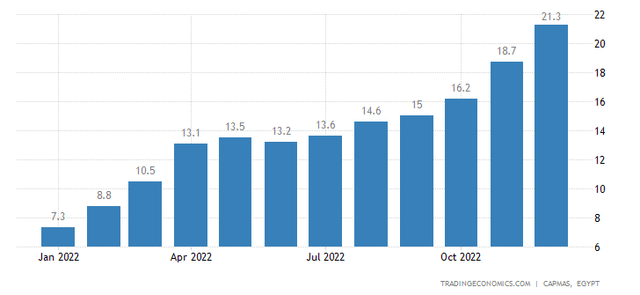 Egypt's Central Bank may have to hike rates on the 2nd of February in response to the higher inflation in both November and December, although this is less likely because it already hiked rates by 300bps in December. However, there are plenty of cautionary tales in countries like Turkey and Argentina, which have had to hike rates much higher.
Debt
Egypt received approval for a $3 billion aid package from the IMF last month. The market previously rallied considerably following its last IMF loan in 2016, and likely would have continued into the 2020s.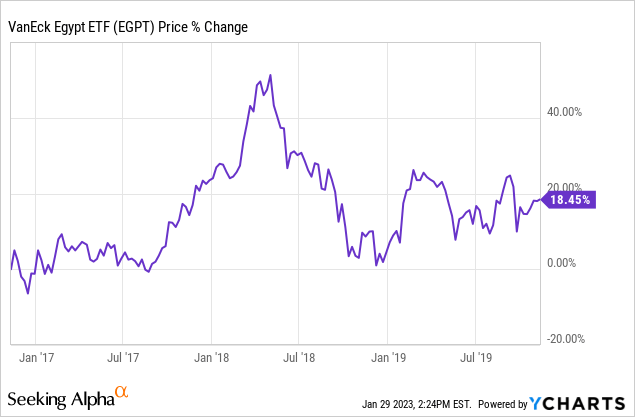 However, current risks include rising rates, slower growth, and the country's weaker currency are much greater this time. The market is more likely to experience a short-term pullback this year. Interest payments currently account for 45% of government revenue, compared to 33% in 2015. Egypt's public debt is equivalent to around 87.2% of GDP. This fact may make investors more cautious, even ones who were bullish on Egypt post-2016.
Growth of the Banking Industry
This is a key industry to monitor as over 50% of the MSCI Egypt IMI Index includes banking companies, while around 18% of this ETF's assets are invested in banks. Egypt's banking industry is currently ranked 3rd among all Arab banks and has grown by around 130% during the past five years. Moreover, over 60% of Egypt's population is currently unbanked.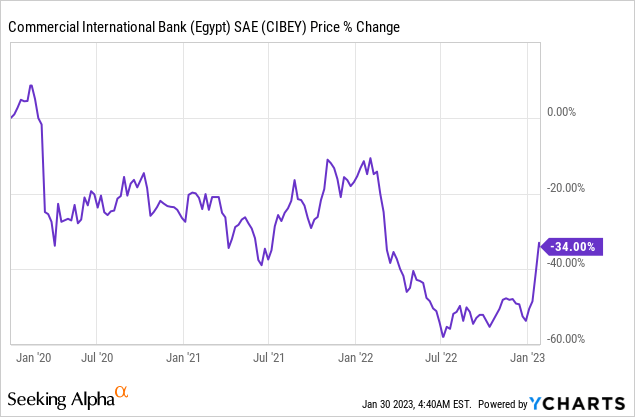 Commercial International Bank (OTCQX:CIBEY) is an excellent way to gain exposure to Egypt and is one of the only ADRs available.
Valuation
Egypt trades at an approximate 30% discount to MSCI Emerging Markets. It is crucial to note that Commercial International Bank is the largest constituent in this index, accounting for nearly 50% of the index. Cheaper stocks are less liquid, so it is actually possible for smaller local retail to access the market at a lower valuation. US investors, on the other hand, can't do this.

Global Benchmarks
Some of the only markets I have followed that are cheaper and also worth investing in include Latin American markets, such as Brazil, Chile, and Colombia.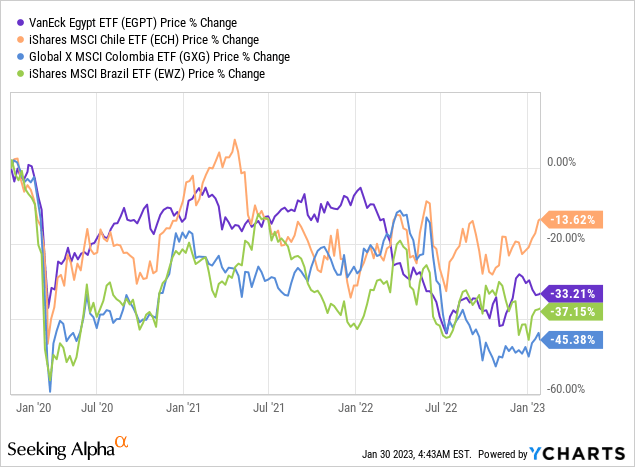 Brazil and Colombia have both underperformed, and trade at a notable discount to Egyptian equities.
Takeaway and Key Risks to Monitor
The VanEck Vectors Egypt ETF is down by nearly 10% since I last covered it in June 2020. I think this is a good time to take advantage of poor economic results in recent months if you are long-term bullish on Egypt. However, I expect Latin American equities to outperform in the short term, and think Egypt is facing more challenges that may make 2023 a bit bumpy.
Some of the key risks to monitor include the following:
Currency risk: Egypt allowed its currency to depreciate twice during 2022. Moreover, the country's foreign exchange reserves have declined by over $10bn since 2020.
Growth: Egypt's Central Bank may have to hike rates again, which could be an issue for smaller and medium enterprises (80% of GDP). Moreover, tourism growth may not fully rebound until 2024.
Debt: This risk has accelerated recently due to the country's weakened currency and rising interest rates. Egypt's external debt is around 33% of GDP.
Inflation: Inflation rose from the upper single digits in 2022 to its current level of 21%. An estimated 60% of Egyptians are either classified as in poverty or at risk for this because of rising inflation, particularly rising food and energy prices.