Will This Year's Recovery In U.S. Bonds Continue?
After taking a beating last year, US fixed income securities have clawed back some of the losses so far in 2023, based on a set of ETFs through yesterday's close (Feb. 9). But with the Federal Reserve still intent on lifting interest rates to tame inflation, the outlook for bonds is still murky.
For the moment, however, a broad review of US fixed income is showing gains across the board this year. Leading the recovery: iShares 20+ Year Treasury Bond ETF (TLT), which has popped 5.3% since 2022's close.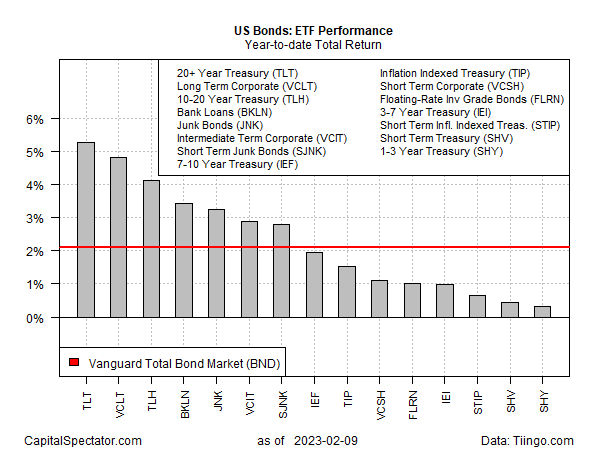 As for the immediate future, Fed funds futures are currently pricing in a 90% probability that the central bank will lift its target rate by 25 basis points again at the next FOMC meeting on March 22, according to CME FedWatch Tool. Another ¼-point hike is estimated at a 70%-plus probability for May meeting.
Goldman Sachs is looking for higher rates too. "We expect the Fed to deliver 25-basis-points hikes in March and May for a peak funds rate of 5.00-5.25%, although more hikes may be needed if the economy reaccelerates as the drag on growth from past policy tightening fades," analysts at the investment bank advise.
The Treasury market has adjusted its recent dovish pivot by lifting the 2-year yield, which is widely viewed as a proxy for the Fed's near-term policy outlook. After falling toward the 4% mark earlier this year, the 2-year rate has rebounded this month, edging up on Thursday to 4.48% — the highest level since November.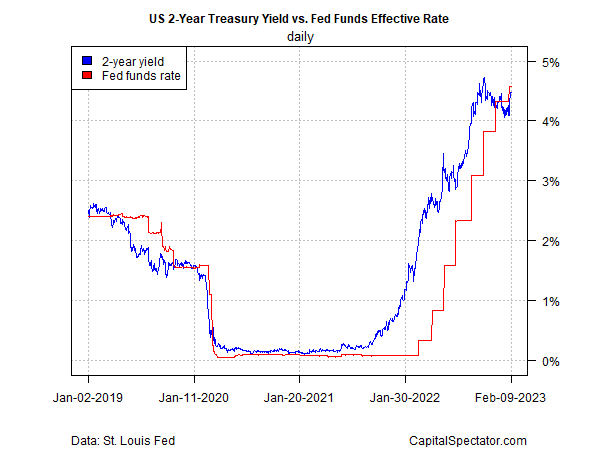 The bond market, it seems, is struggling to assess the outlook for the peak in rates. The calculus looks set to remain muddled at best, based on expectations for next week's update (Feb. 14) on consumer inflation for January. After a monthly 0.1% decline in CPI for December – the first slide in more than a year – economists are looking for a rebound in pricing pressure via a 0.5% monthly rise, according to TradingEconomics.com. If correct, the news may strengthen the Fed's resolve to lift rates further and postpone cuts for longer.
The main takeaway: it's premature to read this year's rally in the bond market as a signal that it's clear sailing from here on out for fixed-income securities.
Editor's Note: The summary bullets for this article were chosen by Seeking Alpha editors.