Yelp Earnings: Left For Dead? Dying To Go (NYSE:YELP)
Investment Thesis
Yelp (NYSE:YELP), the business directory and review site, delivered Q4 results that took investors by surprise.
As we go through this analysis it's important to keep in mind that Yelp is far from a great business. It's a mediocre business. But a mediocre business that investors have lost interest in.
Indeed, that's my contention. That investors have lost interest in this business but the business is actually stronger than many expected. That's what makes this investment thesis compelling.
In sum, I'm bullish on YELP. Here's why.
Left For Dead? Or Dying to Go?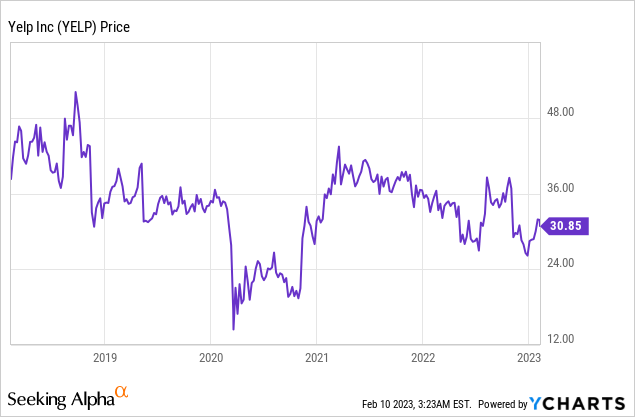 Yelp's value proposition is in offering customers a lower-cost traffic acquisition. However, this business appears to have gained no traction in the past 5 years.
Nonetheless yesterday, during Yelp's earnings call, we heard co-founder and CEO Jeremy Stoppelman describe to investors how Yelp's:
[…] performance ad products and high intent audience generated robust advertiser demand across a broad range of categories, both on and off Yelp.
Stoppelman goes on to say:
We believe Yelp gained market share in 2022 as advertising revenue from services businesses grew 14% year-over-year to a record $694 million
Basically, given how many of Yelp's peers have performed in Q4 and their guidance for Q1, I can echo that insight, Yelp is gaining market share.
Revenue Growth Rates Impress

The point I wish to impress upon readers is not that Yelp is the next Google (GOOGL)(GOOG). Rather, it's a business with practically no investor interest. A business that saw its multiple compress as investors left this business for dead.
But how despite the loss of enthusiasm, Yelp is still able to guide for attractive growth rates ahead.
Case in point, Q1 2023 is pointing towards 13% y/y growth rates. Given that Q1 2023 is Yelp's most challenging comparable quarter for 2023, I'm inclined to believe that the remainder of 2023 will be attractive.
Indeed, I believe that it's possible that the full year 2023 could end up growing by 10% CAGR, compared with analysts' estimates of 8%. Again, I must highlight to readers, the difference between analysts' estimates and the company's guidance is not significant. But Yelp must also leave room to positively impress the Street as the quarters progress.
With that in mind, let's dig into the best element to consider here.
The highlight of the Quarter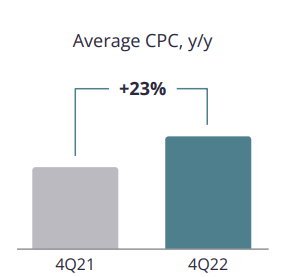 During Q4 2022, Yelp saw its cost per click, a proxy for pricing power, increase 23% y/y. That's obviously noteworthy and speaks to the strength of the underlying value proposition.
On the other hand, we should keep in mind that the volume of ad clicks was down in Q4.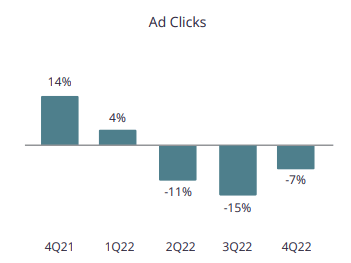 Again, it's not that Yelp is a particularly strong business. It's more the case of an investor taking a contrarian view, that this business isn't quite dead.
YELP Stock Valuation — 13x 2023 Free Cash Flow
In 2022, Yelp's free cash flow was approximately $160 million. If we assume that Yelp's free cash flow can grow approximately 15% y/y in 2023, this would see Yelp's free cash flow reach $185 million.
For this estimate, I took the following figure.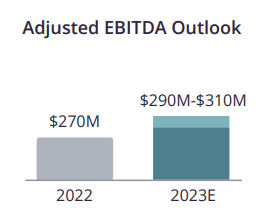 Here I took the 15% y/y growth expected in EBITDA and assumed that we would see a proportional increase in free cash flow in 2023.
The Bottom Line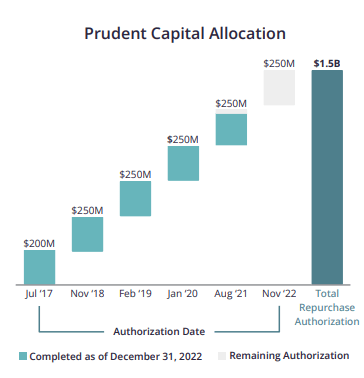 Yelp has consistently repurchased its shares and declares that it will continue to repurchase its shares in 2023.
Given that the balance sheet holds no debt, $400 million of cash, and is clearly free cash flow generative, I suspect that Yelp will continue to repurchase at least 5% of its market cap in 2023.